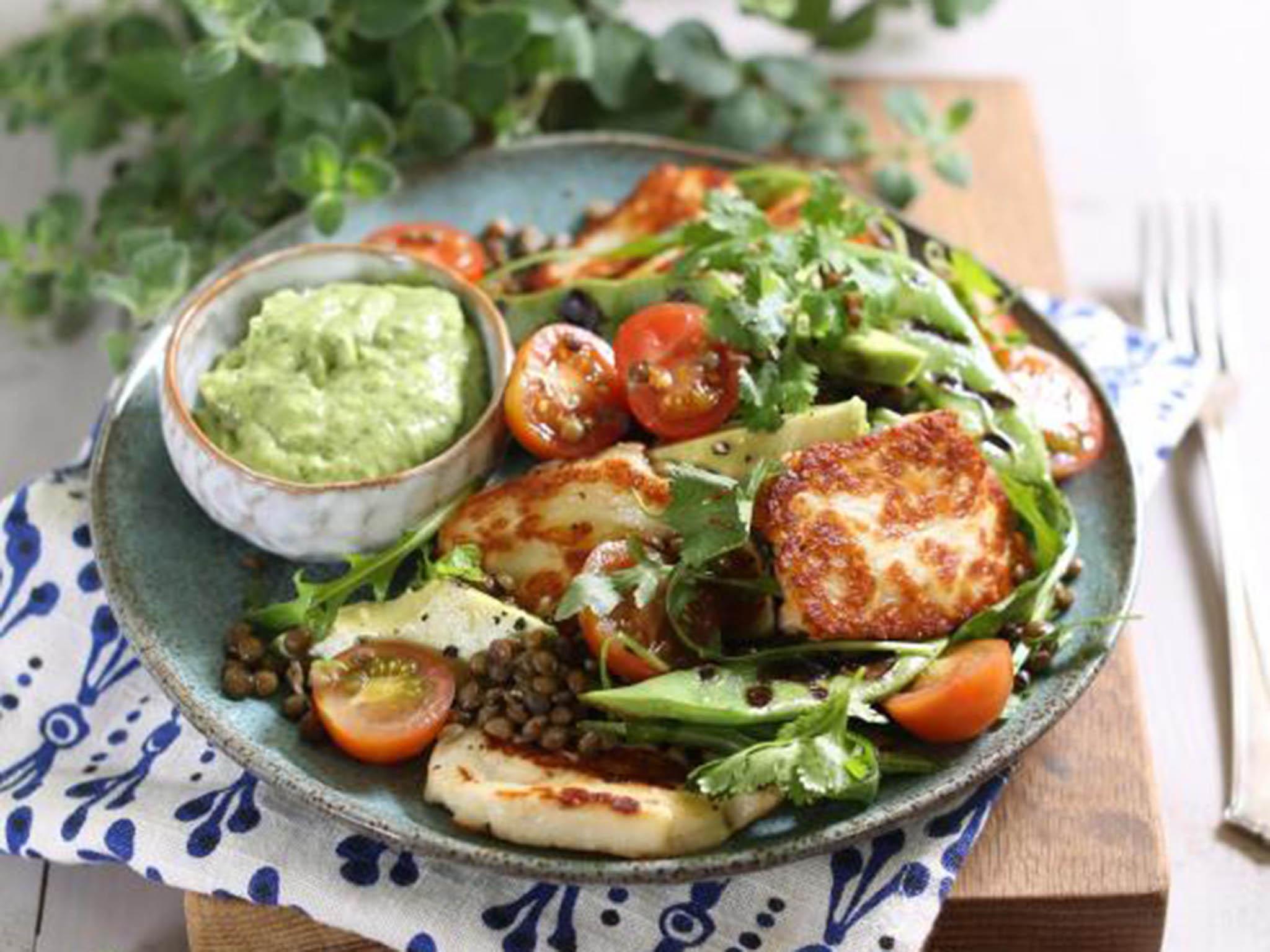 Grilled halloumi and bean salad with avocado dressing
Who doesn't like golden grilled halloumi? Chunks of organic halloumi, made from 100 per cent pure organic sheep's milk, are tossed into a salad with charred flat beans, nutty lentils and juicy cherry tomatoes. Served with dollops of a rich green avocado dressing.
Prep time: 30 mins
Serves: 2
We'll tell you what's true. You can form your own view.
From
15p
€0.18
$0.18
USD 0.27
a day, more exclusives, analysis and extras.
For the halloumi, bean salad, and dressing
75g dark speckled lentils
1 avocado
1 lime
1 garlic clove
A handful of coriander
200g organic halloumi
100g flat beans
250g cherry tomatoes
50g rocket
Sea salt
150ml boiling water
freshly ground pepper
3-4 tbsp cold water
1 tbsp olive oil
Pour the lentils into a small pan and add a pinch of salt. Top up with 150ml boiling water and pop on a high heat. Bring to the boil, then cover with a lid and reduce to a low simmer. Cook the lentils for 20 to 25 minutes, till tender. When cooked, drain the lentils and rinse with cold water.
Meanwhile, halve the avocado and remove the stone. Put half the avocado aside for later. Scoop the flesh from half of the avocado into a food processor (or mash with a fork). Grate in the lime zest and squeeze in the juice. Peel the garlic and grate it in. Add the coriander leaves and stalks and a good pinch of salt and pepper. Whizz (or beat by hand) till smooth, drizzling in three to four tablespoons of cold water to make a thick dressing.
Warm your grill to high. Chop the halloumi into 1cm-thick slices. Trim the woody ends off the flat beans and chop into bite-size pieces. Scatter the halloumi and beans onto a baking tray. Drizzle with one tablespoon of oil and a pinch of pepper. Grill for two to three minutes till golden. Turn the halloumi and beans over and grill for a further two to three minutes.
Halve the cherry tomatoes and add them to a bowl. Shake the cooked lentils dry and add to the bowl. Chop the remaining avocado half and add that too with the rocket leaves, grilled beans and halloumi. Toss together.
Divide the salad between warm plates and top with dollops of the avocado dressing to serve.
Recipe from Abel & Cole