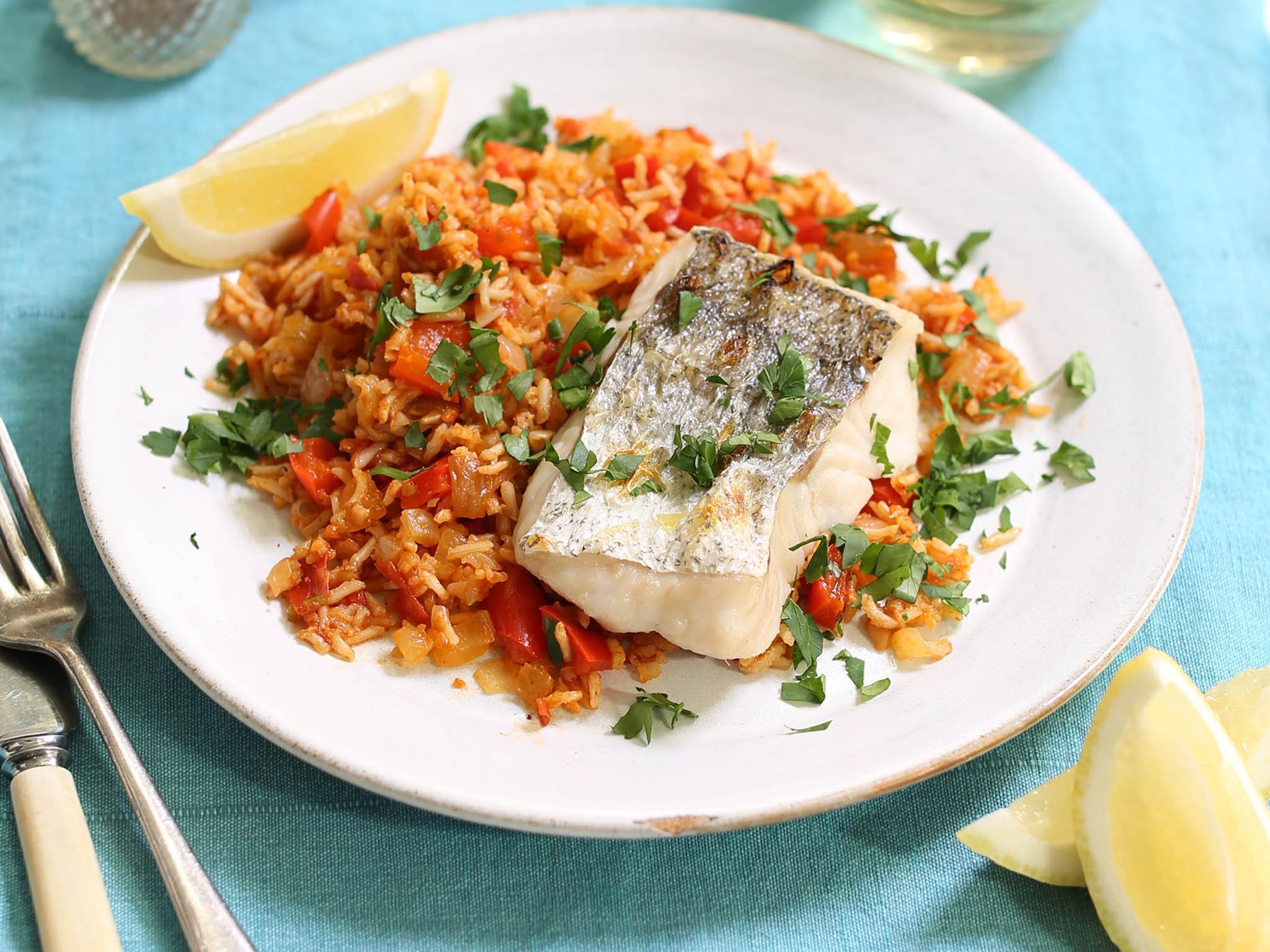 Grilled hake with tomato sauce
Serves 2
Time: 35 mins
We'll tell you what's true. You can form your own view.
From
15p
€0.18
$0.18
USD 0.27
a day, more exclusives, analysis and extras.
75g brown basmati rice
1 onion
2 vine tomatoes
1 red pepper
2 garlic cloves
A handful of flat leaf parsley
40g tomato sauce
2 hake fillets
1 lemon
4 tsp olive oil
Sea salt
Freshly ground pepper
150ml boiling water
Tip the rice into a bowl and cover with cold water. Set it aside to soak while you prepare the veg. Peel and finely chop the onion. Place a medium pan on a medium heat for 2 minutes, then add 2 teaspoons of olive oil and the onion. Season with salt and pepper and fry, stirring often, for 5-6 minutes until the onion has started to soften and lightly brown.
While the onion fries, dice the tomatoes. Halve the pepper and scoop out the seeds and pith, then finely chop the pepper. When the onion has cooked for 5-6 minutes, add the tomatoes and pepper. Fry, stirring often, for 5-6 minutes until the onions are pulpy and soft and the vegetables are starting to soften.
Meanwhile, boil a kettle. Peel and grate or crush the garlic. Finely chop the parsley stalks and set the leaves aside for later. Add the garlic and parsley stalks to the pan, along with the tomato sauce. Fry, stirring, for 2 minutes.
Drain the rice and tip it into the pan. Pour in 150ml hot water from the kettle. Pop a lid on the pan, turn the heat up and bring to the boil. When boiling, turn the heat right down and very gently simmer for 25 minutes until the rice is tender and all the water has been absorbed.
While the rice cooks, line a baking tray with foil. Rub each hake fillet with 1 teaspoon of olive oil and season with salt and pepper. Place the fish on the tray, skin-side up.
When the rice has cooked for 25 minutes and absorbed the water, take it off the heat and set aside, lid on, for 5-10 minutes to finish cooking.
While the rice steams, slide the hake under the grill. Cook for 6-8 minutes until the hake is opaque and flakes easily when pressed with a fork, and the skin is crisp.
While the hake grills, finely grate the zest from the lemon. Roughly chop the parsley leaves. Fluff the rice, taste it and add a pinch of salt and pepper if you think it needs it. Divide the rice between 2 warm plates. Top with a hake fillet each and garnish with the lemon zest and parsley. Serve with lemon wedges for squeezing.
Recipe from Abel & Cole (abelandcole.co.uk)