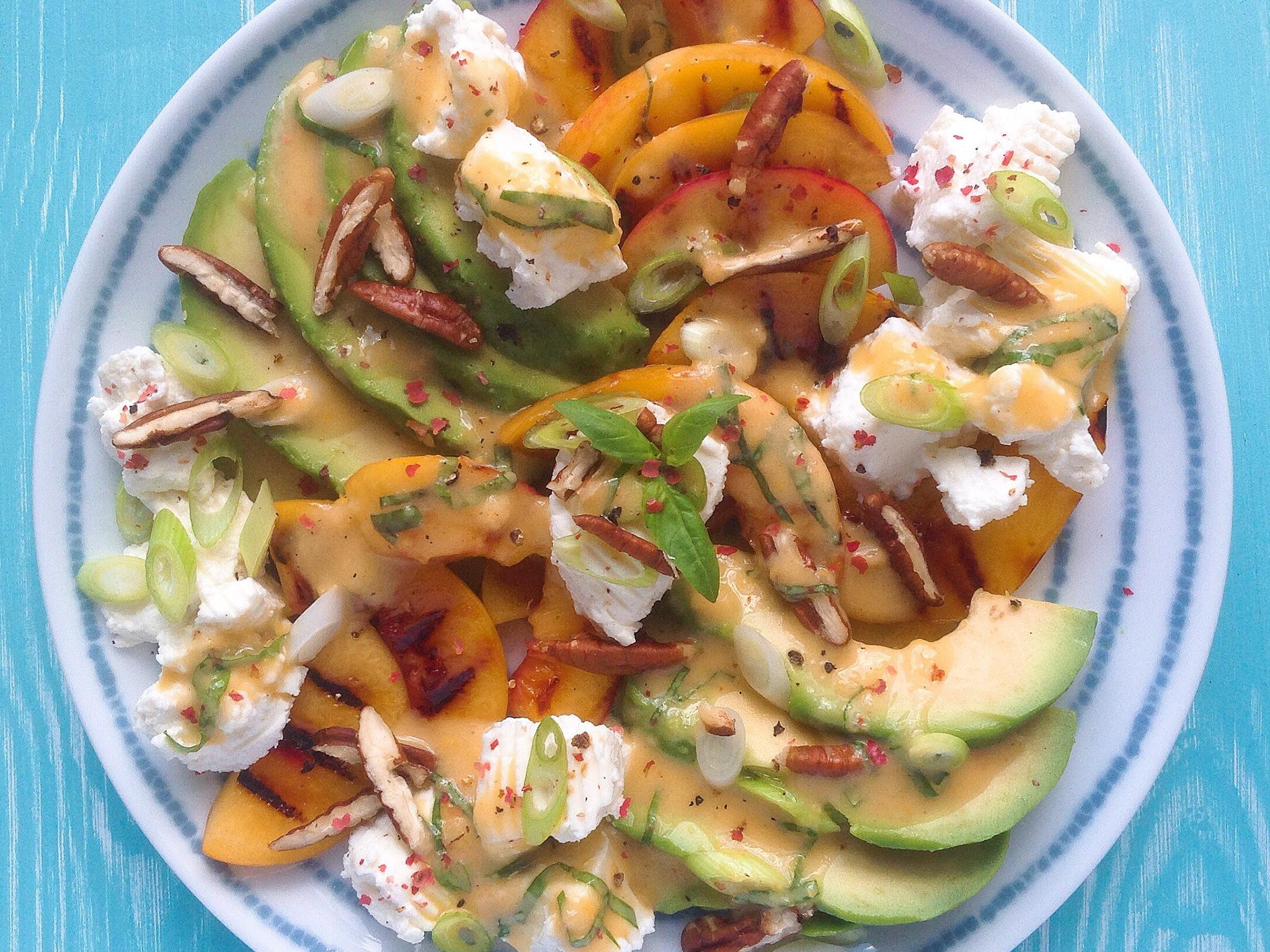 Serves 2 as a side
For the salad
3 large peaches
2-3tbsp runny honey
2 avocados
Juice of 1 lime​
250g ricotta cheese
Large handful toasted pecans
We'll tell you what's true. You can form your own view.
From
15p
€0.18
$0.18
USD 0.27
a day, more exclusives, analysis and extras.
For the dressing
1 small peach, skin removed, finely chopped
Zest and juice of half a lemon
1tsp Dijon mustard
3tbsp rapeseed oil
¼tsp salt
¼tsp freshly ground white pepper
For the garnish
A few finely shredded basil leaves
Freshly crushed pink peppercorns
2 spring onions, finely sliced
Freshly ground black pepper
Cut the three large peaches in half, remove the stones and cut each half into eight slices. Put into a bowl, drizzle over the honey and mix well to coat, leave somewhere warm for 10 minutes to allow the peach juices to mix with the honey.
Cut the avocados in half and remove the stones, peel and slice the flesh and sprinkle over the lime juice to prevent it from browning. Leave to one side.
Heat a griddle pan on a high heat and, using tongs, quickly lay the peach slices across the bars in the pan, reserve any remaining honey and peach juice for the dressing. After about a minute carefully lift up one of the slices, it should have some lovely dark brown char marks on it, if not put it back and leave for a little longer. Flip the peach slices over to char the other side. Remove to a plate to cool.
To make the dressing, put all of the dressing ingredients into the bowl containing the reserved honey and peach juices. Blend with a stick blender until smooth and creamy. Stir in the shredded basil.
To assemble the salad, arrange the avocado and peach slices on plates, dot with little hand-pulled balls of ricotta and scatter the toasted pecans over the salad. Pour on the dressing and sprinkle the sliced spring onions over the top. Finish with the crushed pink peppercorns and plenty of freshly ground black pepper.