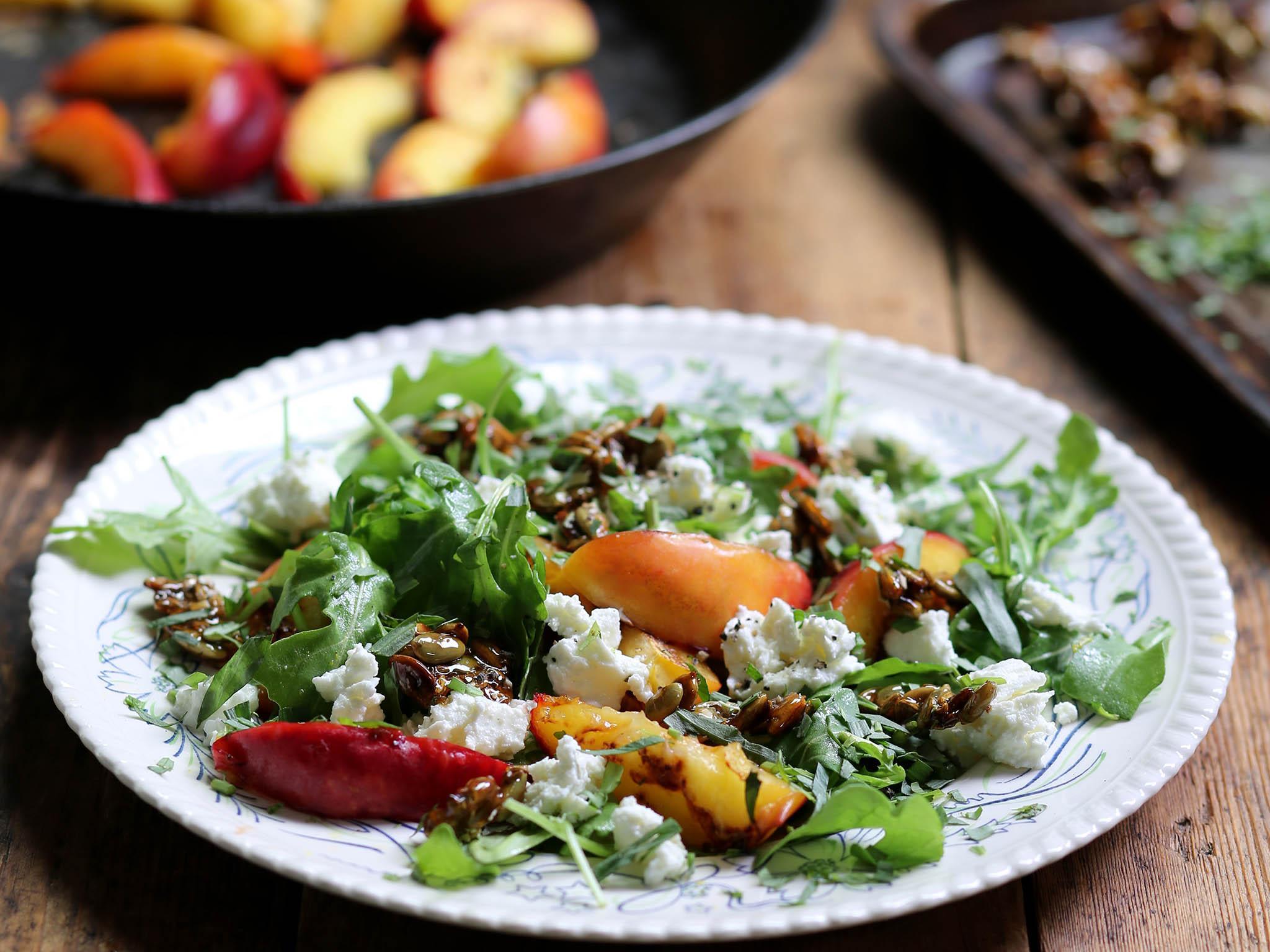 Griddled organic nectarine salad with honeyed pumpkin-seed brittle
Prep: 15 mins
Cook: 15 mins
25g pumpkin seeds
1 tsp fennel seeds
1 tbsp honey
400g nectarines
1 orange
A handful of tarragon
100g rocket
100g Bergerie soft sheep's cheese
Sea salt
Harissa powder
1 tbsp olive oil
We'll tell you what's true. You can form your own view.
From
15p
€0.18
$0.18
USD 0.27
a day, more exclusives, analysis and extras.
Tip the pumpkin seeds into a small pan. Place it on a medium heat and toast the seeds for 2-3 minutes till popping and fragrant smelling. Add the teaspoon of fennel seeds and a pinch of salt. Swirl in a tablespoon of honey. Simmer for 2 minutes. Spoon the honeyed seeds onto a baking tray to cool.
Slice the nectarines into wedges, discarding the stones. Warm a griddle or frying pan over a medium heat. When hot, place the nectarine wedges in the pan. Cook for 2-3 minutes on each side till slightly blackened. Put on a plate and repeat with the remaining slices.
Zest the orange into a bowl and squeeze in the juice from half. Whisk in a tablespoon of olive oil with a pinch of harissa and salt. Taste and add a swirl of honey if you think it needs it.
Finely slice the tarragon stalks and tear the leaves. Toss through the rocket with the orange dressing. If the seeds have set, break them up into shards. Top with the nectarines, pumpkin-seed brittle and the sheep's cheese.
Recipe from abelandcole.co.uk