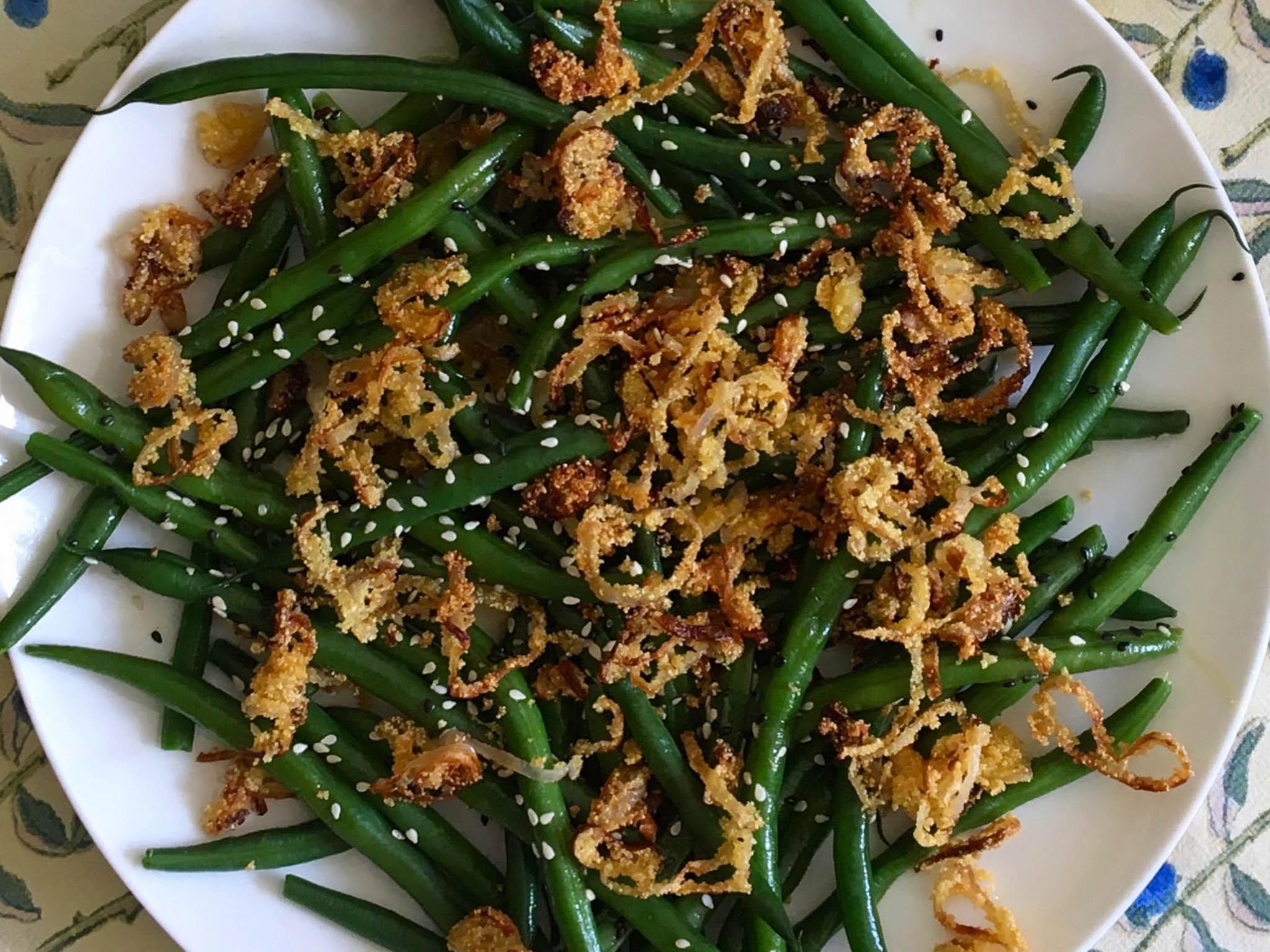 The green beans growing in my small veg patch should be ready to pick a few days after I've left on holiday. I've resigned myself to the fact that I might not eat a single bean I've grown this year. Of course, green beans are a supermarket staple year round but in the winter, they come from Kenya, Guatemala or other far away places. If it's UK beans you want, then August is the prime month.
Preparing green beans is a doddle. Snap off the top – I always leave the tail – and blanch them for a few minutes until they're bright green and still have some crunch. Or you can stir fry them, toss them into soup, add to pasta or make them the star of a summer salad.
Serves 4
We'll tell you what's true. You can form your own view.
From
15p
€0.18
$0.18
USD 0.27
a day, more exclusives, analysis and extras.
300g green beans
1 shallot, peeled and sliced thinly into rounds
3 tbsp cornmeal or fine polenta
2 tbsp milk
½ tbsp white or black sesame seeds or a mixture of the two
Olive oil
Salt and pepper
Dressing
2 tsp Dijon mustard
2 tbsp white wine vinegar
4 tbsp olive oil
1 clove garlic, peeled and smashed
Salt and pepper
Bring a pot of water to the boil, salt generously and blanch the green beans, just until tender – for about 3 or 4 minutes. Drain and refresh with cold water. Place on a clean tea towel or paper towel to dry.
To make the dressing, blend the mustard, vinegar and oil with the smashed garlic clove. Season generously with salt and pepper and set aside.
Place the thinly sliced shallots in a small bowl and cover with the milk. Add a generous sprinkle of salt and pepper. Prise the shallots apart so you have individual rings.
Season the cornmeal with salt and pepper. Drain the shallot rings and dredge in the cornmeal. Heat a frying pan on medium high heat. Generously coat the bottom with olive oil. Test the pan – a ring should sizzle when it hits the fat. Fry the shallots in batches, until they're golden and crispy – it only takes a minute or two. Remove from the pan and place on paper towel. Repeat until you've fried all the shallots.
Toss the beans with some of the dressing (remove the garlic clove first). Add the sesame seeds and stir to coat. Place on a serving dish and top with the crispy shallots.
All photos Julia Platt Leonard @juliapleonard