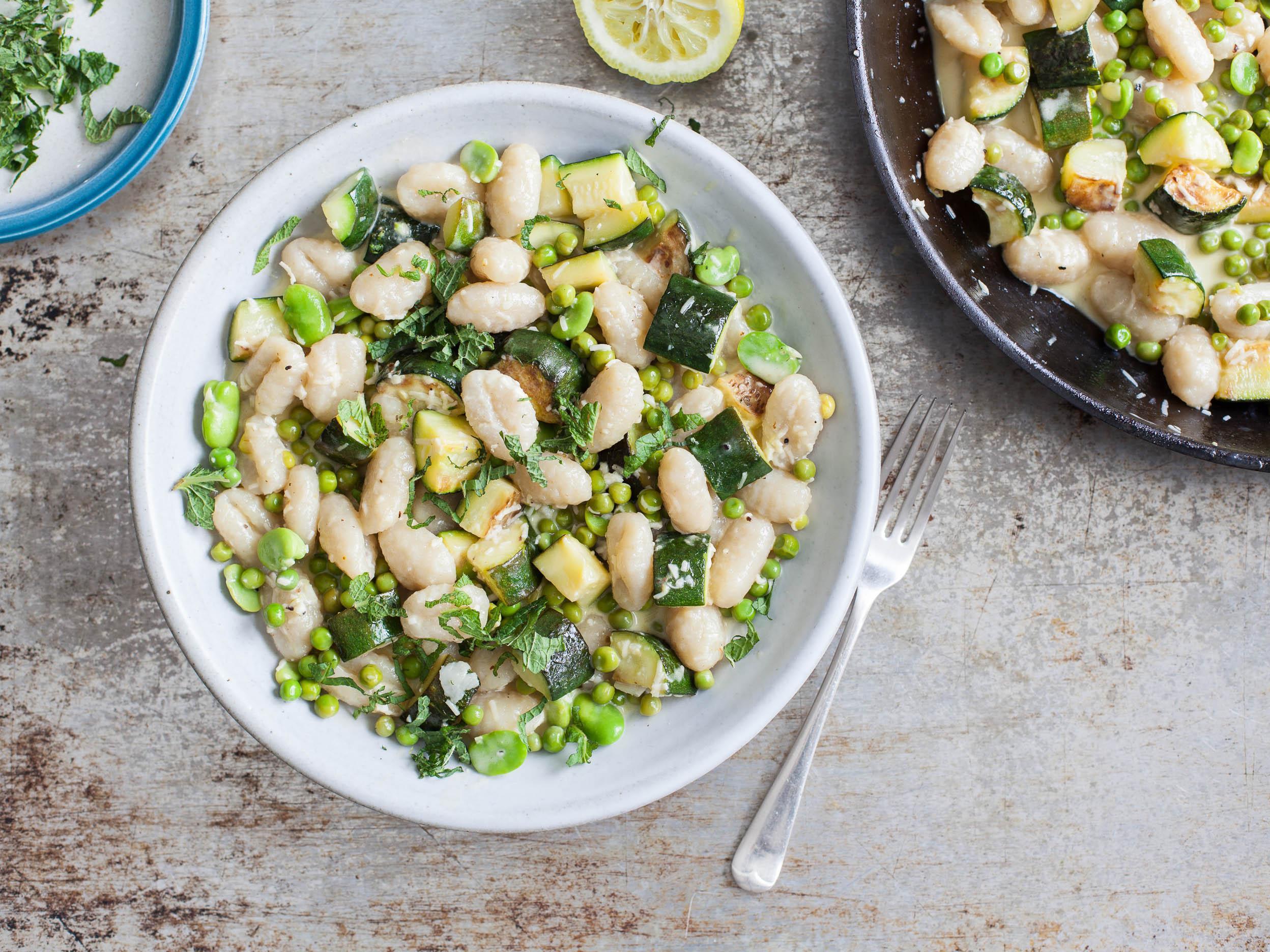 Gnocchi and creme fraiche with courgettes, broad beans and peas
The gnocchi and courgettes cook fast, leaving you plenty of time to pod your peas and beans. Podding has a meditative quality to it (for anything less than a kilo). If it's speed rather than enlightenment you're after, split the pile in half and race someone. You can use the broad beans with their skins on, but if you have time it's worth slipping them from their skins to reveal the bright green bean inside.
The creme fraiche is added after the pan is taken off the direct heat to avoid the risk of it splitting. The heat of the pan itself is more than enough to warm it through.
We'll tell you what's true. You can form your own view.
From
15p
€0.18
$0.18
USD 0.27
a day, more exclusives, analysis and extras.
250g broad beans
150g garden peas
1 garlic clove
2 courgettes
Olive oil
400g pack of potato gnocchi
100ml white wine
125ml creme fraiche
25g parmesan (or vegetarian equivalent), grated
1 lemon
Small handful of fresh mint
Salt and pepper
Put a kettle of water on to boil. While you wait for the kettle to boil, remove the broad beans from their pods and place them in a heatproof bowl. Tip over enough boiling water to just cover the beans. Leave them to sit for 6 minutes.
Tip the remaining water from the kettle into a saucepan. Add a good pinch of salt, place it on the heat and bring it back up to the boil. Leave it on a gentle simmer until needed.
Drain the broad beans, place them back in the bowl and cover in cold water to cool. Take a few minutes to slip them from their papery skins.
Pod the peas. Peel and finely chop 1 garlic clove. Trim the ends away from the courgettes. Cut each one into quarters, lengthways. Cut each quarter into 2cm pieces, roughly the same size as the gnocchi.
Warm 1 tablespoon oil in a frying pan and add the courgettes. Season with a little salt and pepper and fry over a medium heat for 6-8 minutes, until starting to soften.
When the courgettes are done, bring the pan of water up to a rolling boil and drop in the gnocchi. Cook for about 3-4 minutes, until they float to the surface.
While the gnocchi cooks, add the white wine, garlic, peas and broad beans to the courgettes. Let the wine bubble away and reduce until almost gone. Remove the pan from the heat and stir in the creme fraiche and parmesan.
When the gnocchi are cooked, drain them and add to the frying pan. Mix well. Taste and adjust with salt, pepper and a squeeze of lemon juice to your liking. Serve in bowls with some freshly chopped mint leaves as a garnish.
Recipe from Riverford.co.uk