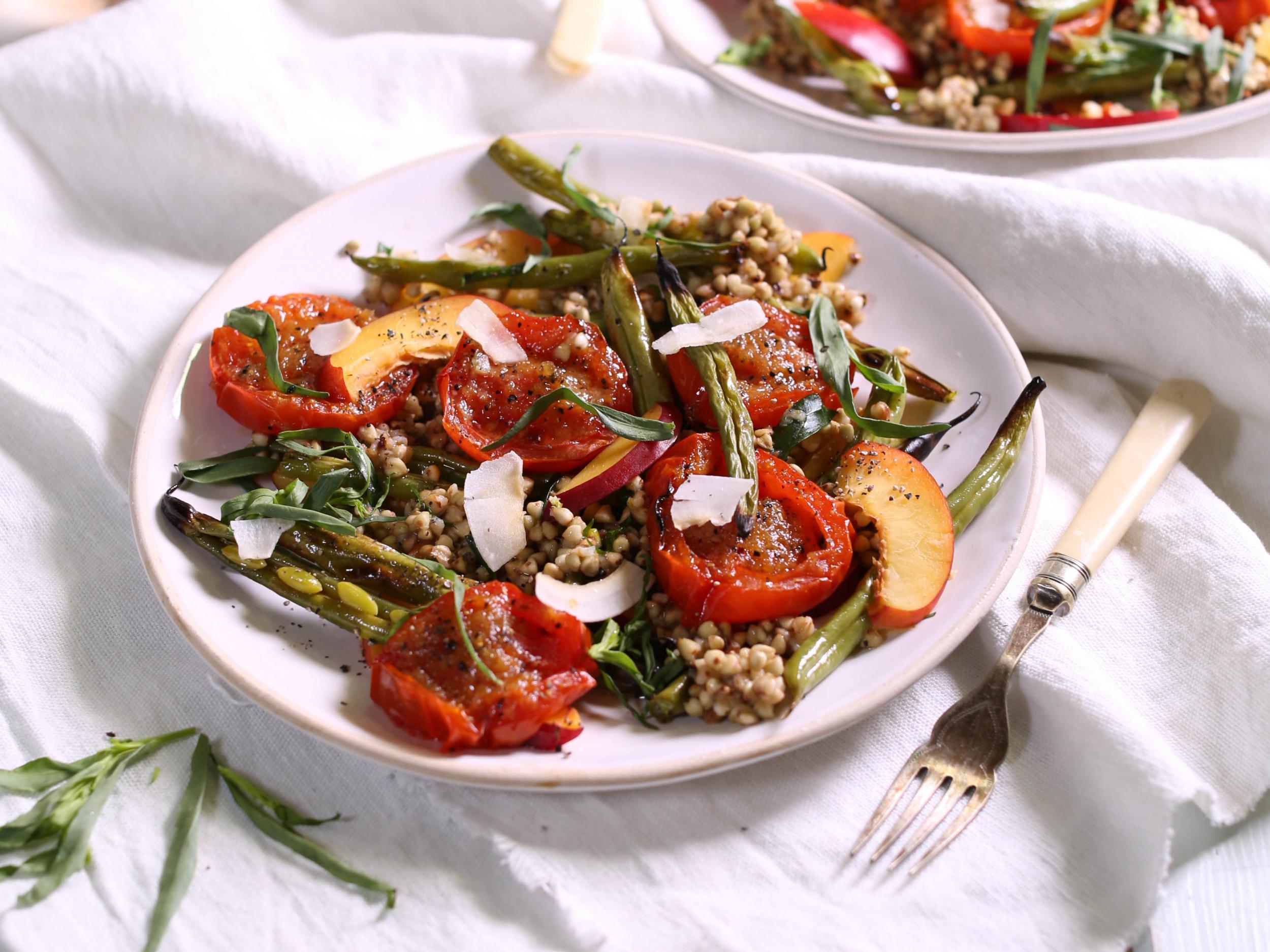 Gingered tomato, French bean and nectarine salad
A thumb-sized piece of ginger
1 garlic clove
1 lime
1 tbsp demerara sugar
2 tbsp olive oil
Sea salt and freshly ground pepper
400g vine tomatoes
200g French beans
75g buckwheat
A handful of tarragon leaves
2 nectarines
15g coconut flakes
Set your grill to a medium-high setting. Peel and grate the ginger and garlic into a small bowl. Zest the lime and add to the bowl. Add 1 tbsp each demerara sugar and olive oil and mix with a good pinch of salt.
We'll tell you what's true. You can form your own view.
From
15p
€0.18
$0.18
USD 0.27
a day, more exclusives, analysis and extras.
Cut each tomato into 3 thick slices. Lay them on a foil-lined baking tray. Spread the gingery mix over each slice. Trim the French beans and place them on the tray around the tomatoes. Grill for 15 minutes.
Meanwhile, tip the buckwheat into a pan and place on the hob. Toast for 2-3 minutes, then pour in 150ml boiling water. Simmer for 10 minutes.
Squeeze the juice from the lime into a large salad bowl. Add 1 tbsp olive oil and some salt and pepper. Mix to make a dressing. Pick the tarragon leaves from their stems and add to the bowl.
Halve the nectarines and scoop out the stones. Roughly chop and add to the dressing bowl.
Check the tomatoes after 15 minutes. They should have collapsed slightly and the topping coloured. The beans will be lightly charred. Cook for a further 5 minutes if not quite cooked. Drain any water from the buckwheat and leave to cool slightly.
Remove the tomatoes from the oven and lift onto a plate. Tip any juice from the tomatoes into the bowl with the dressing and whisk.
Fold the buckwheat and half of the French beans with the dressing. Taste and season if needed. Divide the buckwheat between two plates and top with the tomatoes and remaining French beans. Scatter over the coconut flakes to serve.
Recipe from Abel & Cole (abelandcole.co.uk)