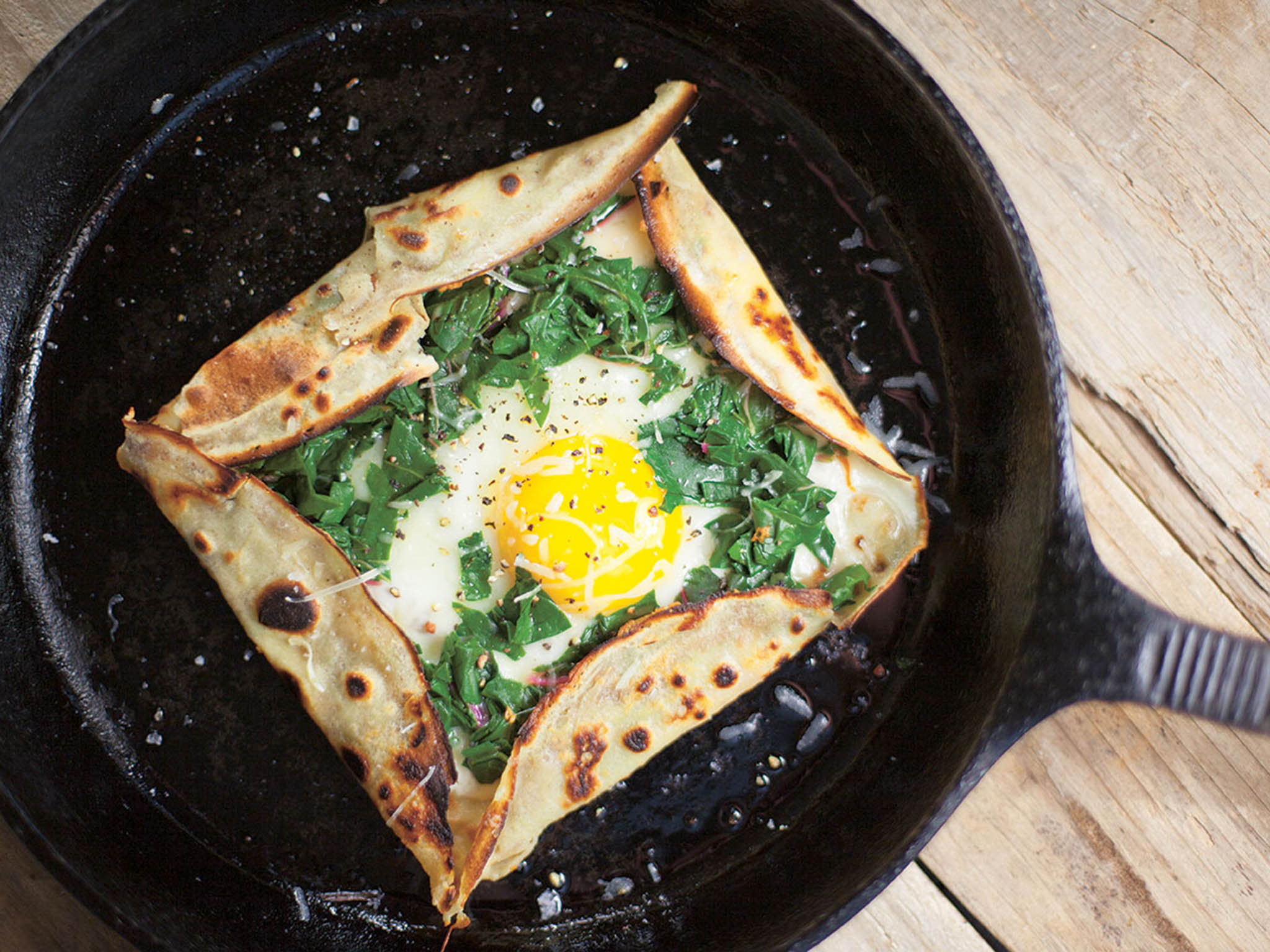 Galettes with chard and gruyère
Serves 4
Melted cheese, an egg and fresh greens housed in a nutty, gluten-free buckwheat pancake. It looks impressive but is simple to cook. The galettes are also good with spinach, comté cheese, ham, or sweet pancake fillings and can be made in advance and frozen, between sheets of greaseproof paper.
For the galettes
100g buckwheat flour
good pinch of salt
1 egg
300ml milk
50g butter, melted
sunflower oil, for oiling the pan
For the filling
400g chard, leaves stripped from their stalks
4 eggs
125g gruyère or cheddar, grated
Salt and black pepper
To make the galette batter, sift the flour and salt into a mixing bowl. Make a well in the centre and add the egg then whisk, adding the milk a little at a time, until you have a smooth batter. Leave to rest for at least 1 hour.
Meanwhile, blanch and squeeze the chard leaves, then roughly chop. Stir the melted butter into the batter. Heat a lightly oiled non-stick frying pan over a medium-high heat. Put a quarter of the batter into the pan, rolling it around to cover the surface of the pan. Cook for about a minute, until golden on the underside, then carefully flip the galette over.
Crack an egg into the centre. Scatter a quarter of the chopped chard and grated cheese over the whole galette and season with salt and pepper. When the underside is cooked to golden brown, use a spatula and then your fingertips to lift then fold the edges of the galette into the centre to form a square. Serve immediately, repeating with the remainder of the batter and filling.
Recipe from riverford.co.uk/recipe