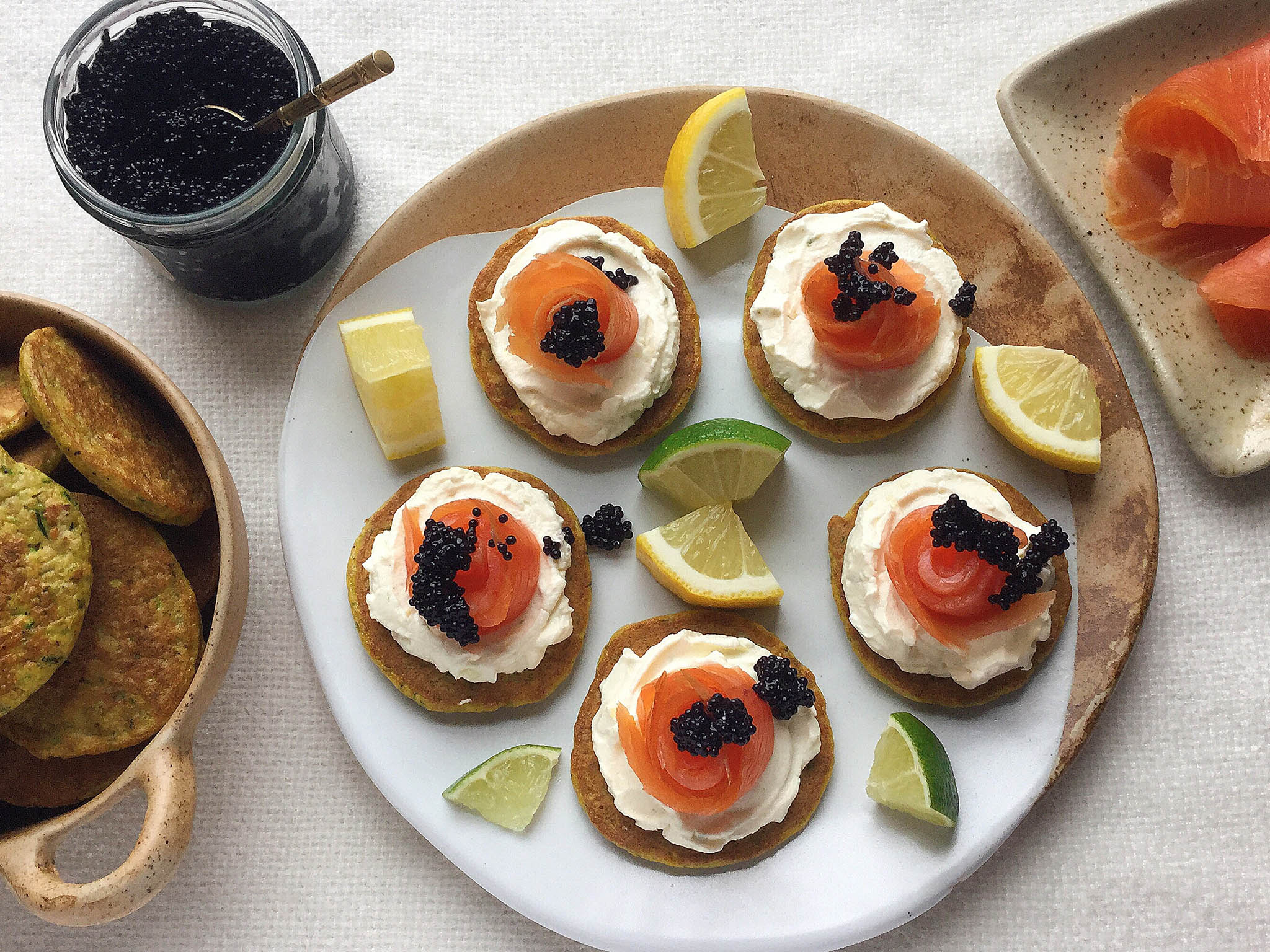 Flax and courgette blinis with smoked salmon and citrus cream cheese
Pancakes don't always have to be sweet. These are low carb, gluten free and make a delicious savoury treat
Makes 15 blinis:
We'll tell you what's true. You can form your own view.
From
15p
€0.18
$0.18
USD 0.27
a day, more exclusives, analysis and extras.
100g smoked salmon
Lumpfish caviar
For the blinis:
3 eggs
40g ground golden flax seeds
1 tsp onion powder
1 tsp salt
1 tsp freshly ground black pepper
100g courgette, finely grated
1 tbsp rapeseed oil
For the citrus cream cheese:
200g cream cheese, at room temperature
Zest and juice of 1 small lemon
Zest and juice of 1 lime
Salt
Lemon pepper
To serve:
Lemon and lime wedges
To make the blinis, crack the eggs into a large bowl and whisk in the ground flax seeds, onion powder, salt and black pepper until well combined and a little frothy. Fold in the grated courgettes.
Heat the oil in a large frying pan over a medium heat. Drop tablespoons of the mixture into the hot oil and cook for two minutes until firm on top and golden underneath. Carefully flip over and cook for a further one to two minutes. Remove the blinis to a plate lined with kitchen paper and leave to one side.
To make the citrus cream cheese, beat the cream cheese in a bowl with the lemon and lime zest and juice. Add a pinch of salt and a little lemon pepper. Taste and adjust the seasoning if necessary. Pipe or spread the citrus cream cheese on to each blini and arrange on a platter. Top with a strip of smoked salmon rolled into a flower and spoon on a little lumpfish caviar. Serve with lemon and lime wedges.
These blinis freeze really well. Once cooked and cooled, lay them out in a single layer on a baking tray lined with parchment paper and place in the freezer. Once frozen they can be stored in a bag in the freezer until needed. Just take them out and warm them in the oven for a few minutes before adding a topping and serving.
Follow Beverley Hicks @littlechelseakitchen