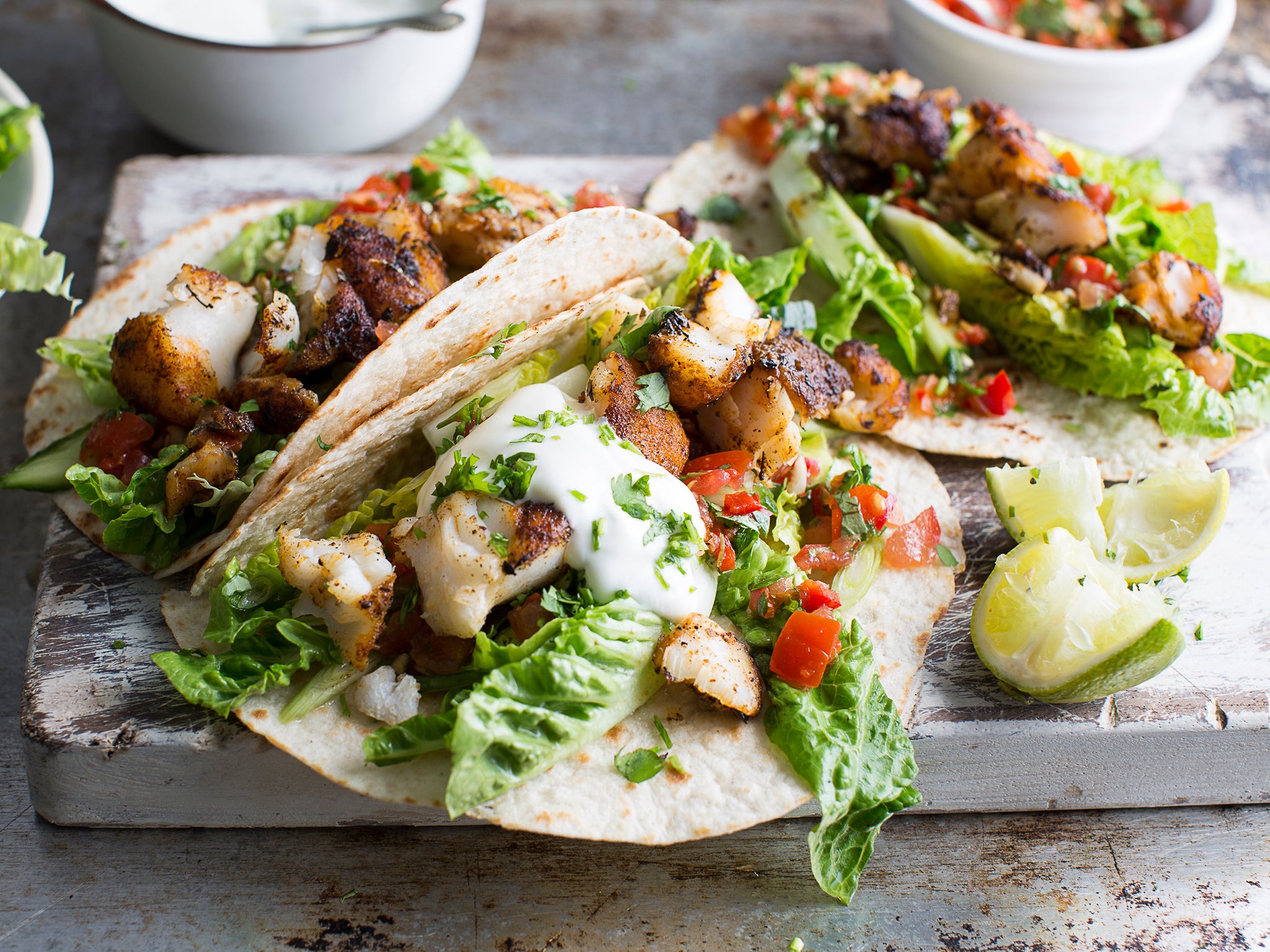 Fish tacos and summer salad with salsa and sour cream
Serves 2
Prep: 15 minutes
​Cook: 10 minutes
We'll tell you what's true. You can form your own view.
From
15p
€0.18
$0.18
USD 0.27
a day, more exclusives, analysis and extras.
300g diced pollock
1 tsp ground cumin
1 tsp dried oregano
1 tsp sweet smoked paprika
½ tsp chilli powder
Olive oil
1 lime
½ tbsp brown sugar
½ cucumber
½ red onion, finely diced
1 garlic clove, finely chopped
3 tomatoes, roughly chopped
1 red chilli, finely chopped
Small bunch of coriander, chopped
40g salad leaves
4 corn tortillas
150g soured cream
Season the fish with salt and pepper. In a shallow bowl, mix the spices with 2 tablespoons of oil. Place the fish in the marinade. Turn it to coat with the mixture. Leave to one side while you continue.
Juice half the lime. Mix the juice with the sugar. Cut the cucumber lengthways, remove the soft, seedy core with the tip of a teaspoon and discard. Slice into ½cm pieces at an angle. In a shallow bowl, mix the onion and cucumber with the sweetened lime juice and a good pinch of salt. Leave to macerate while you continue.
To make a quick salsa, mix the garlic, tomatoes and chilli with the coriander. Add 1 tablespoon of oil, season with salt and mix together well.
Heat 2 tablespoons of oil in a frying pan. When the oil is shimmering hot, add the fish and all of the marinade. Fry on a medium-high heat for 3 minutes until cooked through. Finish with a squeeze of lime.
Meanwhile, turn your grill on to a medium-high heat. Toss the salad leaves with the cucumber, onion and sweetened lime juice to complete the salad.
Slide 4 tortillas under the grill, until warm but still pliable. Wedge some salad, a blob of soured cream and some salsa into the tortillas. Pile the fish in and fold them over to make tacos. Serve with any leftover salad on the side.
Recipe from riverford.co.uk