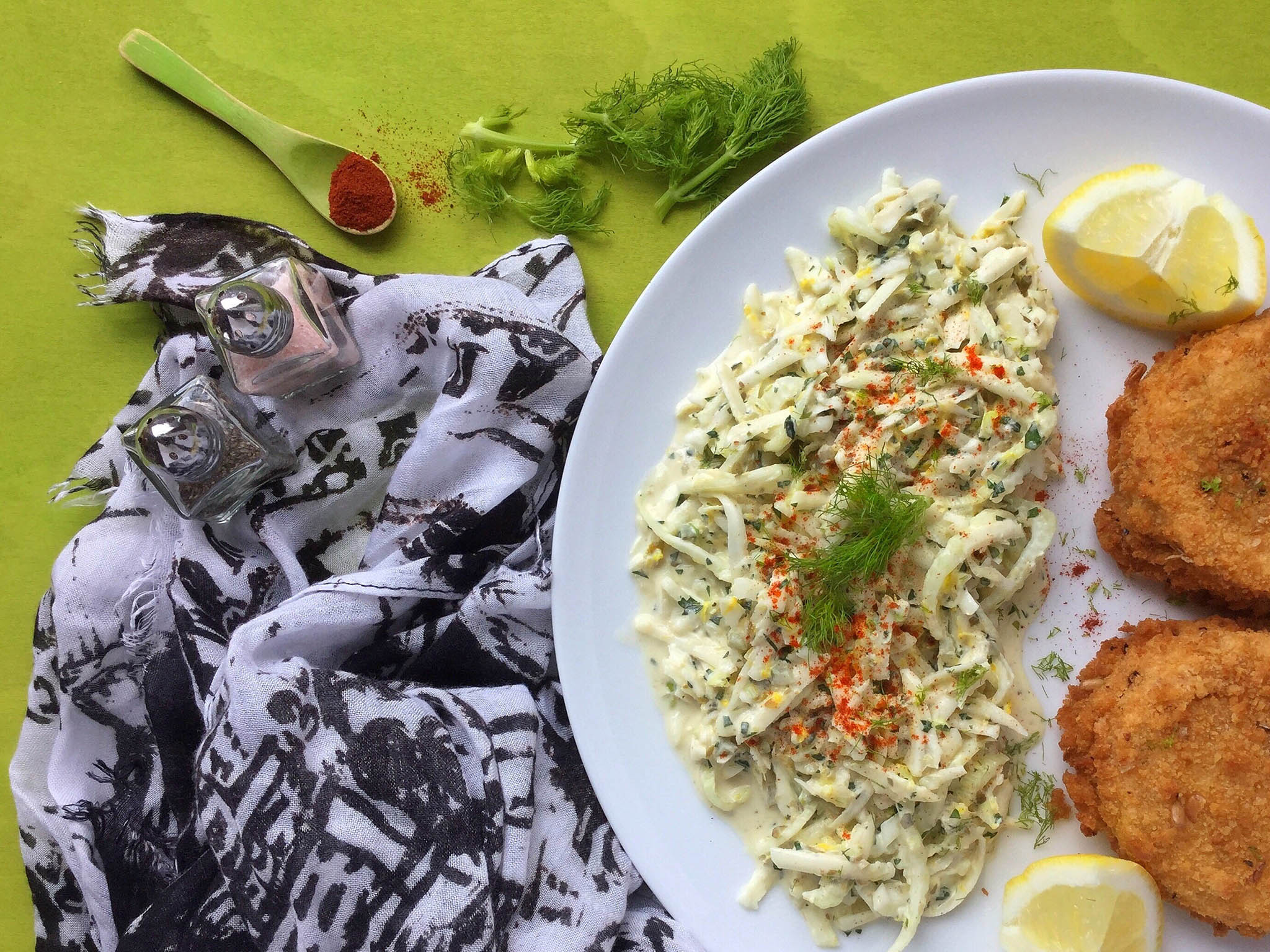 Rémoulade is a classic French sauce also used as a condiment and it's a piquant mix of mayonnaise with lemon, mustard and herbs.
Classically used to dress celeriac but in this variation I've added some seasonal fennel to mix things up a little.
There are two types of fennel, the herb type, which grows 3-5 feet tall with fine leaves which resemble dill, and the bulb type, which is sold in most supermarkets and is used in this recipe.
We'll tell you what's true. You can form your own view.
From
15p
€0.18
$0.18
USD 0.27
a day, more exclusives, analysis and extras.
Fennel is very high in fibre, vitamins and minerals. Made into a tea it is often used while detoxing.
The entire plant is edible, you can eat the seeds, bulb, stalk and leaves. The crunchy bulb is used as a vegetable and can be eaten raw, grilled, steamed, baked or however you like it.
It has a slightly sweet, mild liquorice flavour and aroma, similar, but not as strong as aniseed. The stalks and feathery leaves, or fronds, are great for making soups.
The fronds can also be chopped up finely and used as a flavourful addition to any dish which requires a pop of liquorice flavour.
This crunchy salad with a rémoulade dressing is a great match for fish and seafood. Enjoy it with fish cakes and a chilled glass of chardonnay for a light and fairly healthy lunch.
Fennel and celeriac salad with rémoulade sauce
Serves 3-4
For the salad
1 fennel bulb, finely shredded
1 small celeriac
Juice of 1 large lemon
For the rémoulade
3 tablespoons mayonnaise, home-made if possible
2 tablespoons crème fraîche​
1 rounded tablespoon Dijon mustard
1 fat garlic clove, finely minced
1 tablespoon white wine vinegar
¼ teaspoon freshly ground white pepper
Zest and juice of 1 large lemon
4 spring onions, very finely chopped
1 tablespoon flat leaf parsley, very finely chopped
1 teaspoon tarragon, very finely chopped
1 rounded tablespoon chopped capers
1 rounded tablespoon chopped gherkins
To serve
Lemon wedges
Fennel fronds or chopped parsley
Smoked sweet paprika
To make the rémoulade, in a medium bowl stir together the mayonnaise, crème fraîche, mustard, garlic, vinegar, white pepper, lemon zest and juice.
Tip in the spring onions, parsley, tarragon, capers and gherkins and mix until thoroughly combined. Taste the remoulade and adjust the seasoning if necessary. Cover and refrigerate until needed.
Put the lemon juice into a large mixing bowl. Peel the celeriac and coarsely grate. Celeriac will discolour very quickly if not rubbed or immersed in lemon juice so, immediately after grating, drop into the lemon juice and stir to coat thoroughly.
When ready to serve, add the shaved fennel to the celeriac and lemon juice, pour over the rémoulade sauce and stir well to coat the vegetables.
Divide between four plates and sprinkle with some finely chopped fennel fronds and a pinch of paprika. Serve with lemon wedges to squeeze over.
This crunchy salad is a perfect accompaniment to fish cakes, baked or poached fish or smoked salmon.
Follow Beverley Hicks @littlechelseakitchen