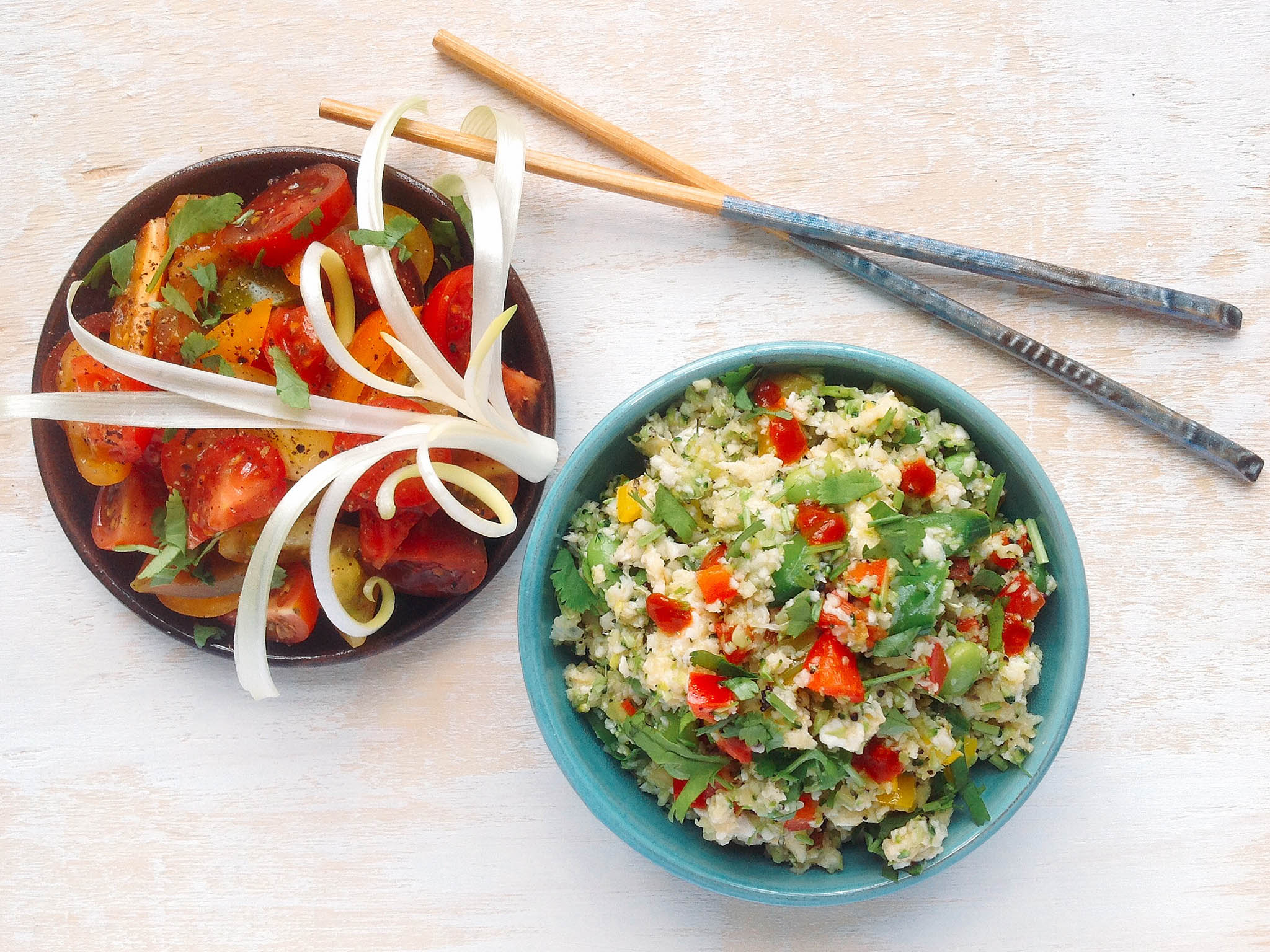 Egg-fried broccoli and cauliflower 'rice' and vegetables
A healthier version of a much-loved Chinese side dish. You can add whatever vegetables you have in your fridge, or make it a bit heartier with the addition of some leftover cooked meat or fish.
Serves 4
We'll tell you what's true. You can form your own view.
From
15p
€0.18
$0.18
USD 0.27
a day, more exclusives, analysis and extras.
1 small head of broccoli
I small head of cauliflower
1 tablespoon coconut oil
4 eggs, beaten together
3 fat garlic cloves, minced
1 thumb-sized piece of ginger, minced
3 large banana shallots, very finely diced
100g sugar snap peas, sliced diagonally
1 red pepper, diced
1 yellow pepper, diced
100g edamame beans, boiled for a few minutes
1 tablespoon light soy sauce
1 teaspoon toasted sesame oil
Himalayan pink salt and freshly ground white pepper
Chopped coriander to garnish
To make the broccoli and cauliflower 'rice', break up the broccoli and cauliflower florets into quite small pieces and pulse in a food processor until they resemble rice – you may have to do this in a couple of batches. In a large wok, heat half the oil and scramble the eggs until they are set but still a little wet, then remove to a plate and leave to one side.
Wipe the wok clean with some kitchen paper then heat the other half of the oil. Add the garlic, ginger and shallots and saute until soft. Tip in the sugar snap peas, peppers and edamame beans and saute for a few minutes. Now add the broccoli and cauliflower 'rice', soy sauce and toasted sesame oil and mix well.
Add the scrambled eggs back to the wok, mix well and heat through for 1-2 minutes to ensure the eggs are cooked. Taste and adjust the seasoning if necessary. Serve sprinkled with chopped coriander and a side salad of chopped tomatoes seasoned with salt, pepper and a dash of toasted sesame oil.
Follow Beverley Hicks @littlechelseakitchen