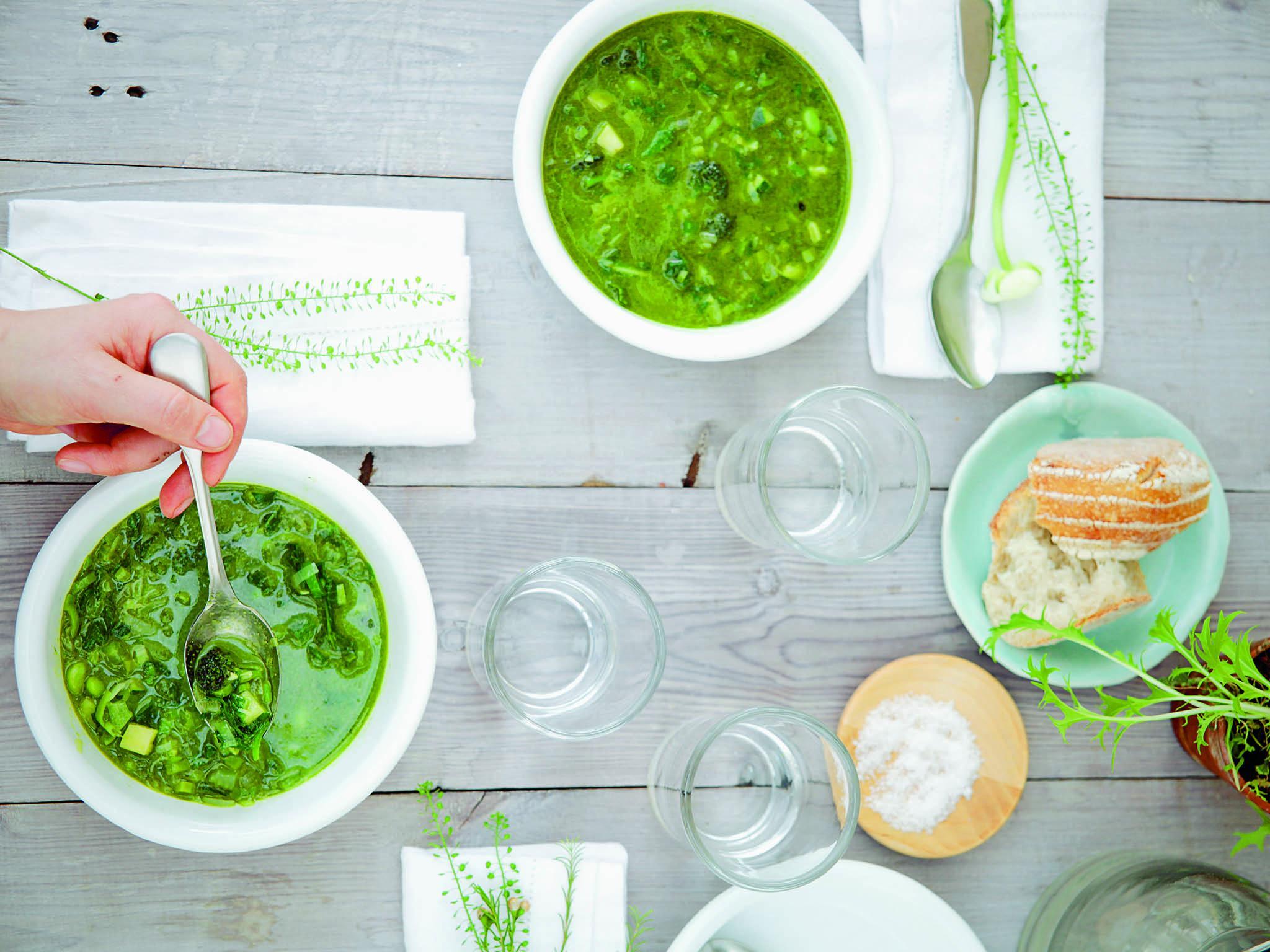 S

pring green minestrone
A twist on the tomato-based soup, this uses the best of the season's green vegetables – beans, courgettes, peas and broad beans. Full of nutrients, the bone broth also packs it with flavour and a hit of goodness. It's a versatile recipe so you can really use whatever vegetables you like – just adjust them according to what you have in your garden or what's in season at the shop.
2 tbsp olive oil
225g spinach, washed
225g rocket, washed
1 onion, diced
2 celery sticks, diced
2 courgettes, diced
2 leeks, trimmed, washed and diced
180g green beans, trimmed and diced
1.2 litres chicken bone broth or good-quality vegetable stock
bouquet garni (sprig of parsley, bay leaf and sprig of thyme tied with string)
100g peas
100g broad beans, tough skins removed
juice of ½ lemon salt and pepper
Wild garlic pesto or regular shop-bought or homemade pesto, to serve
We'll tell you what's true. You can form your own view.
From
15p
€0.18
$0.18
USD 0.27
a day, more exclusives, analysis and extras.
Heat the olive oil in a pan and wilt the spinach and rocket. Remove from the pan, cool and roughly chop.
Add the onion to the same pan with the celery and cook for about 10 minutes until softened, then add the courgettes, leeks and beans and sauté for 5 minutes.
Pour in the stock and add the bouquet garni, bring to a simmer and cook for 5 minutes, then add the peas and broad beans.
Add the wilted spinach and rocket with the lemon juice and check for seasoning.
Serve in warmed bowls with a spoonful of pesto on top of each.
Recipe from 'Nurture: Notes and Recipes from Daylesford Farm' by Carole Bamford, £35