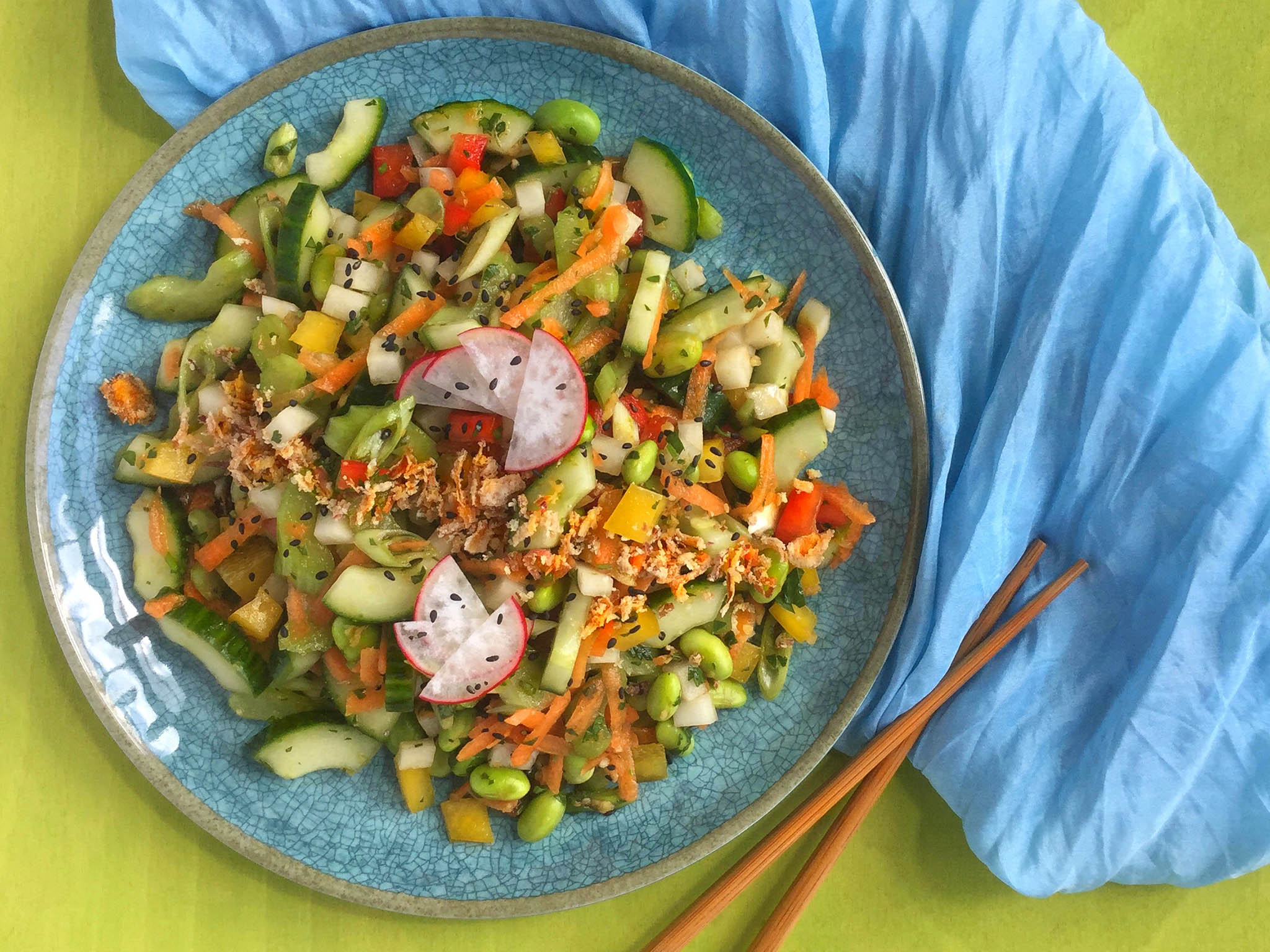 This salad started off as one of those leftover dishes and turned into something a little bit special.
I knew I had an extra cucumber in the salad drawer and when I went to retrieve it I found half a bunch of spring onions, a couple of half-used peppers, a lonely looking carrot and a very random piece of mooli. I assembled the 'leftovers' on a tray and added a couple of handfuls of edamame beans, which are a staple in my freezer.
I'd just bought a huge piece of fresh ginger, so a fat finger of that was added to the tray also. I looked at the assembled ingredients and they just screamed out for an Asian-style dressing.
We'll tell you what's true. You can form your own view.
From
15p
€0.18
$0.18
USD 0.27
a day, more exclusives, analysis and extras.
Toasted sesame oil has a much deeper flavour than regular sesame oil. It is made by pressing toasted sesame seeds, as opposed to raw seeds for regular sesame oil. The toasting process makes their already nutty flavour even more intense, and this intense flavour works so well with the spicy freshness of the ginger and zesty lime.
This is an ideal salad to make in the evening and take to work the next day as the flavours develop even more after a night in the fridge.Take the crispy fried shallots in a separate tub to sprinkle on just before serving or they will go soggy.
Cucumber salad with ginger sesame dressing
Serves 2
For the salad:
150g shelled edamame beans
1 large organic cucumber
1/2 tsp salt
5 spring onions, sliced on the diagonal
1 carrot, peeled and coarsely grated
1/2 each red and yellow pepper, de-seeded and diced
2 sticks celery, very finely sliced
100g piece mooli (white radish), diced
For the dressing:
1 tbsp avocado oil
1 tbsp light soy sauce
1 tbsp black rice vinegar
1 tbsp sesame oil
100g piece ginger, minced
1 garlic clove, minced
Zest and juice of 1 lime
1 tsp palm sugar
1 tbsp chopped fresh coriander
1 heaped tsp chopped fresh mint
To garnish:
Breakfast radishes, finely sliced
Black sesame seeds
Crispy fried shallots (can be bought in a tub in most Asian supermarkets)
Bring a large pan of water to the boil, add the soya beans and cook for 5 minutes. Using a slotted spoon, transfer the beans into a bowl of ice water, this will stop the cooking and ensure they keep their vibrant green colour. To make the dressing, whisk all the ingredients in a bowl until the palm sugar has completely dissolved. Taste and adjust the seasoning or sweetness if necessary. Cover and refrigerate until needed.
To make the salad, quarter the cucumber lengthways, scrape out the seeds and either discard or save to add to a soup or smoothie. Slice into half centimetre pieces and put into a colander.
Sprinkle with the salt and mix roughly with your hand, leave over a large bowl to drain for 10 minutes. After this time, pour away the drained water and wash the bowl. Blot the cucumber with a kitchen towel and add to the same bowl along with the edamame beans, spring onions, carrot, peppers, celery and diced mooli.
Pour the dressing over the salad and toss to combine. Divide between two plates and garnish with thinly sliced radishes, black sesame seeds and a few crispy fried shallots.
Follow Beverley Hicks @littlechelseakitchen