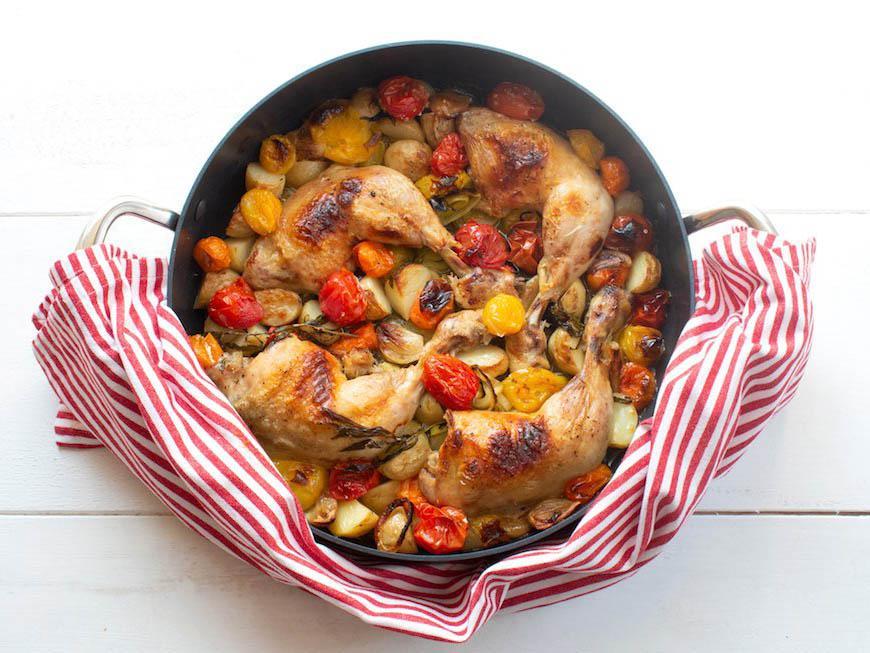 Crispy chicken legs with cherry tomatoes, leeks and potatoes
Prep: 5 minutes
Cook: 1-1½ hours
Serves 4
We'll tell you what's true. You can form your own view.
From
15p
€0.18
$0.18
USD 0.27
a day, more exclusives, analysis and extras.
4 chicken legs
Salt and pepper
1 leek
2 handfuls new potatoes
12 mixed cherry tomatoes
½ a bulb garlic
4 sprigs tarragon
1 tbsp olive oil
Preheat the oven to 190C and season the chicken legs with a generous amount of salt and pepper.
Slice the leek and halve or quarter the new potatoes depending on their size. Place in a wide shallow pan along with the cherry tomatoes, garlic cloves and tarragon.
Nestle the chicken legs into the pan in between the vegetables and drizzle over the olive oil.
Place in the oven for 1-1½ hours, turning the pan halfway through, until the chicken is crispy, and the tomatoes have turned sticky and jam-like.
Delicious served with your favourite green vegetables.
Recipe courtesy of The Tomato Stall