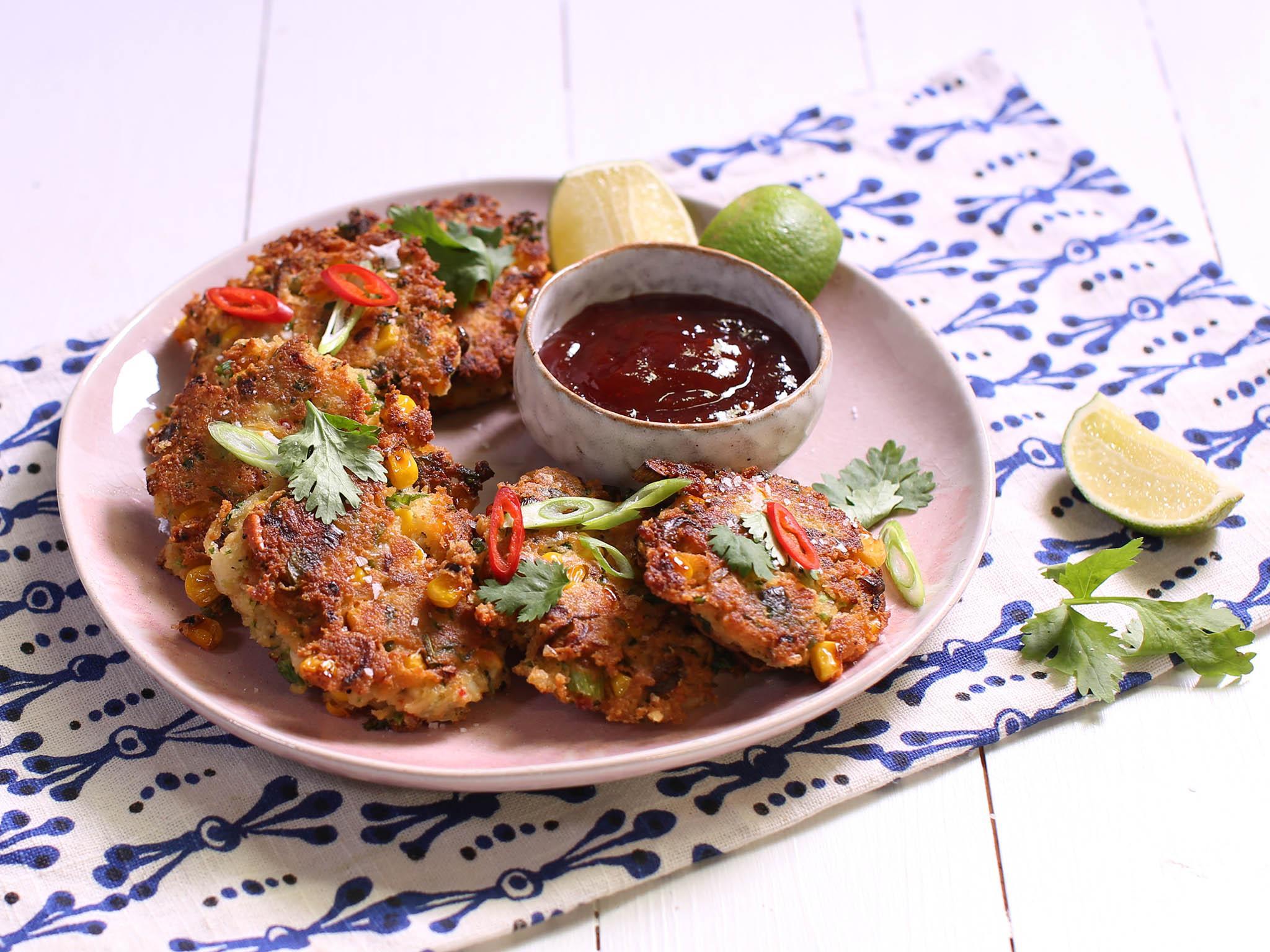 Crab, corn and coconut fritters
Makes approx 10-15 fritters
1 cob of corn
1 chilli
2 limes
2 spring onions
A large handful of coriander
50g cornflour
50g coconut flour
1 tsp baking powder
1 egg
150-200ml sparkling water
200g handpicked 50/50 Cornish crab
Sea salt
Freshly ground black pepper
4-6 tbsp rapeseed oil
We'll tell you what's true. You can form your own view.
From
15p
€0.18
$0.18
USD 0.27
a day, more exclusives, analysis and extras.
To serve
3 tbsp chilli jam
A small handful of coriander leaves
Sea salt
Lime wedges
Pull the leaves and the silks off the cob. Lay the cob on a chopping board. Carefully cut down the sides with a knife, rotating as you go, to slice off the kernels. Place them in a large bowl.
Halve, deseed and finely chop the chilli. Zest in the limes. Trim and thinly slice the spring onion. Finely chop the coriander leaves and stalks. Add them to the bowl with the sweetcorn.
In a separate bowl, mix together the cornflour, coconut flour and baking powder. Mix in the egg and 150ml of sparkling water till smooth.
Tip in the 50/50 crab meat and add a good pinch of salt and pepper. Mix well to combine.
Transfer the corn mix to the bowl with the crab batter and mix till well incorporated. If the batter is too thick, add a little more sparkling water. The batter should be thick but not dry.
Place a large frying pan on a medium heat for a couple of minutes. When the pan is warm, pour in 2 tablespoons of oil. Spoon a heaped dessert spoon of the batter into the pan. Depending on the size of your pan add 2 or 3 more spoonfuls.
Fry for about 3 minutes then carefully flip the fritters over. Fry for a further 2-3 minutes till golden brown on each side and cooked through. Transfer to a plate lined with kitchen paper. Keep warm in a low oven if required.
Continue till you have used all the batter, adding more oil as needed.
Squeeze the juice from 1 lime in to a medium bowl. Stir through the chilli jam. Cut the remaining lime into wedges.
Sprinkle the fritter with a little sea salt and a few coriander leaves. Serve them with the chilli jam to dunk and squeeze wedges of lime over.
Recipe from Abel & Cole (abelandcole.co.uk)