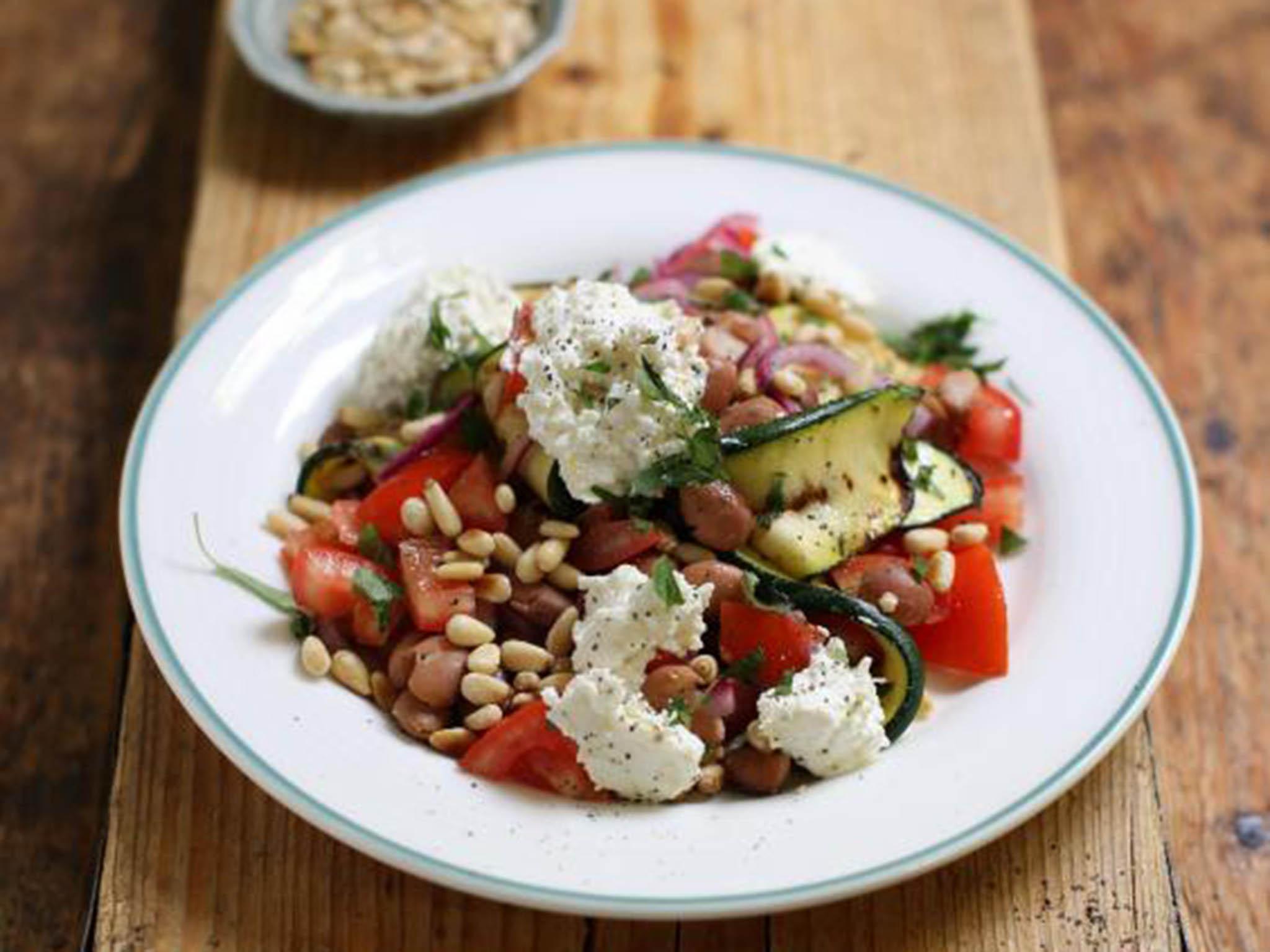 Courgette, borlotti bean and ricotta salad
Courgettes love a good griddling – it makes them extra sweet and tender and gives them a lovely smoky edge, perfect for folding with the season's plumpest borlotti beans, juicy tomatoes and a drizzle of minty dressing – topped with fresh organic ricotta and pine nuts.
Prep time: 30 mins
Serves: 2
We'll tell you what's true. You can form your own view.
From
15p
€0.18
$0.18
USD 0.27
a day, more exclusives, analysis and extras.
For the salad:
125g organic ricotta
1 lemon
Sea salt
Freshly ground pepper
1 red onion
1 garlic clove
25g pine nuts
2 courgettes
400g vine tomatoes
400g borlotti beans
1 tbsp olive oil
A handful of mint, leaves only
Spoon half the pot of ricotta into a small bowl. Finely grate in the lemon zest and add a pinch of salt and pepper. Set to one side.
Peel and thinly slice the red onion. Peel and finely grate or crush the garlic. Pop them both in a large bowl. Squeeze over the lemon juice and add a pinch of salt. Scrunch together with your hands for 1-2 minutes. Set to one side to pickle.
Pop a frying pan on a medium heat and tip in the pine nuts. Toast for 2-4 minutes, shaking the pan often, until lightly golden. Tip into a small bowl and set aside.
Trim the courgettes, then cut them as thinly as possible lengthways. Pop the frying pan back on the heat (or use a griddle if you prefer) for 1-2 minutes until hot, then lay a few courgette slices in the dry pan. Cook for 2-3 minutes on each side and repeat until you have used all the courgette strips. Pop them on to a plate once they are cooked.
Roughly chop the tomatoes and add to the bowl with the pickled onions. Drain and rinse the borlotti beans and add those to the bowl. Glug in 1 tablespoon of olive oil.
Finely chop the mint leaves and add to the bowl. Add the courgettes and gently fold everything together to coat in the dressing. Taste and add more salt or pepper if you like.
Divide the salad between a couple of plates and top with the ricotta and toasted pine nuts to serve.
Recipe from Abel and Cole.