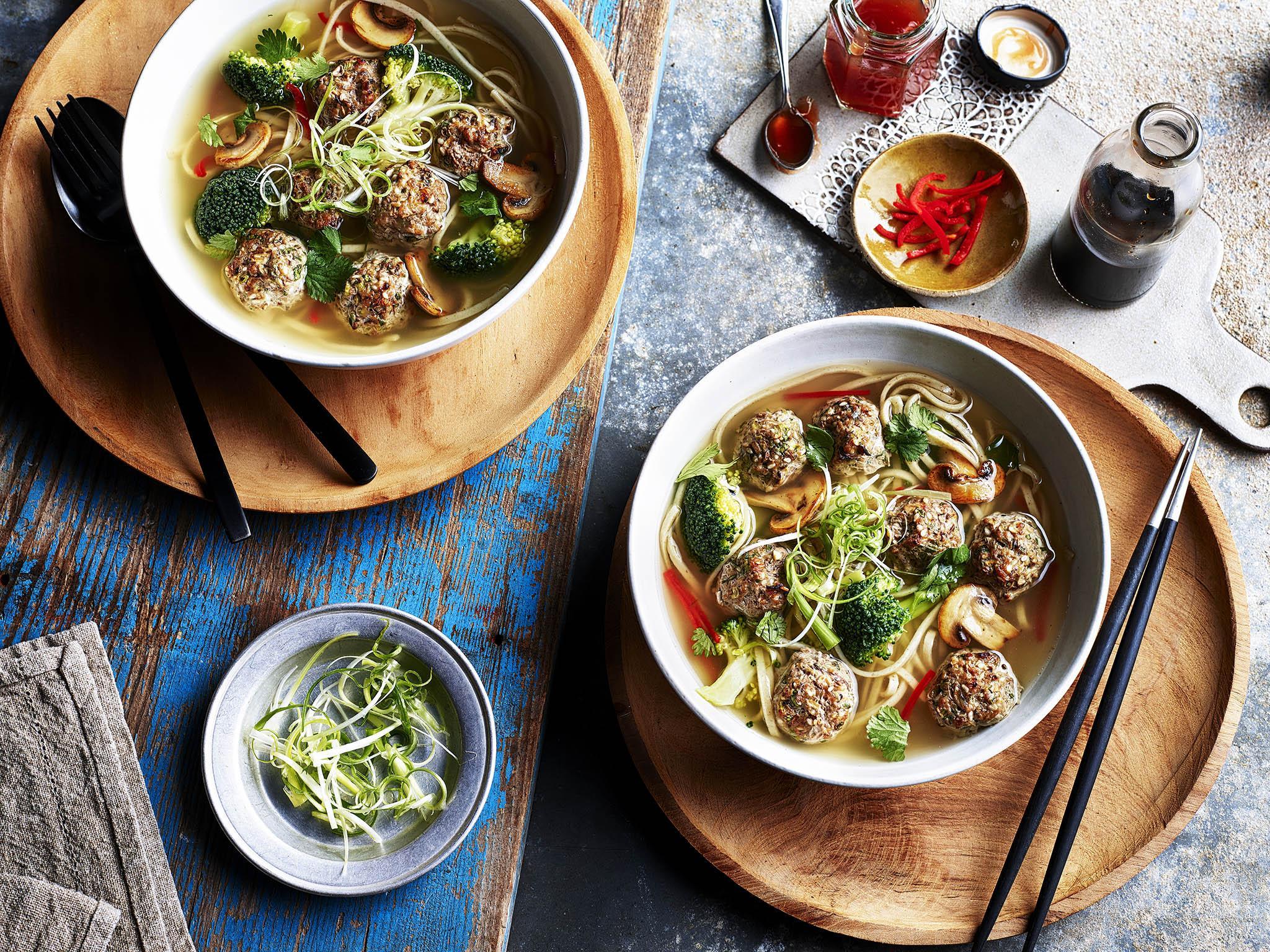 Chilli noodle broth with meatballs
For the meatballs
250g chestnut mushrooms, finely diced by hand or in a food processor (save a couple of mushrooms, slice them and sprinkle on top when you are ready to serve)
300g pork mince
3 spring onions, sliced
1 green chilli, deseeded and chopped
2 tbsp hoisin sauce
1 tsp soy sauce
½ tsp ground ginger
25g sesame seeds
Handful of coriander
We'll tell you what's true. You can form your own view.
From
15p
€0.18
$0.18
USD 0.27
a day, more exclusives, analysis and extras.
For the noodle broth
2l vegetable stock
3 garlic cloves, crushed
2cm piece of fresh ginger, peeled and grated
1 red chilli, deseeded and sliced
4 nests of dried medium egg noodles
100g broccoli, cut into small florets
To serve
1 spring onion, sliced
Coriander leaves, finely chopped
Soy sauce, optional
Hoisin sauce, optional
Preheat the oven to 180C/160C for a fan oven. Line a baking sheet with non-stick baking parchment.
Mix together all the ingredients for the meatballs in a large bowl until well combined.
Roll the mixture into balls, roughly the size of walnuts and place onto the baking sheet. Bake for 15 minutes until cooked through.
Meanwhile, heat up the vegetable stock in a large pan and add the garlic, ginger and chilli. When the liquid is boiling, add the noodles and cook for 3 minutes. Add the broccoli and cook for a further minute.
Serve the broth in bowls topped with the meatballs, spring onions, coriander and sliced mushrooms. Add soy sauce or hoisin sauce to taste.
Recipe from justaddmushrooms.com