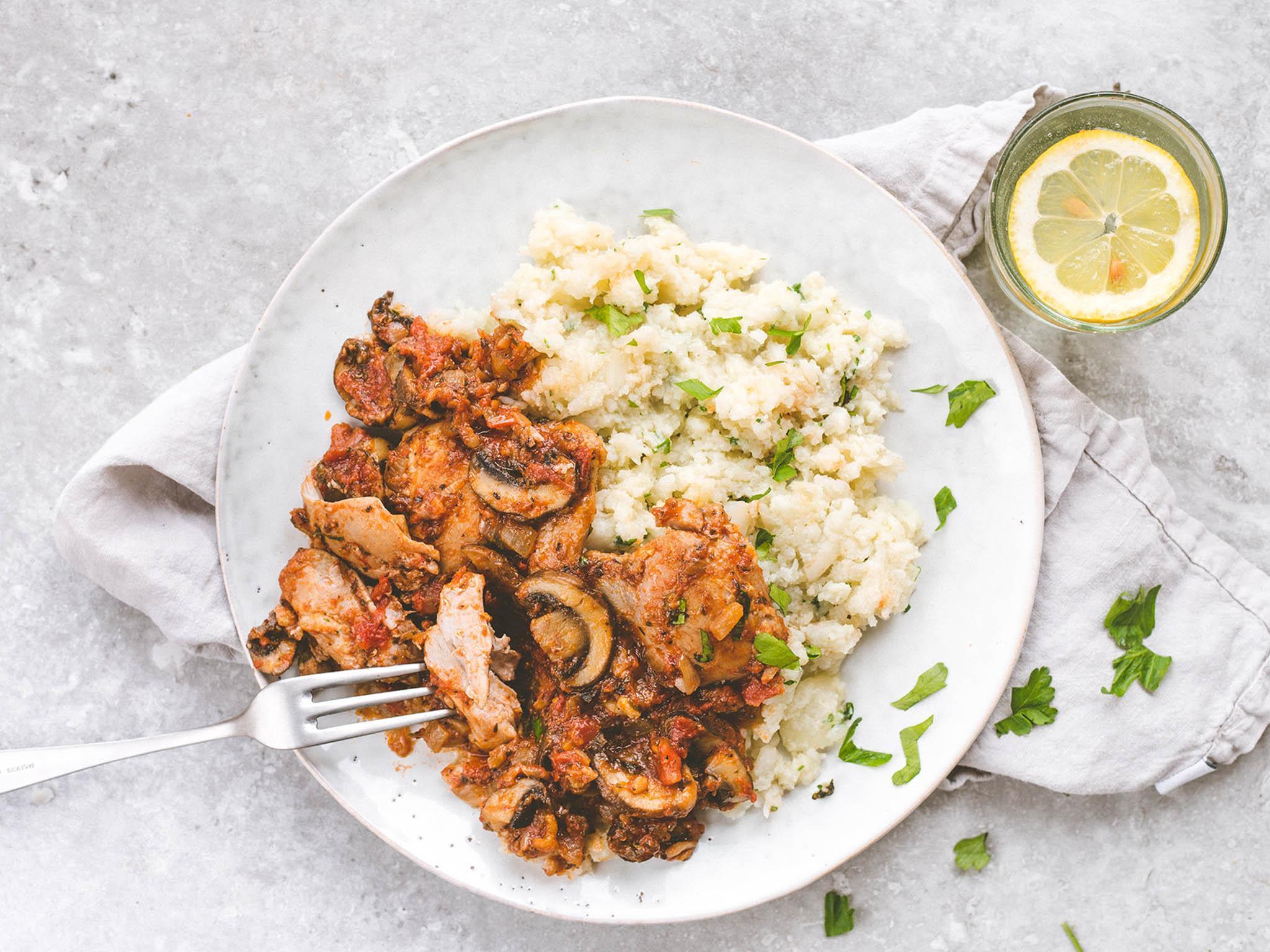 Chicken chasseur with cauliflower mash
120g chestnut mushrooms
½ vegetable stock cube
1 bay leaf
1 cauliflower
1 shallot
1 tbsp oil
2 garlic cloves
2 tbsp tomato puree
2 tsp dried tarragon
2 x 150g free range chicken thighs
400g chopped tomatoes
Large handful of flat-leaf parsley
Boil a kettle. Dissolve the half vegetable stock cube in a jug with 100ml boiling water.
Finely chop the garlic, thinly slice the shallot and finely slice the mushrooms. Remove the leaves from the cauliflower and cut into small pieces. Slice each chicken thigh in half.
Heat 1 tbsp oil in a medium-sized pan on a medium heat and cook the shallot and garlic for 2 minutes, then add the chicken for 3 minutes each side until turning golden brown. Then add the mushrooms for 2 minutes.
Place the cauliflower in a saucepan and cover with boiling water. Simmer for 15 minutes until softened.
Meanwhile, to the chicken pan add the chopped tomatoes, vegetable stock, dried tarragon, tomato puree and bay leaf and simmer with the lid on for 10 minutes, stirring occasionally. Then remove the lid and simmer for 5 minutes to reduce the sauce and until the chicken is cooked through.
Roughly chop the parsley leaves. Drain and mash the cauliflower with a potato masher. Stir in the parsley and season to taste. Remove the bay leaf from the chicken chasseur and discard.
Spoon the chicken chasseur onto two warm plates alongside the cauliflower mash.
Recipe from mindfulchef.co.uk