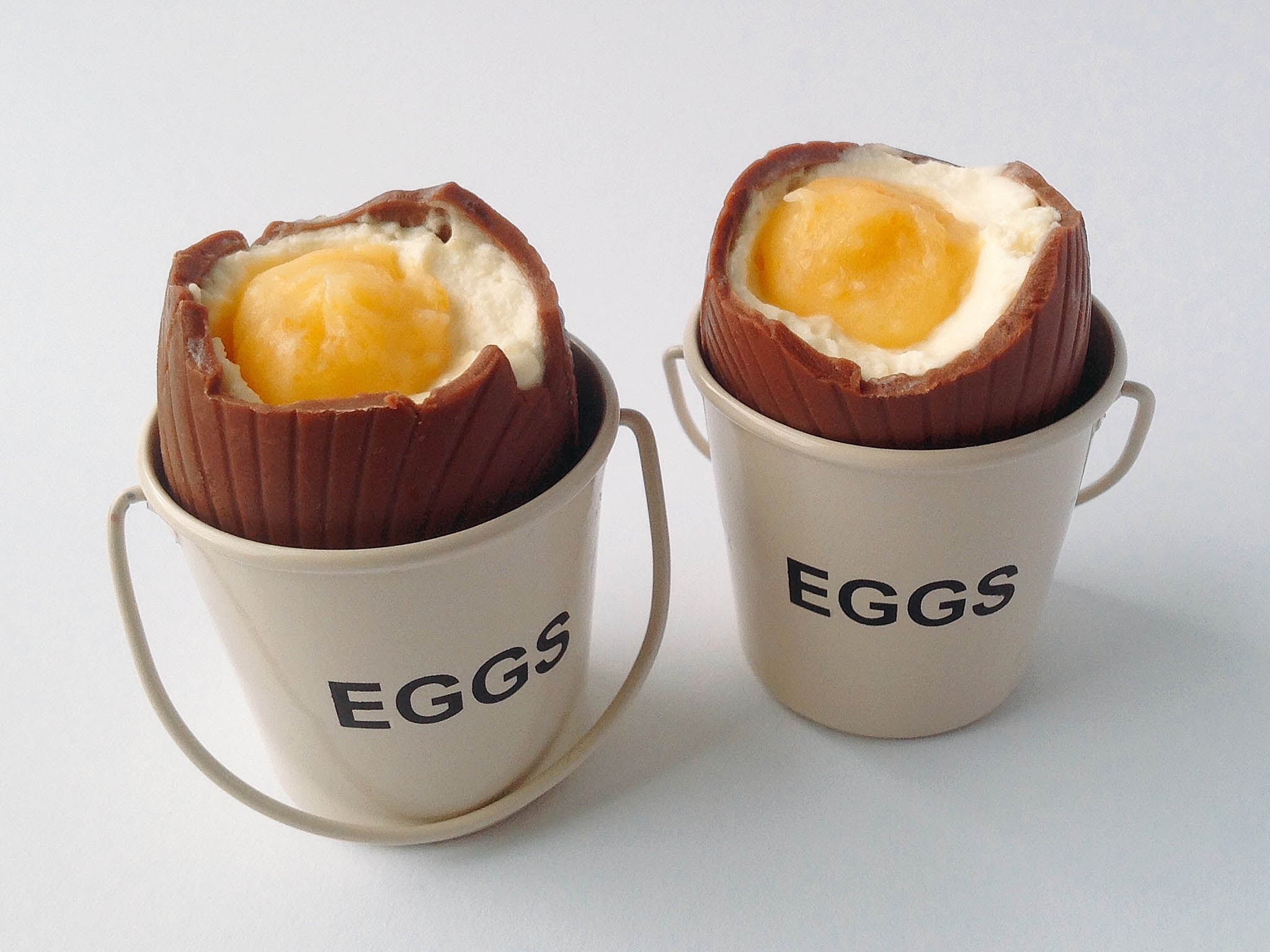 Cheesecake-filled chocolate eggs
Makes enough for 8-12 servings
8-12 hollow chocolate eggs (depending on size)
We'll tell you what's true. You can form your own view.
From
15p
€0.18
$0.18
USD 0.27
a day, more exclusives, analysis and extras.
For the egg "white"
150g soft cheese
30g icing sugar
1 tsp lemon zest
1 tbsp fresh lemon juice
1 tsp vanilla bean paste
100ml double cream
For the egg "yolk"
1 tbsp apricot jam, lumps sieved out
1 tbsp unsalted butter
Carefully cut off the top of the chocolate eggs with a serrated knife and break off the chocolate around the cut so that it looks broken rather than cut. Place the eggs in the fridge to keep them chilled while you prepare the fillings, you can use an old egg box lined with foil to hold them in place.
To make the egg white, place the soft cheese, icing sugar, lemon zest, lemon juice and vanilla bean paste in a large mixing bowl and beat on high using an electric whisk until the mixture is smooth and fluffy. Put to one side.
In a separate bowl whisk the double cream to soft peaks. Using a large spoon, gently fold the whipped cream into the cream cheese mixture until smooth and well combined.
Spoon or pipe the mixture into the prepared chocolate shells and return them to the fridge for at least 30 minutes to set.
To make the egg yolk
In a small saucepan combine the apricot jam and butter. Heat on low, whisking all the time until the butter melts and the mixture is smooth. Remove from the heat and allow to cool.
Using a small spoon, carefully scoop out a small crater in the centre of each cheesecake and fill with some of the cooled apricot sauce. Return the eggs to the fridge to chill again for at least 30 minutes.
Remove eggs from the fridge about 10 minutes before serving.
Follow Beverley Hicks @littlechelseakitchen