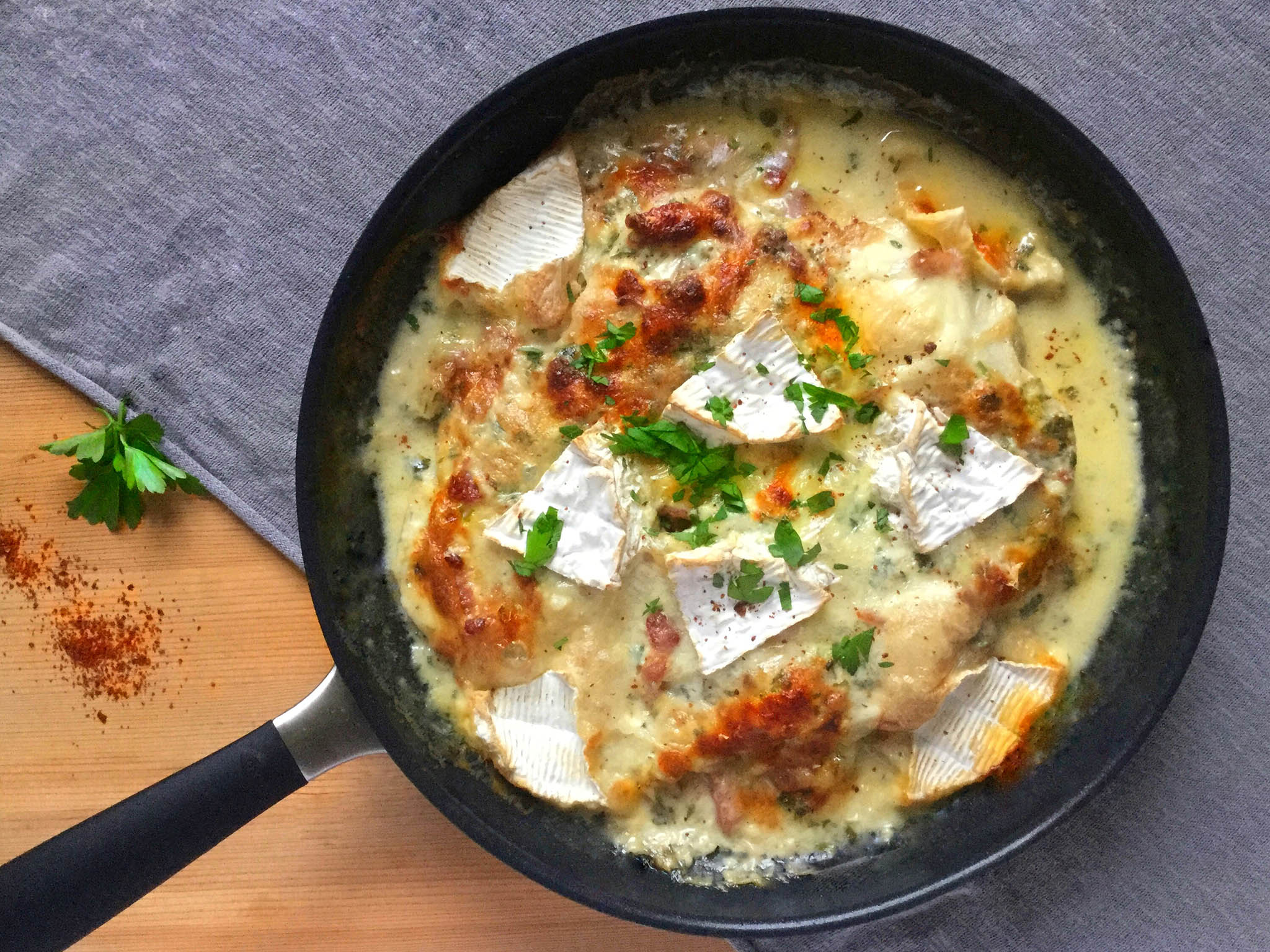 This rich and very over-the-top gratin dish boasts two types of cheese and a main ingredient that is not typical for a gratin.
But it's always good to switch things up a little, especially with a vegetable that is high in fibre and a good source of vitamins K, C and B6.
On the outside, celeriac is knobbly and oddly shaped, but peel off the gnarly, creviced skin and underneath you will find creamy white flesh, similar in texture to a potato. It has a very subtle, celery-like flavour and is also a little bit nutty.
We'll tell you what's true. You can form your own view.
From
15p
€0.18
$0.18
USD 0.27
a day, more exclusives, analysis and extras.
In this dish, thick slices of celeriac are layered with crispy bacon, caramelised onions and pecorino cheese. The ingredients are then bathed in a creamy, garlic and parsley sauce and topped with wedges of Camembert.
The dish is baked in the oven until the Camembert has melted and the garlicky flavour of the sauce has soaked into the celeriac.
The great thing about this dish is that you can prepare it a day in advance. I made it the night before and, when it cooled, just covered the pan in tin foil and popped it in the fridge.
The following day, I took it out of the fridge and allowed it to come to room temperature, then baked it for around 35-40 minutes.
Generally, a gratin is considered a side dish, but not this one. It's more of a vegetable main dish, with bacon for added clout. Perfect served with a very simple salad and a chilled glass of Chardonnay.
Celeriac, bacon and Camembert gratin
Serves 2 as a main
1 medium celeriac (about 600g)
200g thick-cut (1cm) bacon, roughly chopped
100g pecorino cheese, finely grated
1 large onion, sliced into half-moons
For the sauce
70ml double cream
30ml whole milk
2 fat garlic cloves, minced
100ml dry white wine
Large handful flat-leaf parsley, finely chopped
½ teaspoon salt
½ teaspoon freshly ground black pepper
1 mini Camembert (about 125-150g)
To garnish
Handful of flat-leaf parsley, finely chopped
Preheat the oven to 200C (180 Fan) / 400F/ Gas 6.
Peel the celeriac, halve and cut into ½ cm slices. Bring a large pot of salted water to a boil and add the celeriac. Cook until fork tender (about 7 minutes) then drain and set aside to cool.
Meanwhile, heat a large, oven-safe non-stick frying pan on medium high and cook bacon until just crispy. Remove with a slotted spoon and transfer to a plate lined with paper towels to drain.
Add the onions to the same pan with a large pinch of salt and cook in the bacon fat until soft and caramelised – about 10 minutes. Remove to a bowl and set aside to cool.
In a jug, combine the cream, milk, garlic, wine, parsley, salt and pepper. Set aside.
Line the oven-safe frying pan with ⅓ of the celeriac slices in a single layer, sprinkle over ⅓ of the bacon, ⅓ of the pecorino cheese, ⅓ of the onions and pour over ⅓ of the garlic and parsley sauce. Repeat this until you have created 3 layers.
Slice the wheel of cheese horizontally (as if cutting a bread roll in half), then cut each half into quarters so that you have 8 cheese triangles.
Arrange the cheese, rind up, over the top of the dish and bake in the pre-heated oven for 35-40 minutes until the Camembert has melted and the topping is golden brown. Sprinkle with a little chopped parsley and serve while still hot.
Follow Beverley Hicks @littlechelseakitchen