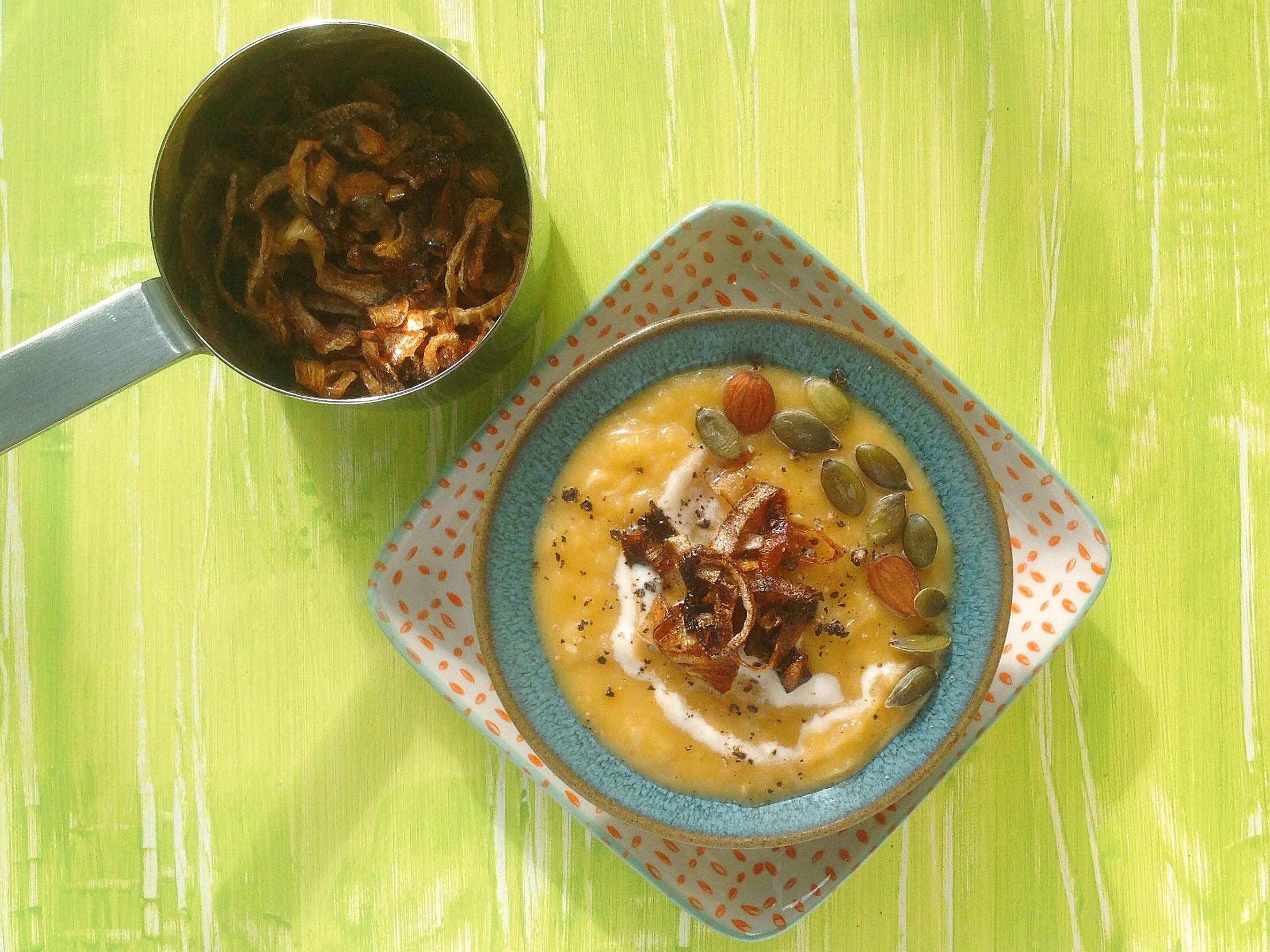 Butternut squash, apple and caramelised onion soup
A hearty autumnal roasted squash soup with a subtle sweet taste of apples and caramelised onions.
Serves 4
We'll tell you what's true. You can form your own view.
From
15p
€0.18
$0.18
USD 0.27
a day, more exclusives, analysis and extras.
For the soup
1 medium butternut squash
2 tbsp rapeseed oil
3 Granny Smith apples
1 tbsp coconut oil
1 leek, sliced
3 fat garlic cloves
750ml vegetable stock
4 onions, peeled and thinly sliced
1 tsp salt
½ tsp freshly ground black pepper
1 tsp freshly grated nutmeg
100ml crème fraîche
To garnish
Nuts and seeds
Preheat the oven to 200C/400F/Gas 6.
Peel the butternut squash, cut in half lengthways and scoop out the seeds. Chop into 2in chunks and put into a large baking pan. Drizzle with 1 tablespoon of the rapeseed oil and sprinkle over some salt and freshly ground black pepper. Roast in the oven for 45 minutes.
Cut the apples in half and remove the cores. Place cut side down into a smaller baking pan and drizzle with the remaining rapeseed oil. After the squash has been cooking for 15 minutes, add the pan of apples to the oven and cook both for a further 30 minutes.
When the squash and apples have finished cooking, heat half the coconut oil in a large saucepan and gently sauté the leek and garlic until soft.  Add the cooked squash and pour over the stock. Bring to the boil, lower the heat and simmer for 20 minutes.
While the soup is simmering, heat the remaining ½ tablespoon of coconut oil in a medium saucepan. Tip in the sliced onions and a large pinch of salt and cook on a medium heat until caramelised, about 15-20 minutes.
Add the roasted apples, half of the caramelised onions and crème fraîche to the soup and blend with an immersion blender until smooth and creamy, adding more stock/water if you want a thinner consistency. Stir through the remaining onions (minus a heaped tablespoon for garnishing), salt, pepper and nutmeg. Taste the soup and adjust the seasoning if necessary.
Ladle into warmed bowls and top with a teaspoon of caramelised onions, a swirl of crème fraîche and a sprinkling of nuts and seeds.
Follow Beverley Hicks @thelittlechelseakitchen