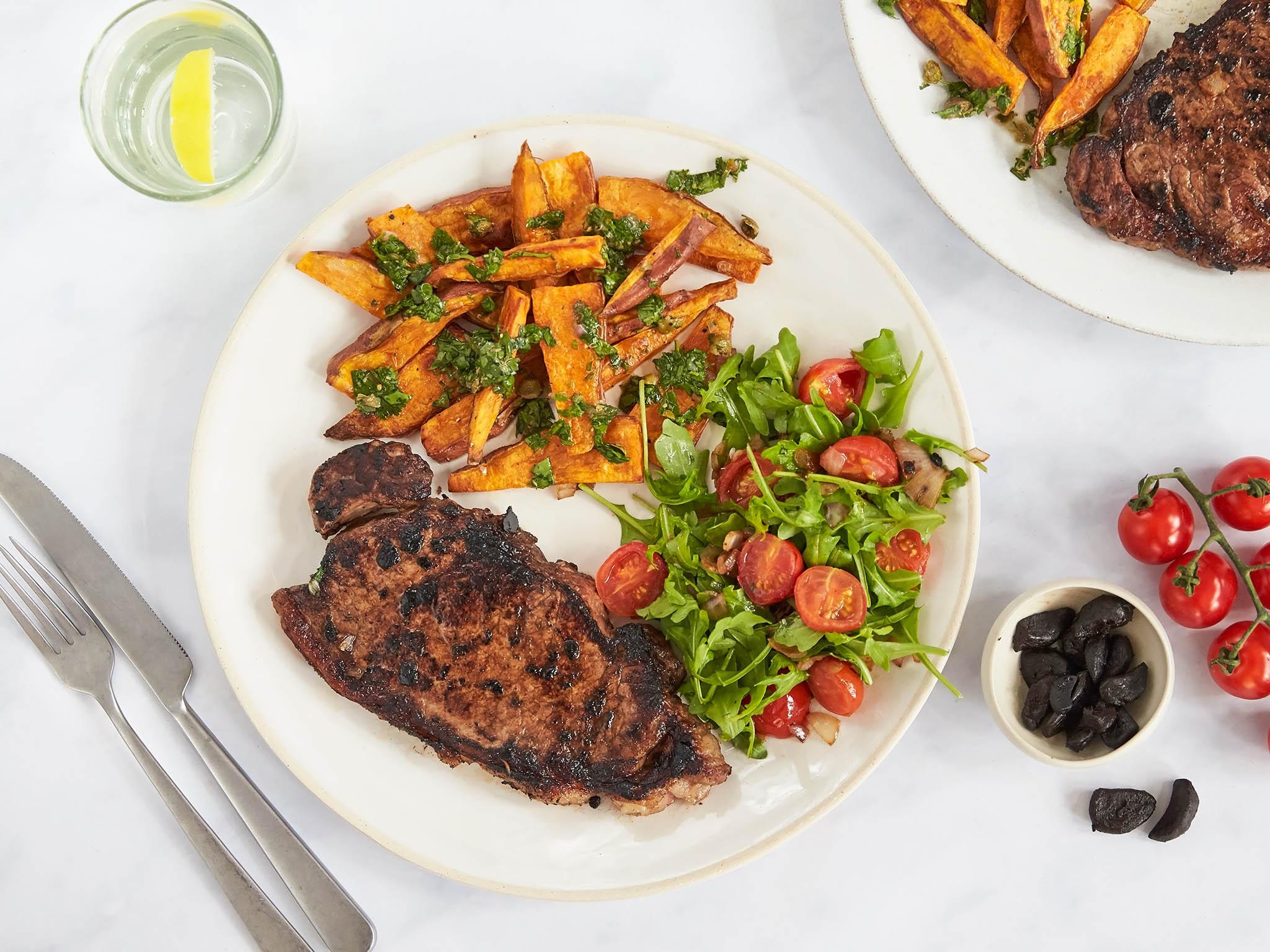 Black garlic steak and salsa verde wedges
These dry-aged Farmison steaks are coated in a rich, caramelised black garlic paste, then quickly seared with fried shallots. Served with sweet potato wedges, salsa verde and a fresh green salad.
120g cherry tomatoes
1 shallot
1tbsp red wine vinegar
20g capers
2tbsp oil
2 x 150g flat iron steaks
300g sweet potato
40g rocket
4 black garlic cloves
Medium handful of flat-leaf parsley
Medium handful of fresh coriander
We'll tell you what's true. You can form your own view.
From
15p
€0.18
$0.18
USD 0.27
a day, more exclusives, analysis and extras.
Preheat the oven to 200C.
Leaving the skin on, cut the sweet potato into thin wedges. Place on a baking tray and drizzle with ½​tbsp oil and sprinkle with a pinch of sea salt. Place in the oven for 20-25 mins until becoming golden, turning halfway through.
In a small bowl, with the back of a spoon, squash the soft black garlic cloves to form a paste and mix with 1tbsp oil and a pinch of sea salt and black pepper. Rub this mixture over the steaks and set aside.
Slice the cherry tomatoes in half and dice the shallot.
To make the salsa verde, finely chop the coriander and parsley leaves. Roughly chop the capers. Add all these to a small bowl with the red wine vinegar, ½​tbsp olive oil, a pinch of sea salt and black pepper.
Preheat a frying pan to a medium-high heat with ½​tbsp oil. Add the steaks and cook until golden brown, 2-3 mins each side for medium-rare or 4-5 mins each side for well done. Remove from the pan and leave to rest. Meanwhile, add the shallots to the pan on a medium heat and cook for 3-4 mins until softened.
Place the black garlic steaks on two warm plates alongside the sweet potato wedges. Top the wedges with the salsa verde and serve alongside the rocket, topped with the cherry tomatoes and shallot.
Recipe from mindfulchef.com