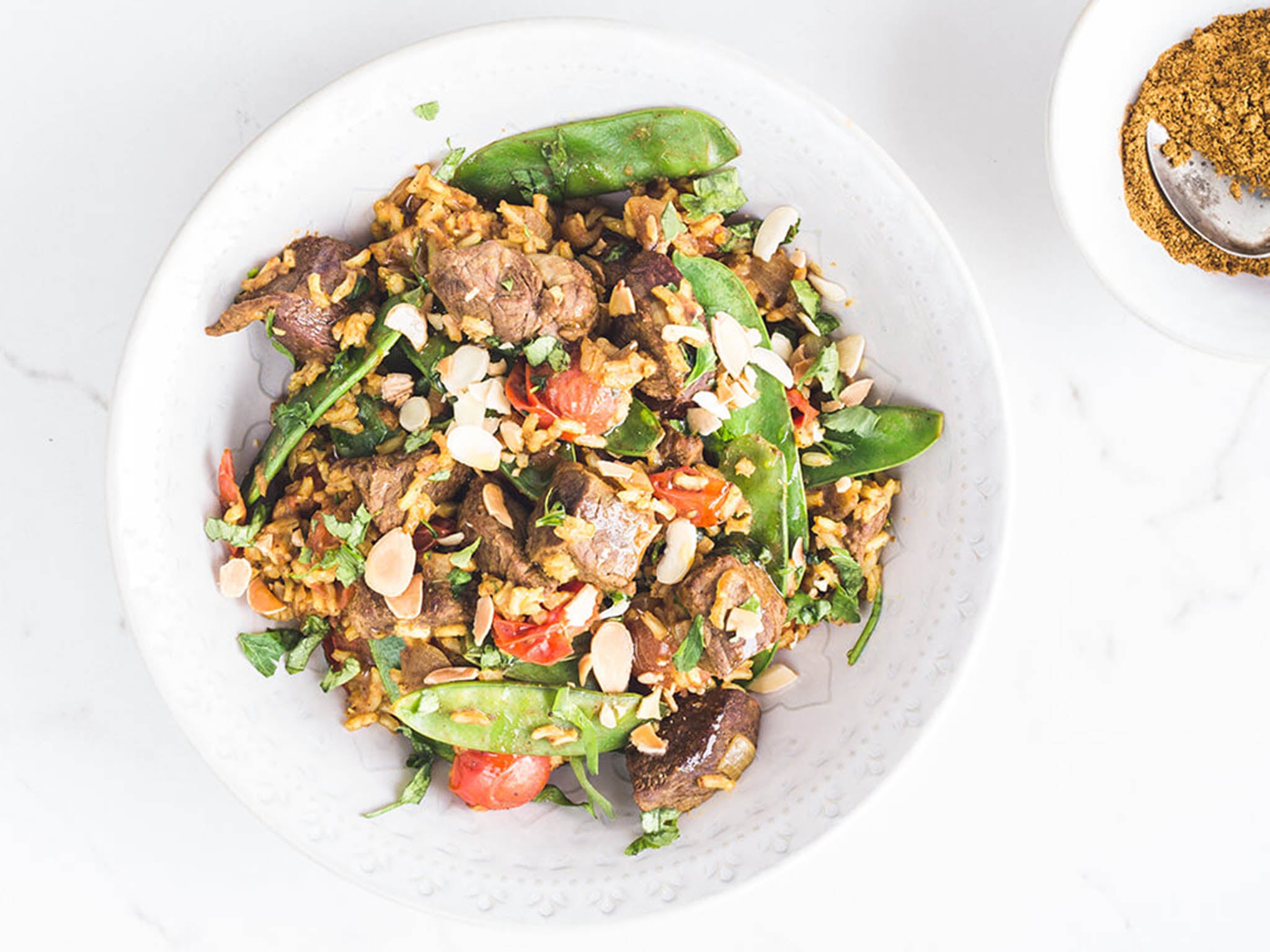 Beef biryani with flaked almonds
This spiced biryani is made with a warming blend of ground cinnamon, cumin, coriander and ground ginger with juicy pieces of beef and a sprinkling of fresh coriander which can help fight inflammation.
½ tbsp oil
½ tsp turmeric
180g cherry tomatoes
1 beef stock cube
1 brown onion
1 tbsp biryani spice blend
20g flaked almonds
2 x 150g flat iron steak
80g brown rice
80g mangetout
Large handful of fresh coriander
Boil a kettle. Dissolve the beef stock in a jug with 400ml boiling water. Rinse the brown rice. In a saucepan, heat ¼​ tbsp oil and fry half of the biryani spice blend for 1 minute, then add the rice to the pan, stir to coat then add the beef stock. Place a lid on the pan and simmer for 20-25 mins until tender.
Also, dice the onion. Cut the cherry tomatoes in half and trim the mangetout. Roughly chop the coriander leaves. Cut the steak into bite-sized pieces. Heat a large dry pan on a medium-high heat and toast the flaked almonds for 2-3 mins until turning golden. Remove from the pan and set aside.
Heat the same large pan with ¼ tbsp oil on a medium heat and cook the onion for 3 mins, then add the steak for 7 mins until golden brown. Add the mangetout, cherry tomatoes, turmeric and remaining biryani spice blend to the pan and cook for 1 minute. Add the cooked rice with any remaining liquid from the saucepan and half of the chopped coriander and cook for 3 mins until the beef is cooked.
Spoon the beef biryani onto two warm plates and top with the remaining coriander and toasted flaked almonds.
Recipe from Mindfulchef.com