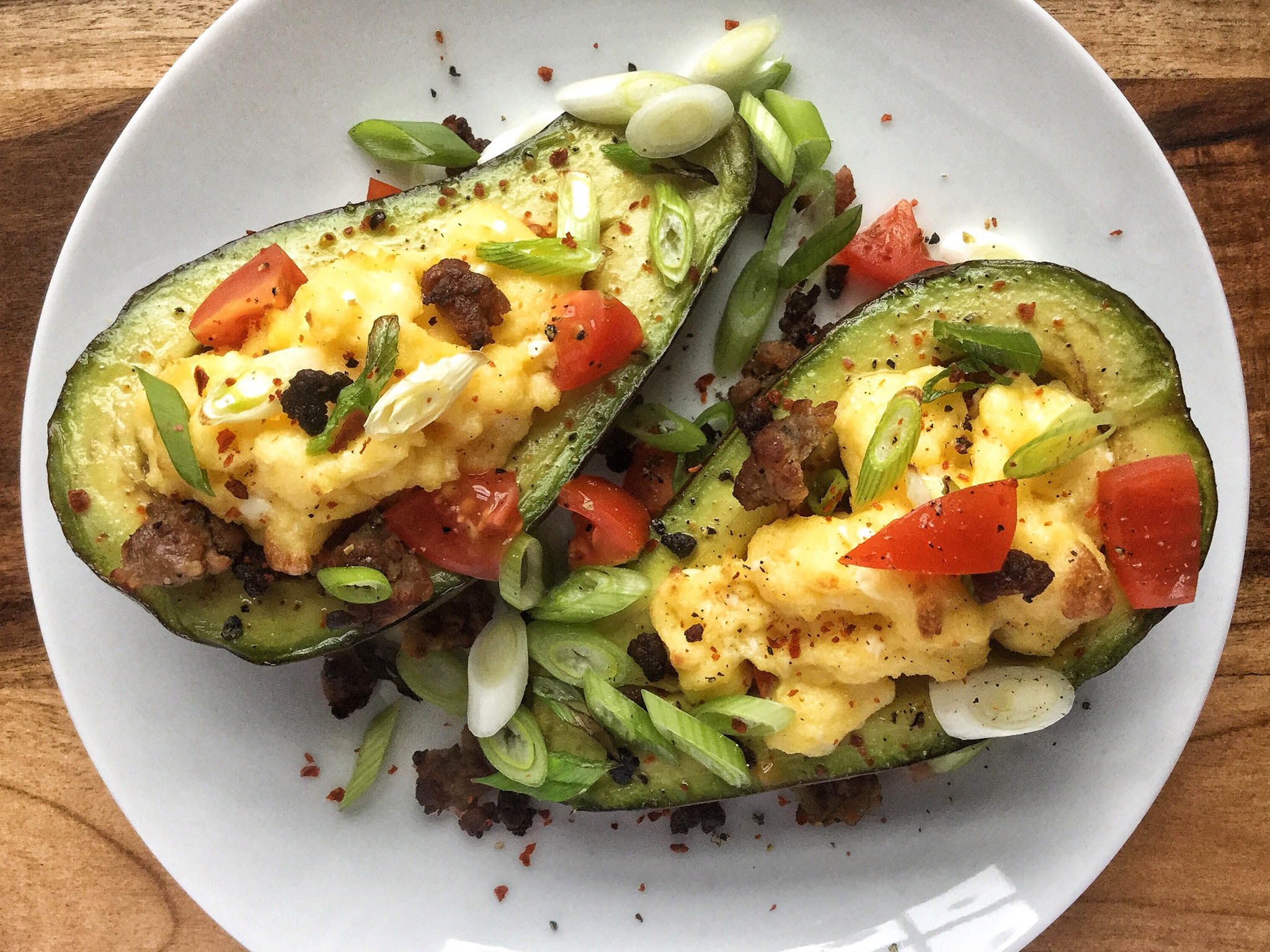 Baked avocado cups with egg and sausage
Avocado takes on an even creamier taste when baked in the oven. Add some perfectly cooked scrambled eggs and sausage and you've got yourself a delicious breakfast or light snack.
Serves 1
We'll tell you what's true. You can form your own view.
From
15p
€0.18
$0.18
USD 0.27
a day, more exclusives, analysis and extras.
1 extra-large avocado
20g grass-fed butter
2 large free-range eggs, beaten
40ml creme fraiche​
1 large tomato
2 spring onions
Himalayan pink salt
Freshly ground black pepper
Pul biber (red pepper flakes) to garnish
For the sausage filling
1 garlic clove, peeled and grated finely
1 small piece of ginger, peeled and grated finely
150g free-range pork sausage meat​
¼ teaspoon freshly ground nutmeg
½ teaspoon dried oregano
Himalayan pink salt
Freshly ground black pepper
Chop the tomato and spring onions and add to a small bowl with a pinch of salt and pepper. Mix well, cover and leave to one side.
Add all the sausage filling ingredients to a large bowl and mix together with your hands, squeeze the mixture through your fingers to make sure all the spices are mixed well in.
Fry in a large non-stick frying pan on a low to medium heat until brown and crispy, breaking it up with your spoon as you go. You want the edges to be extra crispy so this may take about 10 minutes. Just keep it moving in the pan. Turn off the heat and leave to cool slightly.
Preheat the oven to 220C/425F/Gas 7.
Put half the butter in a small saucepan on a medium heat, dice the rest and leave to one side. When the butter has melted add the eggs, salt and pepper and stir with a wooden spoon until the mixture starts to thicken.  Gradually add the diced butter and creme fraiche to the eggs, stirring all the time, this will stop the eggs from cooking too quickly and setting. Cook until the scrambled egg will just hold its shape when piled onto the avocado, you don't want it sliding off!
Cut the avocado in half, take out the stone and remove a little of the flesh. Brush the cut sides with a little oil or melted butter. Half fill the cup with sausage meat and press down with the back of a spoon, fill the rest of the cup with half of the tomato and spring onion mixture. Top each avocado half with some scrambled egg and sprinkle over the remainder of the sausage meat.
Place on a baking tray and bake in the oven for 8-10 minutes.
Remove to a plate, top with the remaining tomato and spring onion mixture and sprinkle over some red pepper flakes for a touch of mild, fruity heat and colour.
Follow Beverley Hicks @littlechelseakitchen