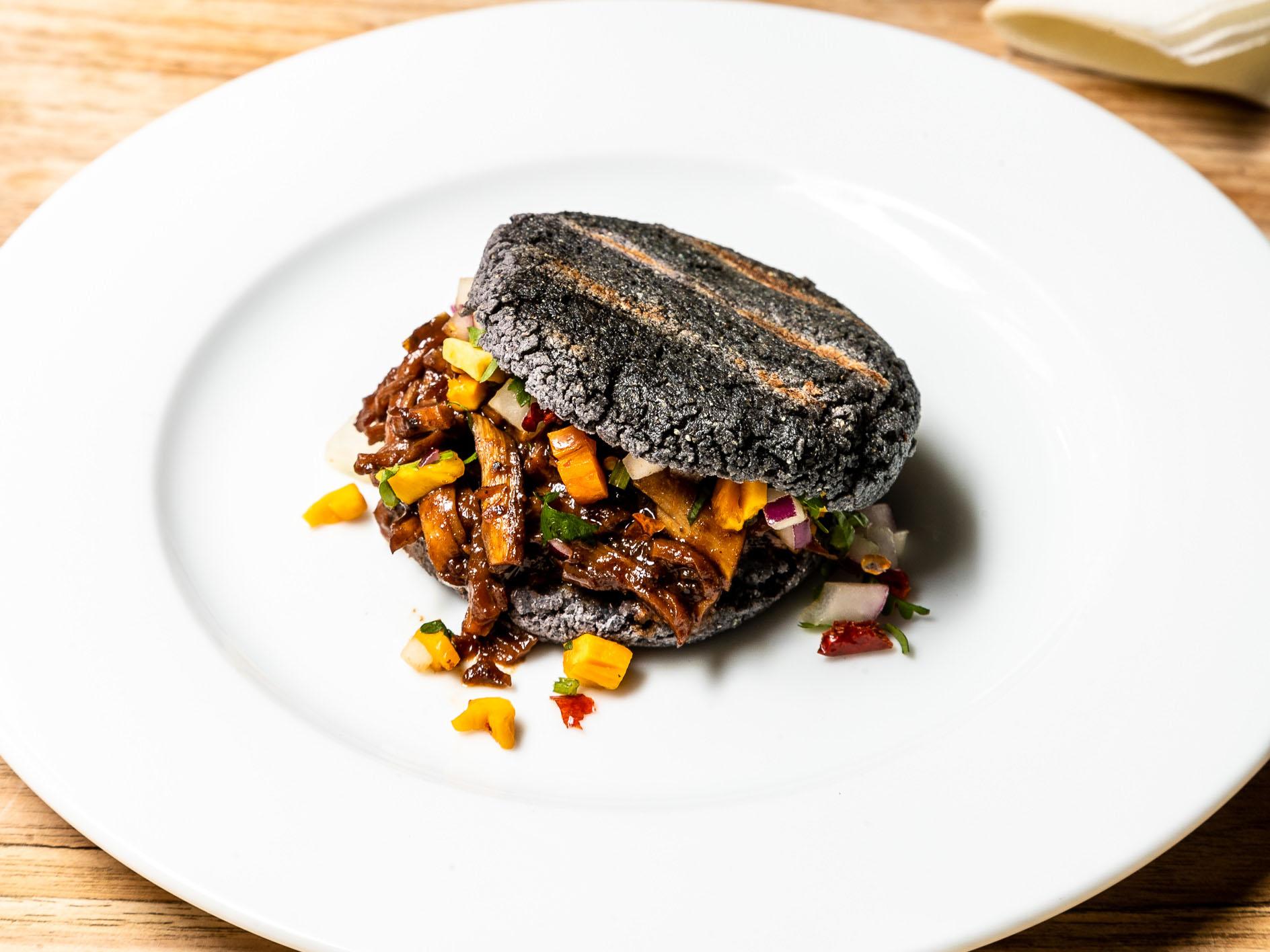 Arepas with BBQ oyster mushrooms
Arepas are a traditional Venezuelan street food, a moreish corn cake made from maize flour, fried on a griddle and stuffed with a variety of fillings. Mushrooms are an incredibly sustainable alternative to meat and the only non-animal fresh source of B12, an essential vitamin that must be supplemented in a plant-based diet. These BBQ-flavoured pulled king oyster mushrooms are sticky, sweet and meaty.
Fairtrade ingredients: Olive oil, black pepper, molasses, dried mango.
We'll tell you what's true. You can form your own view.
From
15p
€0.18
$0.18
USD 0.27
a day, more exclusives, analysis and extras.
Taste the good: Fairtrade sugar farmers in Belize have been able to boost yields and quality, and have earned more income as a result.
Serves 4
BBQ sauce
Glug of Fairtrade olive oil
2 onions, finely diced
4 garlic cloves, roughly chopped
1 tbsp smoked paprika
1 tbsp ground allspice
1 tbsp freshly ground Fairtrade black pepper
4 tbsp Fairtrade blackstrap molasses
2 tbsp miso
40ml apple cider vinegar
100ml passata or chopped tomatoes
For the pulled mushrooms
500g king oyster mushrooms
Glug of Fairtrade extra virgin olive oil
For the kohlrabi and mango salsa
½ kohlrabi, finely diced
60g Fairtrade dried mango, diced
½ tsp chilli flakes
½ red onion, finely diced
4 fresh coriander stalks, leaves picked, stalks finely chopped
Sea salt and freshly ground Fairtrade black pepper
For the arepas​
330g masa harina flour
Glug of Fairtrade extra virgin olive oil
To make the BBQ sauce, heat a glug of oil in a heavy-based frying pan over a medium-low heat and slowly fry the onions and garlic until they become caramelised and very soft, about 15 minutes. Add the spices and cook for 5 minutes, then stir in the molasses, miso, cider vinegar and passata or chopped tomatoes. Return the sauce to a gentle boil and simmer until it thickens. Remove the pan from the heat.
To make the pulled oyster mushrooms, heat a large saucepan over a medium heat and add them with a dash of oil, place the lid on top and cook for 15 minutes or until well cooked and soft. Remove from the pan and shred the mushrooms into thin pieces using two forks. Return the shredded mushrooms to the pan and add enough BBQ sauce to hold everything together. Set aside.
To prepare the salsa, combine the kohlrabi, mango, chilli flakes, red onion and coriander stalks in a bowl. Season to taste and set aside.
To make the arepas, measure the masa harina flour into a mixing bowl, pour in 550ml hot water. Season with a pinch of salt and mix to a firm but not too crumbly dough, adding a little more water or flour if necessary. Cover the bowl with a cloth and set aside to rest for 1 hour, if possible. Split the dough into eight balls and flatten each ball into a small cake, approx 1-2cm thick.
Heat a glug of oil in a heavy-based skillet or frying pan over a medium-low heat. Arrange the arepas in the pan, cover with a lid and cook slowly for 6-7 minutes or until the arepas are golden brown and slightly charred. Flip and allow to brown on the other side.
To serve, reheat the "pulled" BBQ oyster mushrooms and present everything on the table for people to make their own. To make, cut open the arepas and stuff with the "pulled" oyster mushrooms and salsa. Garnish with the coriander leaves.
Any leftover BBQ sauce can be stored in a sealed, sterilised jar for up to a month in the fridge.
Recipe by Tom Hunt, eco-chef, writer, campaigner and founder of Poco Tapas Bar Bristol