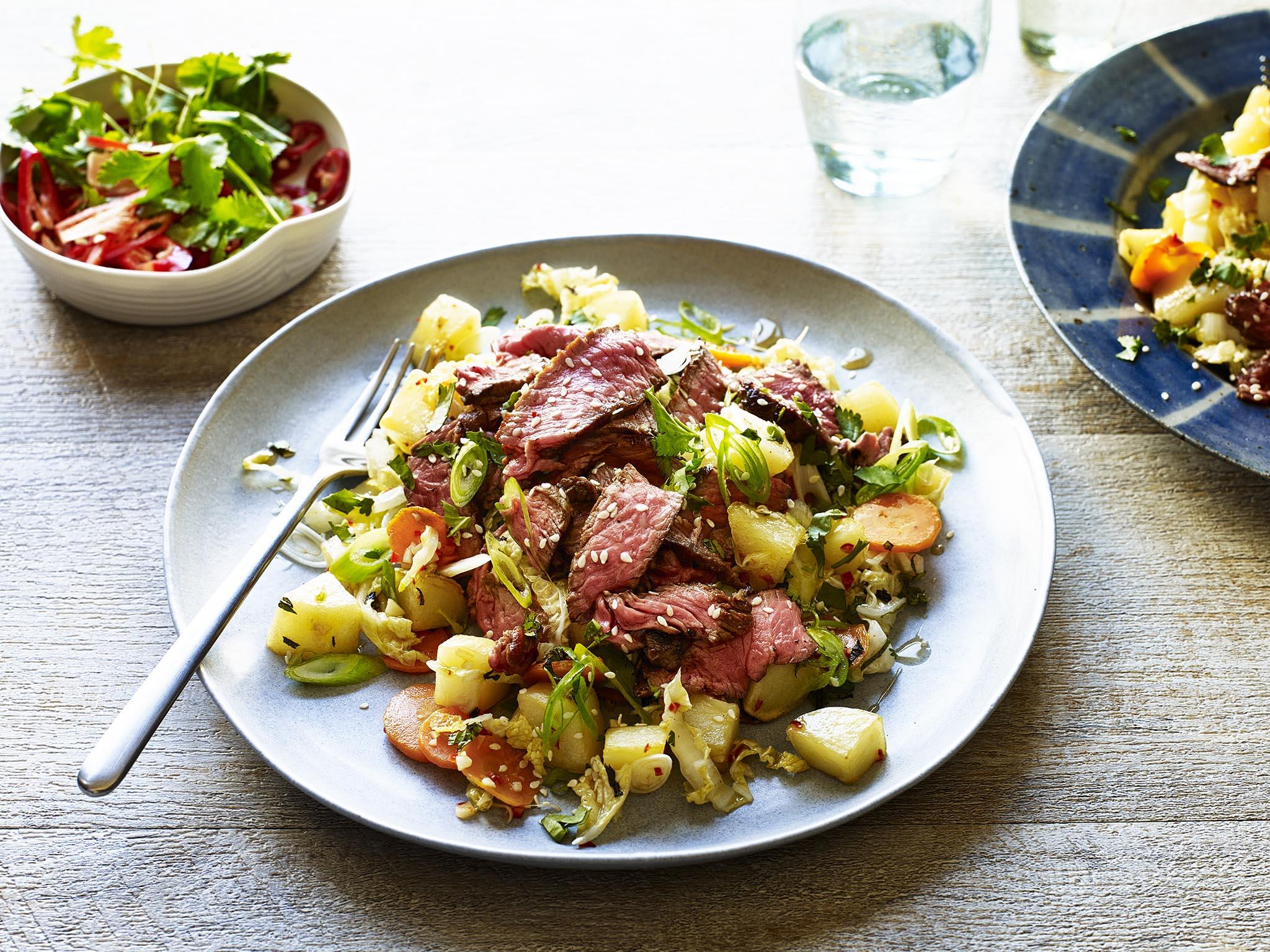 T

hai beef and potato salad
Time: 15 mins
Serves 2
Join Independent Minds
For exclusive articles, events and an advertising-free read for just
£5.99
€6.99
$9.99
a month
Get the best of The Independent
With an Independent Minds subscription for just
£5.99
€6.99
$9.99
a month
Get the best of The Independent
Without the ads – for just
£5.99
€6.99
$9.99
a month
400g salad/baby potatoes (such as charlotte or maris peer), cubed
4 x 6oz rump steaks, fat trimmed off
2 tbsp soy sauce
1 tsp sesame oil
2 garlic cloves, crushed
½ head of Chinese cabbage, finely shredded
4 spring onions, thinly sliced
1 large carrot, very thinly sliced
1 red chilli, finely chopped
2 garlic cloves, crushed
1 tbsp fresh chopped coriander and mint
1 tbsp ground nut oil
1 tsp sesame seeds
Cook the potatoes for about 5 minutes in salted boiling water and drain. Place a frying pan over a medium heat. Pop the rump steak into a bowl with the soy sauce, sesame oil and garlic, mix well.
In a wok or large frying pan heat the ground nut oil and sesame oil over a high heat, add the potatoes, carrot, spring onions and cabbage, cook for a couple of minutes. Add the chilli, garlic, coriander and mint. Turn off the heat. Ideally you want to have a crunch in the vegetables.
Cook the steaks for 2-3 minutes on both sides and rest for 2 minutes before slicing. Place the wok fried vegetables on to plates, slice the steak, arrange over the stir fry and finish with a sprinkling of sesame seeds. If you have any coriander left, you can sprinkle a little over.
Recipe from lovepotatoes.co.uk