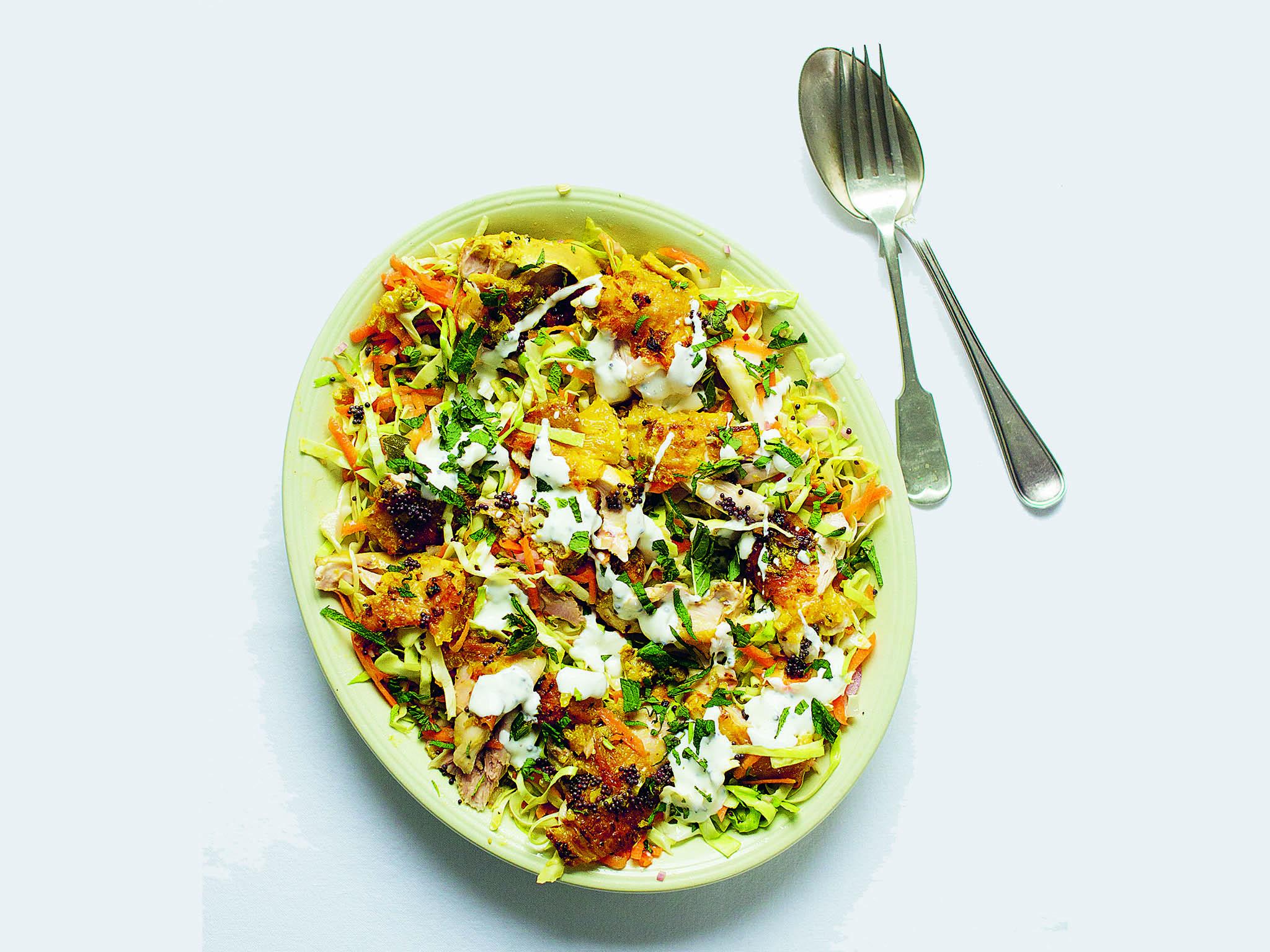 Sourness can bring pretty much anything you want to what you eat. Some of our favourite recipes are defined by it – vindaloo, ceviche and lemonade among them; others are guided by a lighter hand, sometimes even the invisible influence of a dash of white wine vinegar or a spoon of yoghurt to brighten a soup, a late dusting of sumac on a chop or chip, a drizzle of intense pomegranate molasses on roasted apricots. I could go on. I will go on. Because even when you don't notice it's there, sourness can transform in the pan and on your plate.
Using sourness well is not just about flavour: vinegar tenderizes as well as flavours the beef in the sauerbraten, a sea of citrus "cooks" and sharpens the  fish in the ceviche, the coming together of sweet, rich kulfir and sweet–sharp rhubarb is set alight by a little tamarind and, of course, the naturally souring activities of bacteria in sourdough, kimchi and other ferments bring health benefits too.
While sourness can be its own reward, there are times when just a little can be a powerful transformer. Yes, the naked shock of the Tom Collins is, as friend and chef Val Warner says of the perfect martini, 2an elegant brick through the window of your day" – and there are times when a proper wince is exactly what's required, but as much as anything, sourness is a creative tool.
We'll tell you what's true. You can form your own view.
From
15p
€0.18
$0.18
USD 0.27
a day, more exclusives, analysis and extras.
Some recipes will have you adding acidity early as a way of building complexity, or late to punctuate and refresh; many will have you doing both, layering the sours as you go. In her superb Salt, Fat, Acid, Heat, Samin Nosrat distinguishes these as Cooking Acids and Garnishing Acids, not because (for example) vinegar can't be both, but as a way of understanding what sourness can bring at different stages in the process. The squash soup in this book illustrates beautifully how adding sour early can build depth and complexity, whereas late lime freshens the whole and shines a light on to each of the soup's constituent parts.
There are many sources of acidity: citrus fruit including limes and lemons; fruit harvested early, before fully ripe, such as mangoes and tomatoes; sourness as the result of bacterial activity that gives us sourdough, vinegar, kefir and others; and naturally sharp ingredients such as hibiscus  flowers, tamarind, passion fruit and gooseberries.
Some are available in numerous forms: pomegranate, for example, can be used as the seeds of the fruit itself, as molasses, juice, or dried and powdered. Each offers something unique, and while they all bring sourness, the intensity, depth and volatility varies considerably: all the instruments may play an E, but each differs in the impression it leaves.
Using sourness well requires you to be present: a thimble of vinegar can transform the plainest of leek and potato soups, stews and more into a delight, literally sharpening not only the flavour but the distinction between its constituent parts; behold, leek and potato, rather than their alloy. Drive down that road too far and the effect is lost so that you end up with leek and potato and vinegar soup; you must tweak and taste and interact. And while there is a place for each of them, remember that homemade vinegar, the supermarket staple and the finest artisan vinegar are only broadly similar. A teaspoon of each may have considerably different results, so taste you must, and then taste again. The only '"right" answer is yours.
Sour ingredients – especially lemon juice and vinegar – can also affect the colour and texture of food, and while strictly speaking this doesn't happen as a result of their sourness, it's as well to know that there may be other implications to adding these sours to your food.
Most of us use some kind of acid – lemon juice, most commonly – to prevent vegetables and fruit such as apples and celeriac discolouring as a result of enzymes oxidizing once cut, while adding vinegar early when cooking green vegetables makes their bright chlorophyll turn army surplus green. Happily, acidity brightens red foods as they cook (e.g. in braised red cabbage), as the anthocyanins they contain appear more intensely red in acidic conditions, and bluer in alkaline;
for the same reason, pickled red cherries are wildly vivid, and muffins made with cherries stay redder when buttermilk is used in the batter than if not.
A little acidity can also help prevent pasta from sticking: a tablespoon of lemon juice or vinegar to acidify the water is all it takes; a too-thick sauce releases its grip with just a touch of lemon juice to break down the starchy chains of  our without the dilution in flavour that more water would bring; an acid in the form of a pinch of cream of tartar or a few drops of vinegar eases the coagulation of proteins when whisking egg whites – just enough so that those responsible for the graininess in (say) meringues can't form.
Timing can be all-important too: a little vinegar or citrus in a bean dish – such as a cannellini stew – will brighten and clarify the flavours as well as retain some bite in the beans if added late, when the beans are half-cooked; if added early, the acid can toughen the skins and extend the cooking time
Lime pickle chicken with kosambari slaw
Serves 4
4 tbsp lemon and lime pickle/ shop-bought lime pickle
2 garlic cloves, finely chopped
1 tsp ground turmeric
1 fresh green chilli, finely chopped (plus 1 more to serve if you like)
3 tbsp yoghurt
1 small onion, finely chopped
8 small (or 4 large) bone-in, skin-on, chicken thighs
1 lemon
1 small pointed cabbage, thinly sliced
1 large carrot, coarsely grated
1 tsp mustard seeds
3 tbsp sunflower oil
4 curry leaves (optional) small bunch of coriander, roughly chopped
small bunch of mint, roughly chopped
sea salt and freshly ground
black pepper
In a blender, blitz the pickle, garlic, turmeric, green chilli, yoghurt and half the chopped onion to a smooth purée. Smear over the chicken and allow it to marinate in the fridge for at least 1 hour and for up to 8 hours. If marinating for a good while, remove the chicken from the fridge 1 hour before cooking to allow it to reach room temperature.
Sprinkle the remaining onion with salt and leave for 1 minute, then rinse and drain. Squeeze over the juice of half the lemon and put to one side. Preheat the oven to 180°C/350°F/gas mark 4. Season the chicken with salt and pepper, then place in a single layer in a snug baking tray, spooning over any excess marinade. Add 50ml (2fl oz) water and roast for 40–45 minutes, basting three or four times, until the chicken is cooked through and just beginning to char.
While the chicken is roasting, mix the cabbage, carrot and lemon-marinated onion, then season with salt and pepper to taste. Fry the mustard seeds in the oil until they start spluttering, add the curry leaves, then pour over the cabbage and toss well. Spoon on to plates or platters.
Remove the chicken from the oven, allow to rest for 10 minutes before cutting or tearing into large shreds, removing bones. Serve the chicken on top of the slaw, sprinkle over the coriander and mint and serve.
When I made my first batch of lemon and lime pickle, my brain ran around searching for excuses to eat it. After a few interesting experiments with marinades, this resulted: by all means serve it with rice and raita, greens or leaves, but I love it with this simple kosambari slaw. Classically, kosambari is an Indian salad including pulses, but here the warming signature mustard seed and curry leaf spicing works beautifully with cabbage, carrot and lemon-onion slaw. A handful of crushed cashews scattered over just before serving works well if you are in the mood.
And no, you don't have to shred the chicken: feel free to serve the pieces whole.
'SOUR 'by Mark Diacono (Quadrille £25) is out now