"If you didn't Instagram it, did it even happen?"
Snapping pictures of the meals and snacks we eat is a key part of eating out for many millennials, but it may be ruining the dining experience for everyone in ways we hadn't even realised.
It's not just because of the disruption and incessant camera flashes of photographing food – something which many leading restaurants have now banned – Instagram is actually influencing the food we eat and the environment we eat it in.
Just last month, the US chef behind the picture-perfect egg sandwiches at Eggslut told Eater he would no longer make "Instagram food" as he found his photogenic dishes were compromising on flavour.
"The food that I'm making now — it tastes good," said Alvin Cailan, who has since started making "anti-Instagram" doughnuts that will prioritise substance over style.
"Instagram food" varies from the aesthetically-pleasing (see rainbow lattes) to the downright bizarre (think cloud eggs and raindrop cake).
More often than not, these dishes are no more than Insta-bait – but it's their propensity to go viral that has influenced restaurants to start serving up rose gold cappuccinos and sugar-laden "freakshakes" that are not just pretty, but sickly sweet and bad for your health.
But it's not just food that's been affected by the power of Instagram, one restaurant interior designer revealed how "Instagrammable" is often a part of the brief when she starts working with a client.
"It is something young entrepreneurs are always thinking about," Hannah Collins told The Independent.
So what exactly classifies as "Instagrammable" décor?
According to Collins, it's typically fairly gaudy features such as tile mosaics, neon lights, tables or art with graphic words on them, murals, custom tile designs and wallpaper.
"We are constantly trying to create new moments that are memorable and add a fun interactive quality to the space. Spaces that feel engaging are the ones people really love to go back to."
These spaces might look appealing in a Valencia-filtered crop, but the reality of bright lights and wacky wallpapers can make for a slightly garish dining environment IRL.
However, some restaurants have become "Instagrammable" by accident.
Take Sketch for example, whose all-pink David Shrigley interior and egg-shaped toilets have become photogenic sensations on the platform.
A spokesperson for the plush Mayfair restaurant told The Independent that social media popularity was never part of the initial design brief.
In fact, the iconic bathroom pods were designed 15 years ago, before Instagram even existed.
"The restaurant is the result of an impulse, a mindset that understands interior architecture and how it can impact on people," a spokesperson for Sketch said.
While staff at Sketch have never encouraged guests to take photos, they are aware that documenting meals out has become entrenched in modern social culture.
"We do ask our guests to be sensitive to other diners and we actively discourage people standing in the restaurant taking photos," they said. 
However, that's not to say that Instagramming at mealtimes is a dying art.
According to lifestyle blogger Zanna Van Dijk, who runs a London brunch Instagram account, it's often something dining spots actually request.
"Restaurants love to use it as a form of marketing," she told The Independent.
"It's enjoyable to share your foodie experiences with others through images!"
However, in light of Michel Roux's recent comments that diners taking photos "upsets" him, it's clear that not everyone agrees.
Hence why Portuguese chef Leandro Carreira, whose latest venture Londrino just opened, has actively rejected the concept, explaining that Instagram was never a factor in the formulation of his dining space.
"We'd never put style before substance," he told The Independent.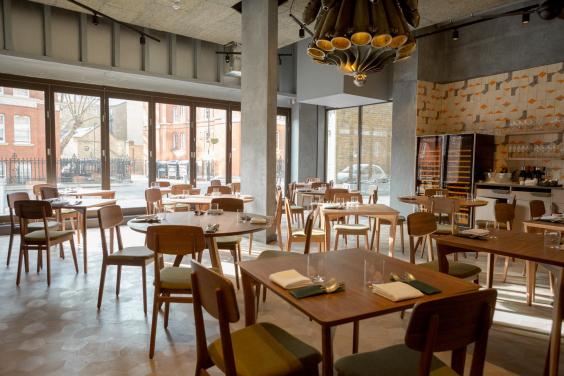 Londrino in Southwark (Yousef Eldin)
"We want to build a neighbourhood restaurant, where people become regulars and don't just come to tick a photo off their list."
Even when Carreira has created dishes that did well on the 'gram in the past, he insists it was merely incidental.
"During our time at Climpson's Arch, we served up an octo-dog – an octopus tentacle served up in fermented artichoke bread bun with seaweed.
"We made it because it was seriously tasty, not because we thought it was going to look cool on Instagram, but people loved it and shared it and every week came and asked for it."
Wherever you stand on the "to 'gram or not to 'gram" debate, you can't deny the platform's stratospheric influence on the food world.
After all, they're called "influencers" for a reason. 
Reuse content