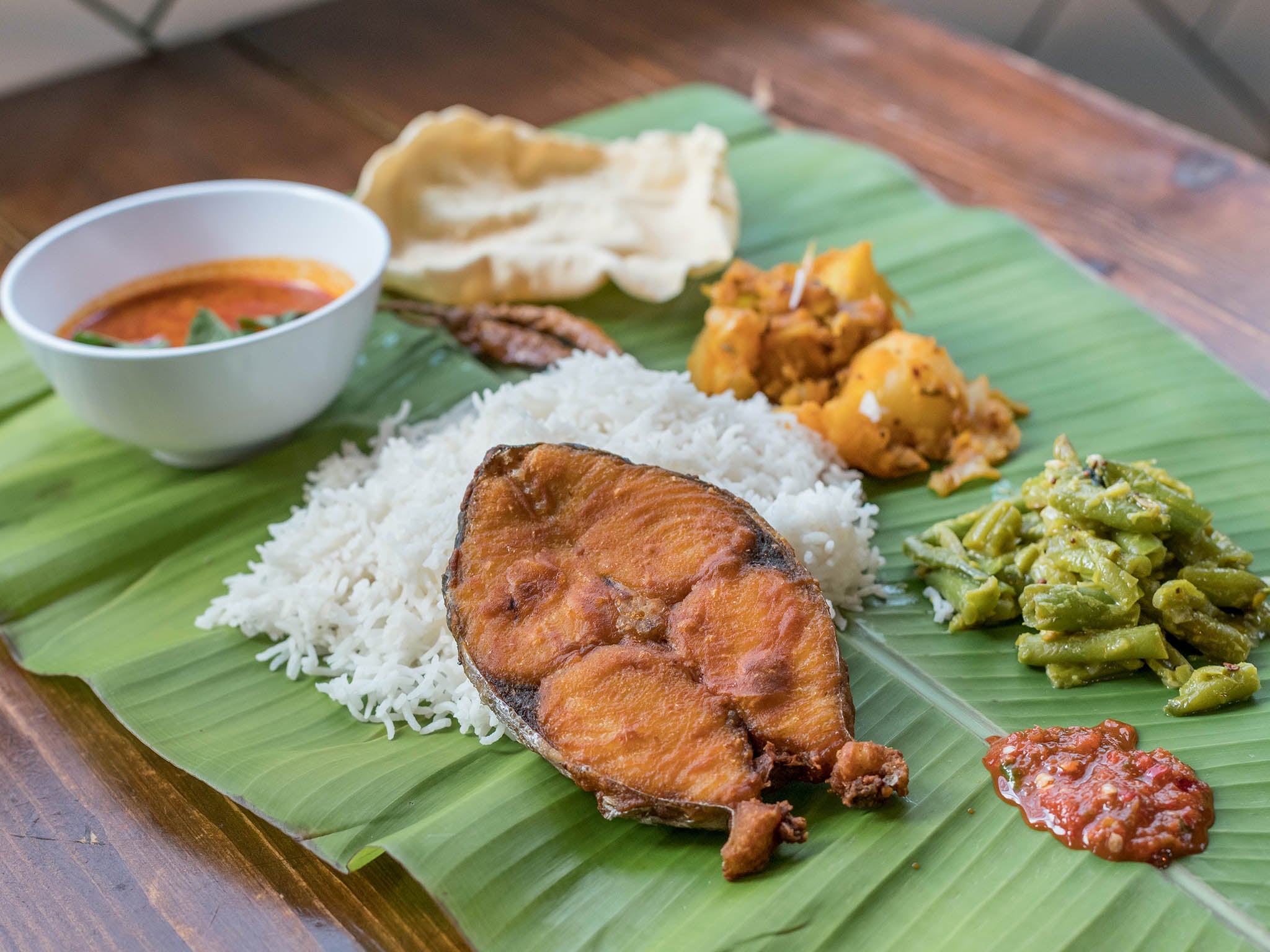 W

here did the idea come from to start a Malaysian food stall?
It was always a passion to start a small food business when I first came to London six years ago. When I realised that there wasn't anywhere to buy freshly made roti canai – similar to how it's made from my hometown in Ipoh, Malaysia – I felt there was an opportunity to do something different.
Your first restaurant, Roti King, was warmly reviewed in 2014, what did this do for it?
We'll tell you what's true. You can form your own view.
From
15p
€0.18
$0.18
USD 0.27
a day, more exclusives, analysis and extras.
The Guardian review turned our fortunes overnight. We had a small loyal following that we had built over the years. But once the review came out, we had a queue outside the building! We are eternally grateful for that.
What was the reception like when you first opened and has this changed today?
Euston was our first permanent location. After having residencies at various London sites, it was a relief to have our own place.
I announced the opening on Facebook and the next day we were busy. We weren't actually fully ready for how busy we'd be, but we managed.
We were able to get a good deal on the site that has allowed us to maintain our pricing.
Why do you think there's only a handful of Malaysian restaurants in London, compared to other Asian cuisines?
Knowledge about Malaysian cuisine has been steadily growing over the years as Malaysia becomes an attractive tourist destination, especially for foodies.
The Malaysian community here in the UK is small in comparison to the other Asian communities and the restaurants here are primarily run by and catered for Malaysians.
As the cuisine becomes more popular amongst the wider British community I believe this will encourage more restaurants to open up across the UK.
What's at the heart of Malaysian Tamil food, and what differentiates it from other Malaysian and Asian food?
Malaysian Tamil food is a fusion of Tamil food from southern India and Malaysian cuisine. Popular dishes like roti canai and mamak mee goreng –  a stir fried noodles dish – are a combination of these two regions.
At the heart of the cuisine is thosai (dosa), a savoury pancake served with masala and chutneys, and our rice and curries served on a banana leaf. They look like dishes from Tamil Nadu but they have a very Malaysian touch.
At both Roti King and Gopal's Corner, you must get through a huge amount of roti – how hard is it to make?
Making roti is an art form and takes several years for a roti maker to master. I started when I was a teenager.
The process from start to finish is labour intensive and having the right ingredients is important: you need plain flour, sugar, salt, water and butter.
We sell between 400-500 rotis an day at Gopal's Corner and we're happy that we are able to keep the roti consistent as it's our signature dish at both locations.
How did you get involved in the Victoria Market Hall and do you think being there has kick-started more interest in Malaysian food?
I have been keen for a few years to open a second restaurant, one which was different from Roti King and served specifically Malaysian Tamil cuisine which I grew up eating. My parents owned a restaurant since the 70s called Gopal's Corner. It was where I made roti for the first time. I was approached by Market Hall to open a second Roti King. I said let's try something new and they said yes!
There always seems to be a queue at Gopal's and Roti King is often one in and one out, so what's the most popular dishes at both restaurants?
At Roti King, our customers enjoy the roti canai, seafood kari laksa and the char kway teow, which is not available at Gopal's Corner.
At Market Hall Victoria, the roti canai, mee goreng mamak and banana leaf kari and rice are the best sellers. People really enjoy our pulled tea known as teh tarik with their meal.
There's a lot of other great restaurants inside Victoria Market Halls too – did you expect Gopal's Corner to be such a hit?
We never expected it to be this popular. The location was very accessible, it's a beautiful building and the selection of vendors is a delight for food lovers. In Asia we have Hawker markets and Market Hall has a very similar feel. I think Market Hall is redefining the British food hall.
What's behind the names of both of your restaurants?
Roti King was coined by a customer of Jamaican heritage. He tried our Roti when we were just a street food stall. He said you are the Roti King and the name just stuck!
Gopal's Corner is the name of my parent's restaurant in Ipoh Malaysia. It's in homage to them. I use my parent's recipes and we can't wait to introduce more dishes to the menu!
Have all the recipes in both restaurants come from your parents, or have you amended or changed any of them?
All our curry dishes and the cooking styles I have learnt from my mother. Everything else has been amended by me to cater to the UK including our roti canai and dhal, roti with cheese and spinach and the mee goreng. There's more coming soon!
Apart from location, what's the difference between the two restaurants?
Roti King is Pan Malaysia and includes dishes from the different communities found in Malaysia – mainly the Malay, Chinese and Tamil.  We also have Singaporean and Indonesian dishes.
Gopal's is primarily Malaysian Tamil. The dishes originate from Tamil Nadu in southern India or have been created by the Tamil speaking community in Malaysia.
It's also vegetarian and vegan friendly, specifically the thosai and banana leaf rice and curry. Our menu is designed and priced to encourage customers to mix and match.
Do you have plans to open another site in London, or outside, or perhaps a cookbook or something else?
It's not easy to find skilled roti canai makers in the UK. We are always looking for people to train as it's hard to bring chefs from Malaysia. Once I can guarantee the same quality as we currently have, then I will open another branch.
I would love to do more to promote Malaysia food across the UK. We love to have stalls at festivals and a cookbook would be fantastic!
Gopal's Corner at Victoria Market Halls markethalls.co.uk/trader/gopals-corner; Roti King rotiking.info