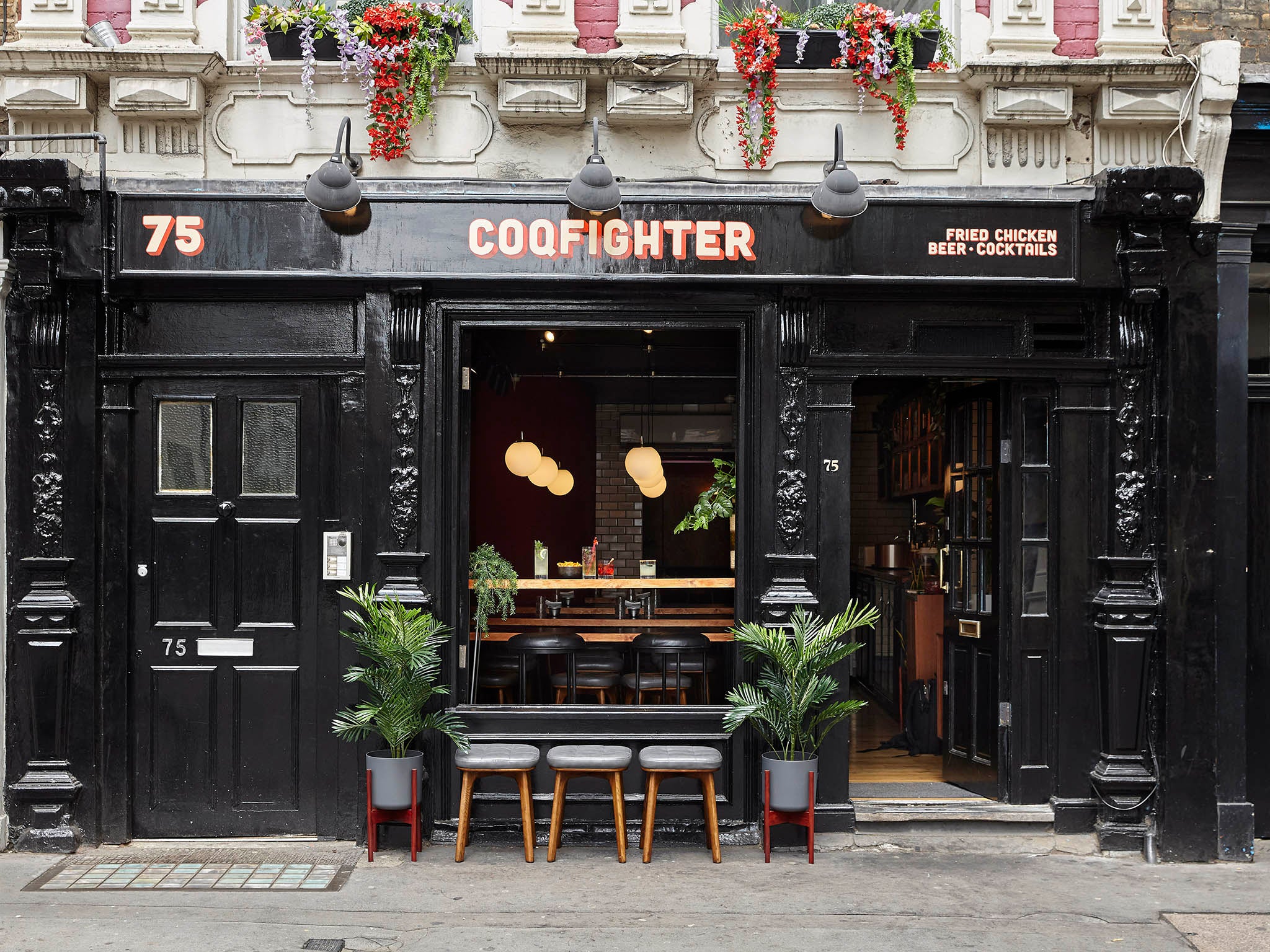 In the past few weeks, I've been to three new fried chicken restaurants within a few hundred yards of each other in Soho.
All have replaced similar outfits, which suggests purveyors of fast-casual lunches are on the defensive.
First up was the second Chik'n, by Carl Clarke, who also created Chick'n'Sours. It's on the site of Brgr, on Wardour Street, proving that white and red meat alike suffer from vulnerable vowels.
We'll tell you what's true. You can form your own view.
From
15p
€0.18
$0.18
USD 0.27
a day, more exclusives, analysis and extras.
There are wings, tenders and a short list of sandwiches, as well as sides, salads and beer.
You take a ticket and wait for the buzzer to go off, a sure sign the second Chik'n is not intended to be the last.
I had some tenders and a classic burger, which comes with cheese, bacon and a buttermilk mayo for £7.45.
It didn't need the cheese or bacon. A chicken burger is really a sequence of textures: soft bun, bit of lube, mad gold crunch, luscious flesh.
The group is keen on having happy staff as well as happy chickens, although the order and collect system means minimal interface with them, so we'll have to take their word for it.
Next was Coqfighter, on Beak Street. Of course, it is on Beak Street. Who could resist a pun like that? It's not even the most egregious example on the road. That accolade belongs to the Beak Street Bugle, an advertising newsletter. We can only speculate about what time of night they came up with that one. Coqfighter used to be Ma Plucker, another chicken restaurant.
You imagine the dejected Pluckers, thousand-yard poultry stares, trudging past the bright-eyed Fighters on their way back from the front. Coqfighter, run by three Australians, has had stalls in Boxparks, but this is their first restaurant.
It's a light, breezy, open-fronted room. In theory, the experience is smarter than at Chik'n and more like Chick'n'Sours, in that a waiter comes to take your order and delivers the grub. There are cocktails.
When I went there was only one other diner, another man on his own, on a weekday lunchtime, eating too much fried chicken, yet the waiter forgot my Coke and my cutlery. If you want something done, ask a busy person.
The Original sandwich, comes slathered in sambal mayo and Korean hot sauce, certainly original, and I'm sure it has all its dude badges, but it took something away from the core ingredients.
The spices lingered like that guy who won't quite leave the party. Cucumber, tenders and a sandwich, with the drink, came to nearly £25.
It's not that Coqfighter isn't lovely chicken made by decent blokes. In a less competitive market, it would be a go-to, but for fried chicken, this is a buyer's market. It's just that on the days I visited, Chik'n edged it out on the price-experience matrix.
The most surprising was Slim Chickens, a much faster "fast-casual" concept, so much so we might dare to call it fast food. I was suspicious.
It is an American chain expanding into the UK – there are other sites in Bond Street, Birmingham and Cardiff. Its website doesn't make much mention of chicken welfare, aside from saying they are "premium tenderloins" so we can probably assume these guys have had worse lives than the birds being doled out at the other places.
There's not much slim about it, the chips are ropey and the barbecue sauce is horribly thick, like sweet dipping bitumen. A five-tender meal is £9.95, which is expensive.
But there is something horribly moreish about the tenders themselves, which have crisp rather than crunchy exteriors but are juicy to the point of obscenity.
For all their jazzy fonts, few concepts are as conservative as a fried-chicken sandwich restaurant, which offers nearly all things to nearly all diners. Forget the hype around vegan and vegetarianism, chicken is the real macro-trend, representative of a global move away from climate-trashing, possibly carcinogenic, non-Halal red meats.
We're moving to chicken as we are slowly moving to sportswear and there is nothing anyone can do about it. Chicken is predictable, safe, widely available, approved by Joe Wicks and other Instagram PE teachers, and open to those whose diets or religions prohibit the red stuff. It can be low-carb while still being vaguely naughty, the holy grail of the cheeky Nando's crowd.
For the time being, at least, it comes unwashed in chlorine. They are feel-good failsafes for nervous times. What kind of a city is this? Chickentown, evidently.
Would you go back? Definitely Chik'n, possibly Coqfighter, and I'd be surprised if I've had my last Slim Chickens.
Which of these three chicken restaurants should you go to? Chik'n.
Could you take your parents? If you had to, Coqfighter, but I don't think so.