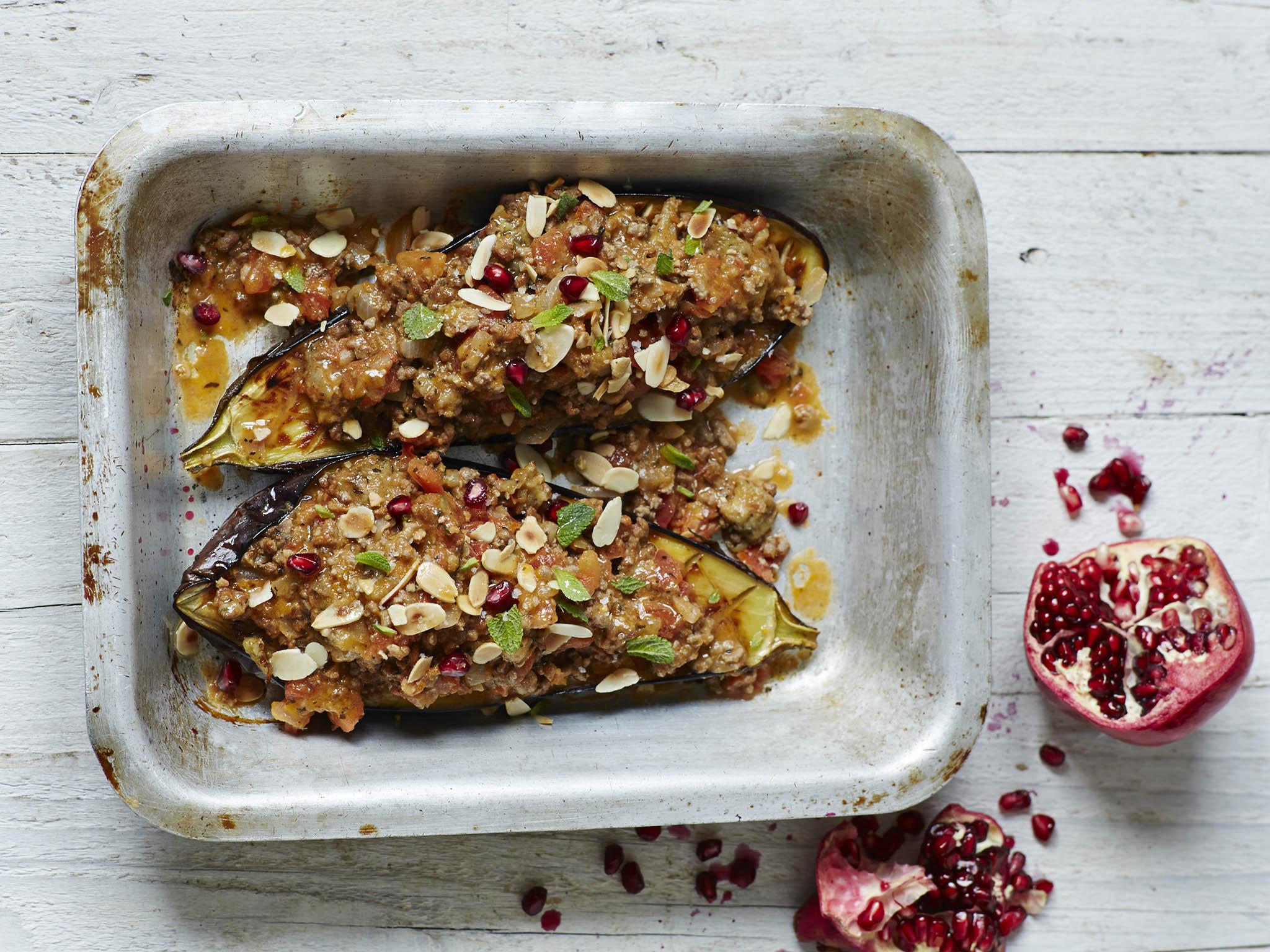 Baked aubergine with spiced lamb, mint and pomegranate
Serves 2
Aubergines are great vessels for stuffing. We've given the lamb a Middle Eastern style spicing and have served it sprinkled with almonds, mint and pomegranate, though you can leave out the pomegranate if you can't find any. Good with couscous, a leafy side salad or wilted spinach.
We'll tell you what's true. You can form your own view.
From
15p
€0.18
$0.18
USD 0.27
a day, more exclusives, analysis and extras.
1 large aubergine
sunflower oil or light olive oil, for frying and roasting
25g flaked almonds
1 onion, finely diced
1 large garlic clove, finely chopped or crushed
300g minced lamb
2 tsp ground cumin
1 tsp ground coriander
1 tsp dried mint
¼ tsp smoked paprika
¼ tsp chilli flakes
4 large tomatoes, skinned and chopped
1 pomegranate
handful of mint leaves, shredded
salt and black pepper
Heat the oven to 220˚C/Gas 7. Cut the aubergine in half lengthways. Score the flesh in a criss-cross pattern. Drizzle liberally with oil and season with salt and pepper. Place skin-side up in a baking dish. Bake for 45 minutes or until the flesh is soft and tender right the way through. Meanwhile, put the almonds in a dry frying pan. Heat gently, stirring, until golden. Remove to a plate and keep to one side. Heat 2 tablespoons of oil in a frying pan.
Add the onion and fry on a low heat, stirring, for 10 minutes. Add the lamb and fry, stirring, on a medium heat to brown. Add the garlic, cumin coriander, dried mint, smoked paprika and chilli flakes and stir for 2 minutes. A
dd the chopped tomatoes. Season and simmer for 30 minutes, adding a splash of water if needed to stop the meat drying out. Cut the pomegranate in half crossways.
Take a rolling pin or the handle of a wooden spoon. Hold the pomegranate cut-side down in your hand over a bowl and bash the skin; the seeds will fall out (most of them anyway). Pick out any pith that does fall in; there shouldn't be much with this technique, but it tastes bitter, so remove any you find.
Once the aubergine flesh is tender, remove it from the oven. Carefully scoop out as much of the flesh as you can, keeping the aubergine skins intact. Add the flesh to the lamb. Stir and simmer for 5 minutes. Check the seasoning. Spoon the lamb mixture into the aubergine skins. Sprinkle over the almonds, pomegranate seeds and mint to serve.
Fried miso aubergines with tomatoes, green herb rice and shredded omelette
Prep:10 mins
Cook: 30 mins
Serves 2
Miso is a fermented rice or soybean paste and is a fundamental building block of Japanese cuisine. It has a deeply savoury flavour and tastes hugely restorative. It partners well with the unctuous flesh of the aubergine and sugars from the fermentation help to balance any bitterness.
200g brown basmati rice
2 aubergines
2 garlic cloves
25g ginger
4 tomatoes
3 shallots
2 tbsp mirin​
3 tbsp sweet white miso​
¼ tsp chilli flakes
2 tbsp tamari soy sauce
30g coriander
15g mint
2 eggs
2 tsp sesame seeds
2 tbsp sesame oil
Salt and pepper
Put a large pan of salted water on to boil. Rinse the rice well in a sieve under cold running water. When the water is boiling, add the rice. Stir briefly and drop to a simmer. Cook, partially covered, for 20-25 minutes until tender.
Meanwhile, wash the aubergines. Remove the green tops and chop them into a 3cm dice. Season them lightly with a pinch or 2 of salt. If the aubergines are particularly large, you may only need to use 1½.
Peel and finely slice 2 garlic cloves. Peel and finely chop or grate the ginger. Roughly chop the tomatoes. Peel and slice the shallots.
In a small bowl, stir the mirin, miso, garlic, ginger, chilli flakes and ½ the tamari soy sauce together. Mix well until the miso dissolves.
Wash the coriander and mint. Shake them dry. Roughly chop the coriander. Remove the leaves from the mint and slice into fine shreds.
Beat the 2 eggs together in a bowl with the remaining 1 tbsp of tamari soy sauce. Heat a non-stick frying pan on a high heat. Add the eggs and swirl around the pan until even and pancake-thin. Cook until coloured on the underside and set throughout. Slide the omelette out of the pan and keep to one side.
Heat the sesame oil in a wok or high-sided frying pan until shimmering hot. Add the aubergines. Fry on a medium-high heat for 4-5 minutes until starting to colour. Add the shallots. Fry for a further 4 minutes. You want both the aubergines and shallots to colour well.Throw the tomatoes into the pan and cook for 3 more minutes. Tip in the miso mix and 4 tablespoons of water. Let everything bubble and heat through for 2-3 minutes, until dark, rich and sticky.
While it cooks roll the omelette into a tight cigar shape and slice it widthways into fine shreds. Drain the rice. Mix through the chopped coriander and mint.
Divide between 2 bowls. Spoon over the sticky aubergine and top with fine ribbons of shredded omelette and the sesame seeds.
Cooks notes: Make your omelette as you would a pancake or crêpe. Swirl the egg as thinly as you can around the pan. These thin, soy-laced omelettes are great shredded over many Asian dishes and broths, or can be used as a wrap and stuffed full of fried rice and veg. They can be made ahead of time and stored in the fridge, layered between baking parchment, and keep for 2-3 days.
Aubergine pitta pockets with pomegranate tabbouleh
I remember pomegranates being a laborious fruit to deal with when I was young, sitting for ages picking out seed after seed with a cocktail stick. To save you from this drudgery, a quick tip: cut your pomegranate in half, hold one half in your cupped hand, cut side facing down, and smack the bottom with a wooden spoon. The seeds should rain down into your palm.
Prep:10 mins
Cook: 30 min
Serves 2
2 aubergines
80g bulgur wheat
Olive oil
½ pomegranate
50g walnuts
30g fresh parsley
15g fresh mint
1 orange
50g salad leaves
Oil for frying, eg vegetable or light olive
2 garlic cloves
2 tomatoes
2 tbsp harissa​
¼ tsp cinnamon
1 tsp brown sugar
100ml yoghurt
4 pittas
Salt and pepper
Remove the green tops from the aubergines and cut them widthways into half cm thick discs. Sprinkle them with a little salt and leave to sit for 15 minutes. Meanwhile put a kettle on to boil. In the large bowl, mix the bulgur with 1 tablespoon of olive oil and a generous pinch of salt.
When the water boils, pour enough over the bulgur to cover it by 1 inch. Cover the bowl tightly with clingfilm and put to one side. Remove the seeds from one half of the pomegranate (see cook's note). Roughly chop the walnuts.
Wash the parsley and mint, shake them dry and pick the leaves off, discarding the stalks. Zest and juice the orange. Wash, drain and dry half the pack of salad leaves. Heat 2 tablespoons of olive oil in the frying pan. Lay in as many aubergine slices as you can in one layer. Fry until coloured on both sides.
Put to one side and repeat in batches until they are all cooked. Aubergines like to soak up olive oil so you'll need to add a little more to the pan as you go to keep them frying. While the aubergines are frying, peel and finely slice the garlic cloves and roughly chop the tomatoes.
Add the garlic and tomatoes to the pan when the aubergines have all been fried, along with the harissa, cinnamon, sugar and 100ml of water. Cook the tomato mix for 5 minutes until starting to soften and collapse.
Add the aubergines back into the pan and cook gently for another 5 minutes while you make the tabbouleh. Roughly chop the parsley and mint leaves. Uncover the bulgur – it should be cooked but with a slight chew to it. Drain away any remaining water.
Add the pomegranate seeds, chopped walnuts and orange zest to the bowl along with half the chopped herbs, 2 tablespoons of orange juice and 2 tablespoons of olive oil. Mix the tabbouleh well and season with salt and pepper to taste.
The aubergines should now be a tasty, soft and tangled mess. Add 2 tablespoons of yoghurt to the aubergines and bring to a simmer. Throw in the remaining herbs. Season to your taste with salt and pepper. Grill or toast the pittas. Split them open and stuff with the aubergines and plenty of salad leaves.
Serve with the tabbouleh and the remaining yoghurt.
Aubergine, potato and Parmesan gratin
This makes an excellent, unfussy main course for 2, or a hearty side for 4. It's good with a green salad and some brown rice. You could also substitute mushrooms for aubergines, or use them both. If you are vegetarian, use vegetarian Parmesan or another hard cheese such as Pecorino.
Prep: 15 mins
Cook: 35 mins
Serves 2
250g aubergine, cut into cubes
250g potatoes, peeled and diced
1 red or white onion, sliced
1-2 garlic cloves, crushed or finely chopped (optional)
Knob of butter
1 tbsp oil
200g chopped tomatoes
150ml veg stock
1 heaped tsp dried mixed herbs, or a small handful of fresh e.g. thyme
2 tbsp breadcrumbs
1 tbsp Parmesan (or a vegetarian alternative), grated
Salt and pepper
Preheat oven to 200°C/Gas 6. In a pan of boiling water, cook the potatoes for 5 minutes. Drain and reserve.
Heat the oil and butter and add the onion. Fry gently until soft. Add the garlic, then the aubergine and fry until tender.
Add the potatoes to the aubergine. Season with salt and pepper. Add the tomatoes and stock, simmer for 10 minutes.
Place the mixture in a gratin or baking dish. Sprinkle over the breadcrumbs and Parmesan and bake in the oven for 15 minutes until the topping is golden.
Recipes from Riverford.co.uk