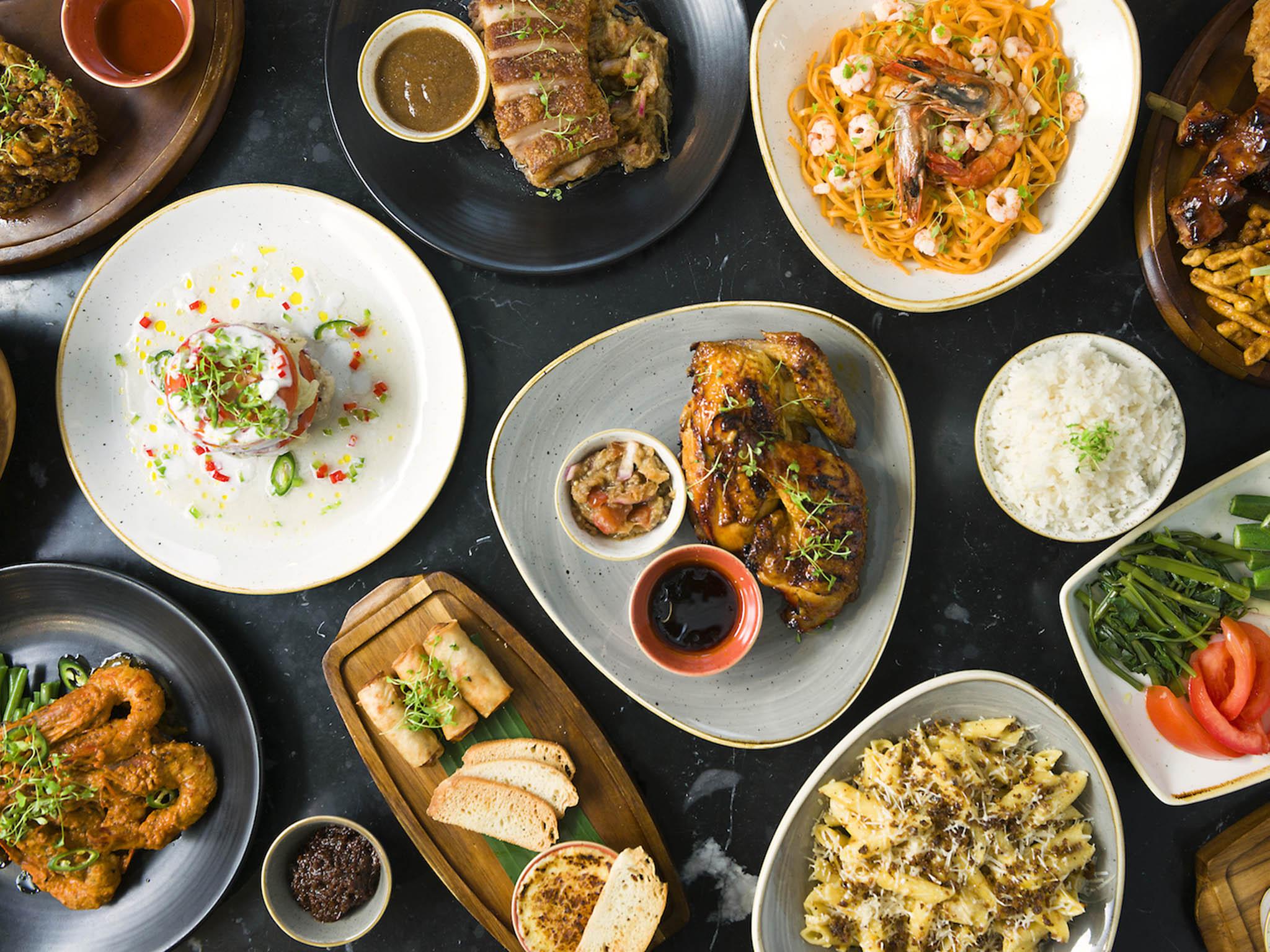 It's fair to say Filipino cuisine is not on the map in Britain; instead it's still firmly rooted in the Pearl of the Orient. The fact that there are only a handful of restaurants in London is testament to this, and even fewer across the rest of the UK after sites in Manchester and Edinburgh closed down, so it's no wonder it is often referred to as Asia's best kept culinary secret.
The food is a huge melting pot of influences from the Pacific Rim, Malaysia, China, South American and Spanish. In short it's a mixture of cuisines from any country who has invaded or attempted to colonise the islands, where their lasting mark has created the beginning of fusion cuisine as we know it.
The national dish is adobo – which means marinade in Spanish – and is made from vinegar, soy sauce, garlic and black pepper. It's a dish that has as many variations as it does people making it, where regions and household have their own twists and each thinks is better than anyone else's. But it's a dish best done with pork – something Filipinos cannot get enough of.
We'll tell you what's true. You can form your own view.
From
15p
€0.18
$0.18
USD 0.27
a day, more exclusives, analysis and extras.
But it's not a new cuisine in the west, we were first introduced to it in the Seventies, when Filipino chef Nora Daza opened Aux Iles Philippines in Paris. It clearly didn't take off, and has since sat quietly sat in the shadows of its counterparts of Nepalese, Indian and Japanese which have all taken centre stage.
Now it is tipped as one of the cuisines to be eating in 2017. You just need to look – quite hard – for somewhere to do that. As restaurants are few and far between, people cooking it are turning to supper clubs as a more viable way of drawing people in. To get you ahead of the game, we've rounded up where to eat it, a class to learn the skills and the ingredients you'll need to make it at home.
Where to eat it
Walton Supper Club by Maynila, Surrey
The location alternates between Roni and Steve's homes in Walton-on-Thames who are the culinary brains behind the evening, and both design the menu and cook it. The menu is changed ever quarter and despite Filipino's love of meat vegetarians and vegans are catered for, just be sure to let them know. You'll be welcomed with a cocktail and then begin a tasting menu that is a great introduction into Filipino cuisine with dishes like thrice cooked pork in calmansi (Filipino limes) and spirals of parano pickled carrots. The next event is 13 May, book on their website, maynila.co.uk.
Romulo Cafe, Kensington High Street, London
After celebrating its first birthday last month, Romulo café is the off-shoot of its sister location in Manila opened by Rowena Romulo using the recipes of her grandfather. And it's not just the food that her family are remembered in, the walls are adorned with black and white photos and grand paintings of her ancestors. In a bid to share the flavours of Filipino food, they've banished criticisms of Filipino food being too beige by introducing as much colour as possible from the sweet potato to their classic adabo dish (choose from pork and chicken, beef or lamb) to bring colour and almost everything is dappled with pretty yellow and purple edible flowers. Sharing is encouraged as much by Gina who welcomes you in as it by the menu, with two pages dedicated to main sharing plates. The crispy beef short ribs fall off the bone, and are served with a side of honey chilli glaze in another attempt to rid stereotypes of Pioy food being covered in thick gloopy sauces, but this one is rich and spicy and definitely moreish.  Equally starters and side vegetable dishes are also generous, so order lots and try a bit of everything – just the way it's supposed to be. Book at romulocafe.co.uk or 0203 1416390.
Manila Munchies, Birmingham
Taking matters into their own hands, the team behind Manila Munchies started the pop-up after failing to find any sort of outlet for Filipino food in the midlands. The street food vendor has been running for four years and can be found at Digbeth Dining club where street food vendors take over every Friday and Saturday from 5pm.  Their pork liempo is their most popular dish- the pork has been marinated for 24 hours in their special sauce, then it's barbecued and basted again to make it super succulent. They occasionally go to other food events – so keep an eye on their social media -and also do food for events and private dining.
Josephine's, Fiztrovia London
With a small red awning and two little tables outside, you might be forgiven for thinking this is an Italian – save for the large wording "Filipino restaurant" above. It has been serving up Pinoy food here since 1996 after Josephine and Placido Poniente moved to London in the 1970s and worked in hotel restaurants and opened their own sandwich bar in 1985 where they put adobo in sandwiches. The family run restaurant is welcoming  and menu highlights include a lechon kawai – soft pork belly with a crispy outside and kare kare baka which is braised beef in peanut sauce with green beans, aubergine and banana blossom. Book a table at josephinesrestaurant.co.uk or call 0207 580 6551.
The Adobros Supper Club, New Cross, London
Set up by two brothers, Mark and Mike, who grew up in Hong Kong on Filipino food, the duo create supper clubs in their south east London flat, serving up traditional Filipino fare that's meant for sharing in large groups. Their recipes come from their mother, who they urged to share with them after they went to boarding school in the UK and missed their mother's cooking. Aside from the meat dishes, the brothers make a Filipino version of a creme caramel, leche flan, which is decadent with condensed milk, egg yolks and served with green mango sobert and latik – a burnt coconut curd crumb. The name is a collaboration of the first three letters of the national dish Adobo, and of course "bros" is the fact they're brothers. The evening is £33 and BYOB and in return you get a four course dinner (veggie options available too). The next events will be 22 April and 20 May, book here grubclub.com/the-adobros.
Where to make it
Bakehouse Kitchen, Stamford, Lincolnshire
You'll be taught by Myrna Verdegaal, who was born in the mountain provenance of the Philippines, and has cooked all her life including professionally in kitchens in Lincolnshire and now runs her own catering business and courses. On her day course, you'll learn to make the famed pork adabo, which uses a technique that involves cooking with vinegar,  a traditional dish called lumpiathat can be either a side or a main and pancit – a noodle dish that is crucial to any Filipino feast and there are thousands of versions. Included is a Bakehouse Apron, recipe cards and a certificate of completion. At the end, you'll get to eat your food with a glass of prosecco – or take it home. The course is £50pp or £95 for two boked together. The next course will be 21 June. Her daughter Evey also offers Filipino dinner party evenings too.  For more information go to the workshop section of their website bakehousekitchens.co.uk/workshops.
What you need
Filipino food has some rather niche ingredients, but they are accessible to buy from Asian food shops and markets and even online too. But many of them can be substituted for similar items that you can pick up from supermakets such as the Manila supermarket in Earl's Court and fruit and veg shops, or some items are available online, including tradewinesorientalshop.co.uk and theasiancookshop.co.uk.
1. Annatto seeds: These are used as natural food colouring and come from the annatto fruit. Aside from a colourant, they're also used for their slightly nutmeg like flavour. You can buy it in packets and either fry it in oil or soak it and squeeze it to extract the colour.
2. Banana blossom: The edible flowers come from the banana plant's bud. It's a vegetable that you can buy fresh or canned from Asian food stores and use in salads, soups and stews. To use it, you need to peel off a few outside layers, then cut into circles and soak in salted water before cooking. If you can't get them, use artichoke hearts or courgettes instead.
3. Calamansi limes – Grown on bushes all over their native country, these are squeezed over noodle dishes and mixed in marinades and dipping sauces. They're smaller, milder and more fragrant than typical limes.
4. Chinese cabbage: Otherwise known as pak choi, this is available in almost all high street supermarkets and is rich in vitamin C.
5. Chorizo de Bilbao: This is the Philippines version of chorizo and is spicy, dry-cured and sweet and is named after the Basque region. You'll find it vacuum packed in the chilled section and is more widely used than fresh sausage because it's easier to store.
6.  Coconut milk: Another very east to obtain essential item, tins of coconut milk are easy to store and last a long time. There are fresh versions available too, but this needs to be used immediately.
7. Shrimp paste: It's also known as bagoong and this salty paste is quite strong and is used as a seasoning on lots of Asian dishes. You'll find it in jars in shops.