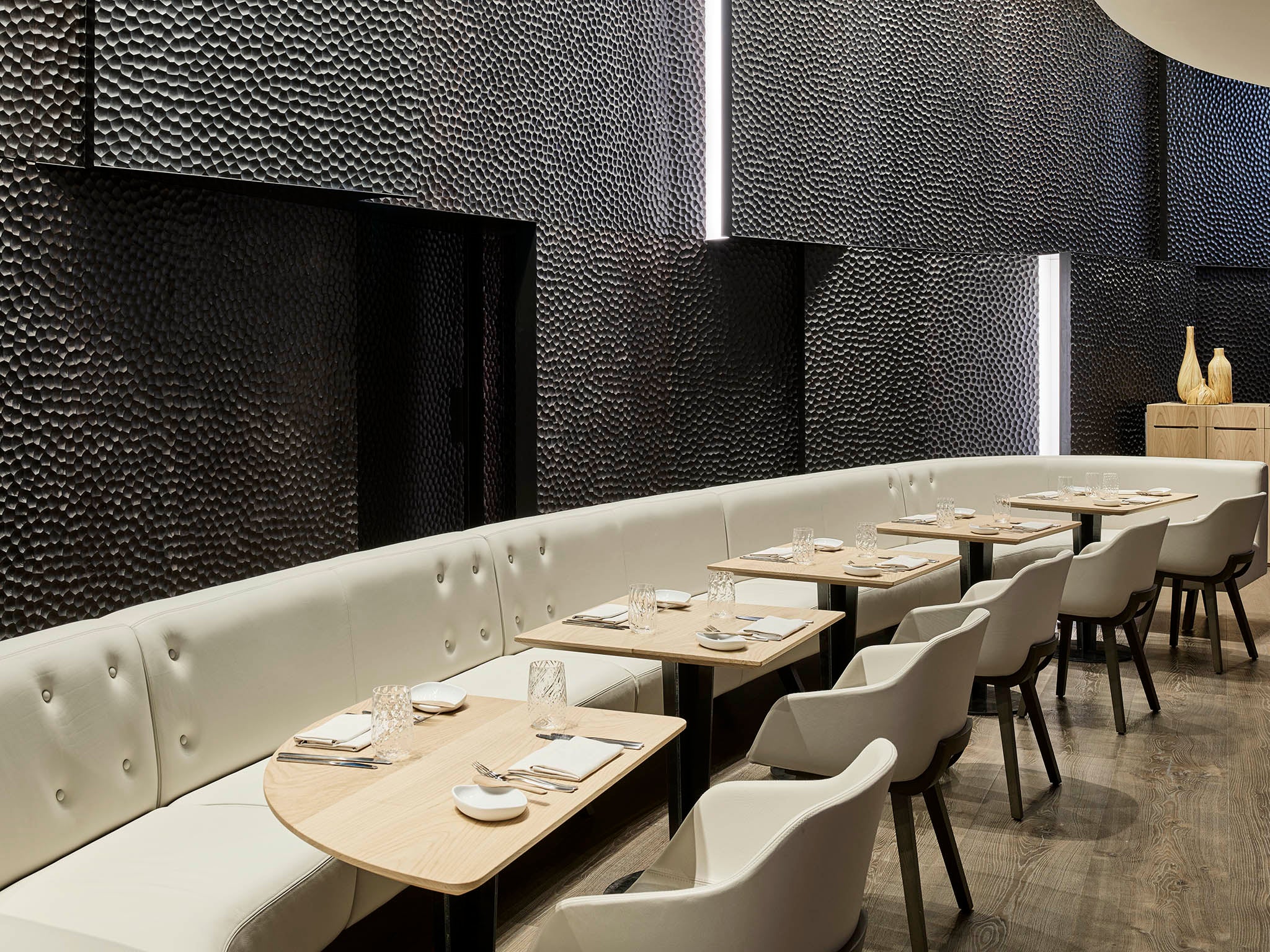 One of the biggest draws of visiting a restaurant for brunch or lunch rather than dinner is the inherent value involved. You're much more likely to get a taste for the chef's cooking and, in most cases, still be able to walk away with only a small dent in your wallet.
The brunch menu at Eneko, the Basque restaurant in the One Aldwych Hotel, appears to present even more value: it's the slightly more casual outpost by Eneko Atxa, the chef behind the three-Michelin-starred Azurmendi.
While you'd be foolish to expect three-star-worthy food at these reduced rates, it's at least a chance to try the food of a celebrated chef in an accessible setting.
Download the new Indpendent Premium app
Sharing the full story, not just the headlines
And anyway, Basque food lends itself to brunch a lot easier than many might realise, since it's a cuisine remarkably adept with ham and eggs.
Take the Basque scrambled eggs: a dish of potatoes, caramelised onions and creamy eggs the colour of the golden hour. They're complemented by excellent jamon iberico, both a garnish and a welcome hit of fat and salt.
Similarly, the egg yolk tempura shows both excellent technique and a playful side that Eneko has clearly used to impress the Michelin inspectors before.
While it's a tiny bit semi-finals of Masterchef: The Professionals, it's also exceptionally delicious, with more of that jamon on show; it's molecular gastronomy without making a song and dance about it.
Though with that being said, it may surprise you to learn that the traditional tortilla managed to outshine both of those. Appropriately runny on the inside and firm on the outside, it's also one of the great bargains, not just in this restaurant but around London. It's only £4 and is a must-order.
Less good are the noodles with mushrooms: a bit slimy (as noodles can be) and not helped by the thin pasta, which is somewhere between vermicelli and soba, but not as good as either. Once again, there's egg (this time just a yolk, sat on top of the dish, suggestively tempting you to poke and burst and mix) and jamon iberico, but it's kind of lost in this dish.
With a menu this big, split out into egg dishes, breads, large dishes, and rice (not to mention sides) it's difficult to choose between everything on offer, particularly when it all tends to be quite rich.
The suggestion is to go for a few small and a couple of the bigger dishes. There's the seafood rice, cooked under intense heat in the Josper grill, served the colour of molasses and hinting at a heavy dose of Maillard reaction. The seafood comes dotted on top, in the form of prawns and mussels, but the real treat comes in the garlic, which is almost confited and is just begging to be squashed into the rice. It's an umami bomb of a dish, in the best way possible.
I'd suggest going for that or the confit cod on crystal bread, which gives off the appearance of being lighter but is still profoundly satisfying to eat. The cod has the silky texture of scallops mi-cuit, yet firmer to the bite and utterly delicious. It sits on exemplary bread with pimenton aioli and a vinaigrette.
While the real value of a restaurant like this is abstract – and based on your personal understanding of what that may be – there's no doubt that brunch is the way to go for most as it's the most affordable way of tasting Eneko Atxa's food.
I'd go one further and suggest that coming to the bar and getting a couple of the snacks, particularly the tortilla, along with a glass of cava, is one of London's great bargains and a superb option for pre-theatre, or if you just happen to be in the neighbourhood.
Food ★★★★☆
Service ★★★★☆
Value ★★★★☆
Eneko, One, Aldwych, London WC2B 4BZ; 020 7300 0300; open Tues-Sat, eneko.london