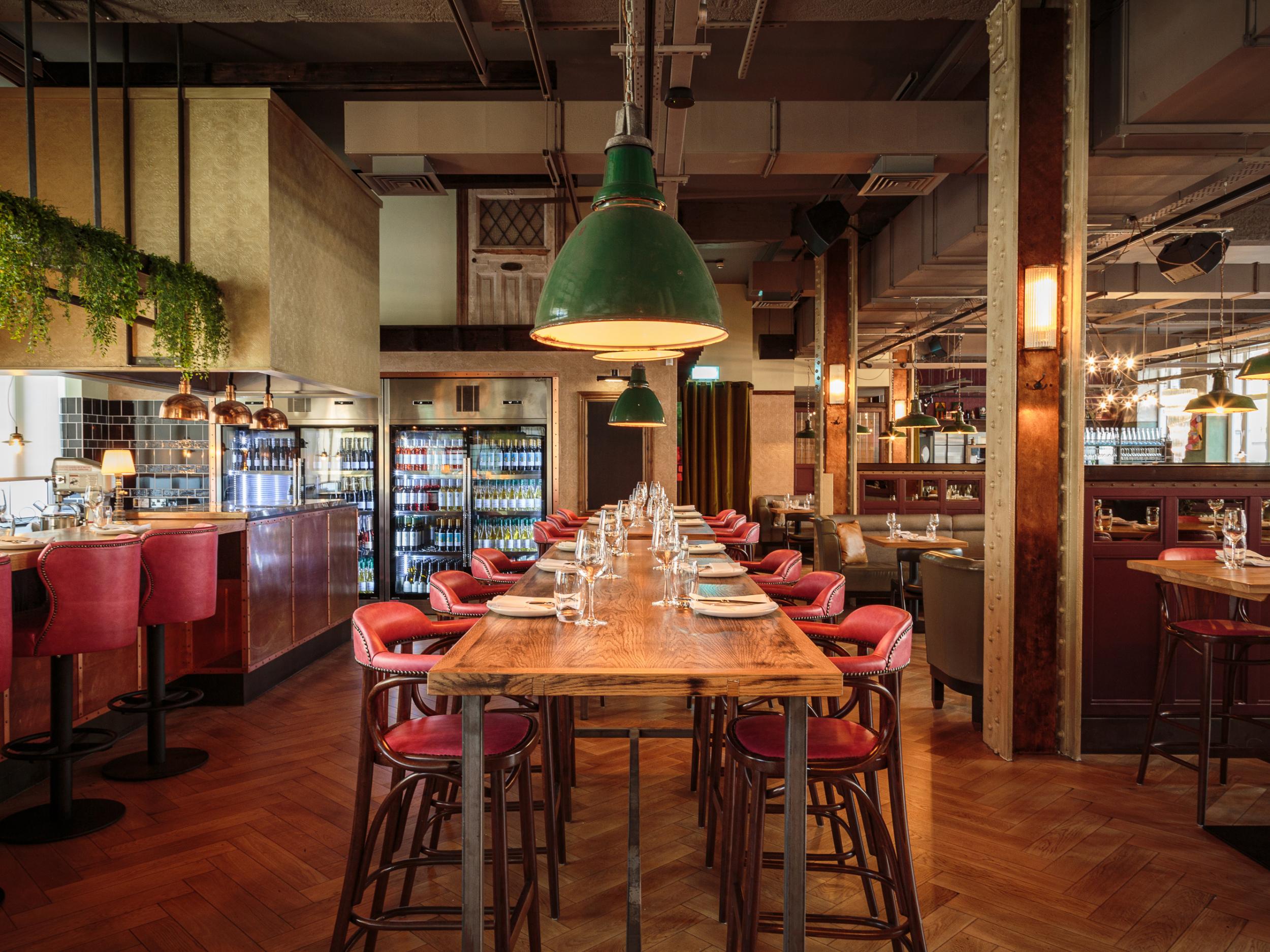 Whenever anyone tells me they've never been to Liverpool, I immediately say they have to visit. Aside from the undeniable charm of the city and its people, you've got to go for the food. Liverpool is full of independents that have blessed my taste buds with some of the best meals I've eaten, especially tapas. From the mini wood fired pizzas at Bacaro to the sea bass at Neon Jamon, I can't get enough of small plates here.
But we're going back to basics here at El Gato Negro Tapas. Opening last month, the restaurant resides in the landmark Grade II listed Exchange Flags development, overlooking the town hall in a cobblestone square. This side of town is a renowned hangout for celebrities and footballers alike, and the nearby Castle Street is home to bars such as Neighbourhood which has become a nightlife powerhouse, and the well-known Alchemist.
El Gato's original restaurant is the only Michelin Bib Gourmand holder in Manchester city centre and has won the accolade three years running since opening in 2016. Back here, the Liverpool menu offers the same signature tapas dishes with seasonally-influenced flavours that are a mix of modern and traditional.
We'll tell you what's true. You can form your own view.
From
15p
€0.18
$0.18
USD 0.27
a day, more exclusives, analysis and extras.
The relaxed feel of the large but still pretty intimate dining space is welcoming from the offset. It has a similar open-plan, industrial-feel to the Manchester site, with a fun mixture of red leather booths and individual tables, herringbone flooring, exposed pipework and chandeliers.
It's fancy enough for a Friday night, dress-up treat without feeling at all intimidating. The huge island bar makes a statement as you walk in, while other diners watch the chefs in action at the charcuterie counter.
As with most tapas, dishes arrive as they are cooked. We start with the aged Manchego and bittersweet green figs from the charcuterie menu, which comes alongside torta de aceite: a traditional wafer-thin olive oil bread coated with sugar, with a hint of aniseed. The smoky cheese and sweet bread paired with a crisp glass of pino sets the tone for the rest of the meal.
Next up is the special: queenie scallops coated in harissa butter, breadcrumbs and more Manchego cheese. The scallops are juicy and the marriage of spicy harissa and crispy breadcrumbs works well, a dish made even better with a squeeze of lime juice. It's so good, that we pick up the shells and lick them clean, which must look ridiculously uncouth to the guests around us. But like a kid enjoying too many Easter eggs, we're too in the moment to care.
From the meat part of the menu, next comes the Morcilla scotch eggs. Imagine the most luxurious bubble and squeak you can conjure up and pair that with a perfectly runny egg and the crunch of breadcrumbs, we're sold. Underneath is a mushroom duxelle which only adds to the dishes richness, with an apple purée on top that cuts through the salty flavours.
Our waiter recommends the chargrilled chicken thighs which are apparently a popular choice, but to us, they're a slight disappointment as the shabu shabu dressing lacks seasoning. But it manages to wine some points back thanks to the tender and smoky chicken meat. Up next is the star of the show: chargrilled lamb skewers. Not something I'd usually go for, especially when it's tapas, but the meat is so juicy and aromatic I could do with about seven of them if we'd not already ordered so much else.
The tomato sauce on the patatas bravas is slightly spicy and spot on, but disappointingly, the aioli lacks it's key ingredient: garlic. A generous portion of mini Catalan chorizo with Aspall cider takes me straight back to eating in Barcelona, with that sweet and smoky depth of flavour I love so much about Spanish food.
Bellies full, we still want to try more but have truly over exceeded the five-six plate recommendation for two. Alas, we give in and order a creme Catalan to share for dessert, which isn't quite as reminiscent of the real deal. But the cocktails we drink last are to die for – they aren't shy of boozy measurements here, another thing I love about this city.
The menu is a great combination of traditional small plates with modern, closer to home tweaks. A great new addition to a city that has high expectations from its food already.
Food ★★★★☆
Service ★★★★☆
Value ★★★★☆
El Gato Negro Liverpool, Unit 2, Walker House Exchange Flags, L2 3YL: 0151 236 1331​; elgatonegrotapas.com​