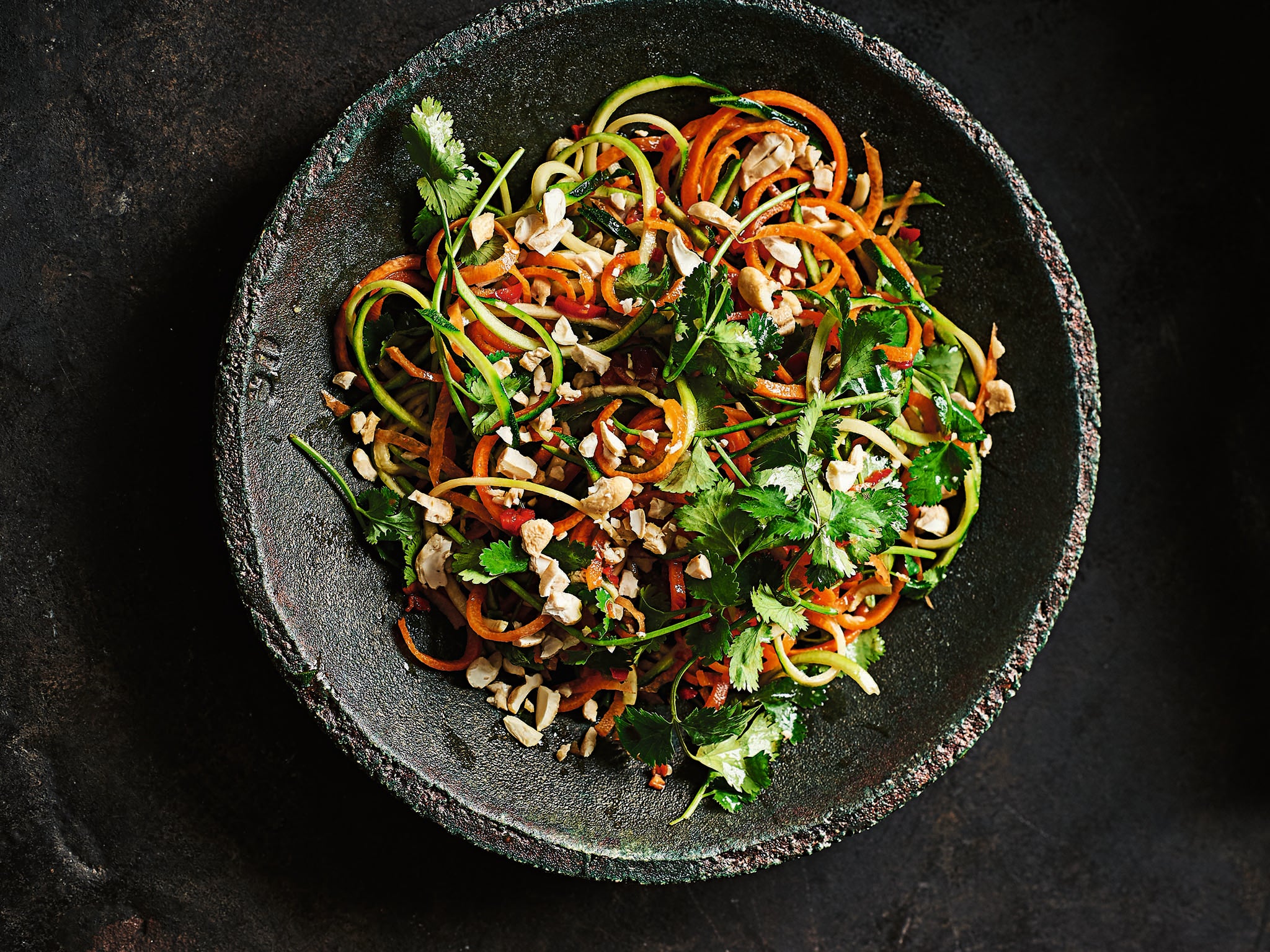 Thai-style veggie "noodle" salad
It's official – vegetable noodles have become "a thing". I have had one of those spiralizer contraptions since the 1990s – back then we were mavericks. But now, thanks to the huge popularity of veggie noodles, you no longer have to grapple with such a gadget, because they are available pre-prepared in your supermarket – winner.
Serves 1
We'll tell you what's true. You can form your own view.
From
15p
€0.18
$0.18
USD 0.27
a day, more exclusives, analysis and extras.
Prep: 10 mins
handful of pre-prepared carrot noodles
handful of pre-prepared courgette noodles
20g coriander
1 tbsp cashew nuts
salt
For the dressing
juice of 1 lime
2 tsps soy sauce
2 tsps olive oil
1 tsp sesame oil
1 garlic clove, very finely chopped
½ red chilli, finely chopped (optional)
Place the carrot and courgette noodles in a bowl, add the coriander and toss together until evenly combined. Whisk all the dressing ingredients together well before pouring over the noodles. Toss well again to ensure everything is evenly coated before plating up.
Place the cashews in a folded clean tea towel and give them a wallop with a rolling pin or similar blunt instrument to crush them coarsely. Sprinkle the cashews over the salad and season with a little salt.
Nutrition nugget: cashew nuts are a great source of calcium, magnesium, zinc, vitamin E and protein.
Fig and feta salad
A little beauty that has summer written all over it, this is a glorious collision of sweet and salty that's perfect as a main dish or served as an accompaniment to a barbecue.
Serves 1
Prep: 15 mins
3 handfuls of baby spinach
½ courgette
½ red onion, sliced
2 fresh figs, cut into quarters lengthways
80g feta cheese
For the dressing
1 tbsp olive oil
1 tbsp Greek yogurt​
1 tsp lemon juice
½ tsp dried oregano or mixed dried herbs
salt and pepper
Place the baby spinach on or in a serving plate or bowl. Cut the courgette into long thin ribbons by running a vegetable peeler down its length. Arrange the courgette ribbons among the spinach.
Add the onion slices and fig quarters. Mix all the dressing ingredients together in a small bowl, pour over the salad and toss together well to make sure everything is coated.
Crumble over the feta just before serving.
Nutrition nugget: Figs are little powerhouses. They are an excellent source of fibre, which supports digestive and cardiovascular health, and keeps us feeling full. Figs are also rich in calcium and antioxidant flavonoids.
Quinoa, pea, mint and feta salad with lime dressing

This has a beautiful summer vibe to it, and it's another that is just as happy as a side as it is a main course.
Serves 1
Prep: 15 mins
Cook: 20 mins
35g quinoa
35g frozen peas
5cm piece of cucumber, diced
10g mint leaves, torn
85g feta cheese
For the dressing
juice of 1 lime
1 tbsp olive oil
¼ tsp garlic salt
Place the quinoa in a saucepan, cover with boiling water and simmer for 20 minutes, or until it has softened and appears to have developed little tails.
Add the frozen peas for the last 3–4 minutes of the quinoa cooking time. Once the quinoa cooking time is up, drain the quinoa and peas and transfer to a bowl. Add the cucumber and mint and mix together well.
Crumble in the feta and mix well again. Whisk the dressing ingredients together well before dressing the salad.
Nutrition nugget: Quinoa is one of the most nutrient-dense grains on the planet. With an impressive array of vitamins and minerals, it's also a great protein source, because it contains all nine essential amino acids.
'Eat Shop Save: 8 Weeks to Better Health' by Dale Pinnock is published by Hamlyn, £14.99. Photography by Faith Mason;
Eat Shop Save is back on ITV from Thursday 8 August