For everyone who's given something up for Lent, one particular thought is carrying them through the next six weeks: the fact that Easter is just around the corner.
The arrival of Easter is accompanied by an inundation of Easter eggs of all different kinds. Whether you prefer milk, white, dark or nutty chocolate, there's something for everyone. 
An annual Easter egg taste test has recently taken place to assess this year's offerings, with a vegan Easter egg nabbing the top spot.
Although the Booja-Booja Hazelnut Crunch Chocolate Truffles Easter Egg isn't technically a chocolate egg, it was still considered by the judges who gave it a high score of 89 out of 100.
The truffles, which are gluten, dairy and soya-free, come in a beautifully ornate hand-painted box.
The egg was named the winner of the free-from category, but also topped the list overall thanks to its high score. 
Other categories featured in the taste test, which was carried out by Good Housekeepinginclude milk chocolate, dark chocolate, showstopper Easter eggs and best Easter eggs for kids.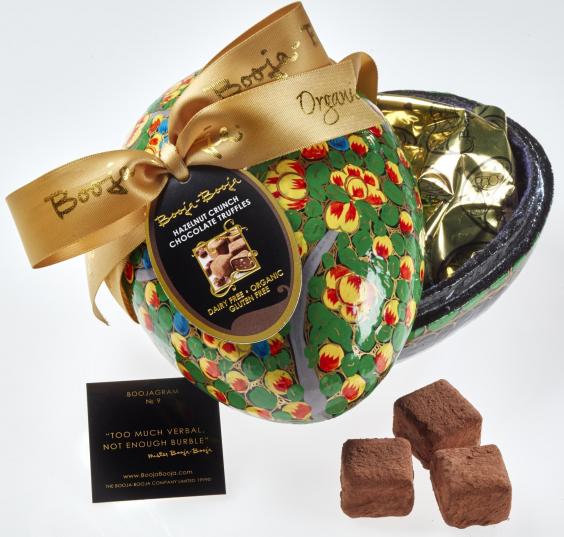 The Booja-Booja Hazelnut Crunch Chocolate Truffles Easter Eggs has been given the highest score during an annual Easter egg taste test (Booja-Booja)
While the Booja-Booja Easter egg may have been deemed the most delicious, it's not necessarily the most affordable option, coming to a grand total of £24.99.
The cheapest product included on the list was the Aldi Dairyfine Curious Inventions Egg Popping Candy for £2.99, which was chosen as a runner up in the best Easter eggs for kids category.
The most expensive egg featured is almost a hundred times more expensive. Betty's Imperial Egg In Bloom, which retails at a hefty £250, was named a runner up in the showstopper category.
Eggs have long been acknowledged as a symbol of life and death, which is why they're associated with Easter and the resurrection of Christ. 
Christians allegedly first began painting Easter eggs in Mesopotamia, an ancient region in southwestern Asia.
Eggs were coloured red as a reminder of the blood of Christ. 
The custom of decorating Easter eggs then became more widespread in Christianity as the years went by.
Keep up to date with the latest trends, stories and talking points in the world of modern dating by listening to The Independent Lifestyle team's weekly podcast, Millennial Love.
Reuse content