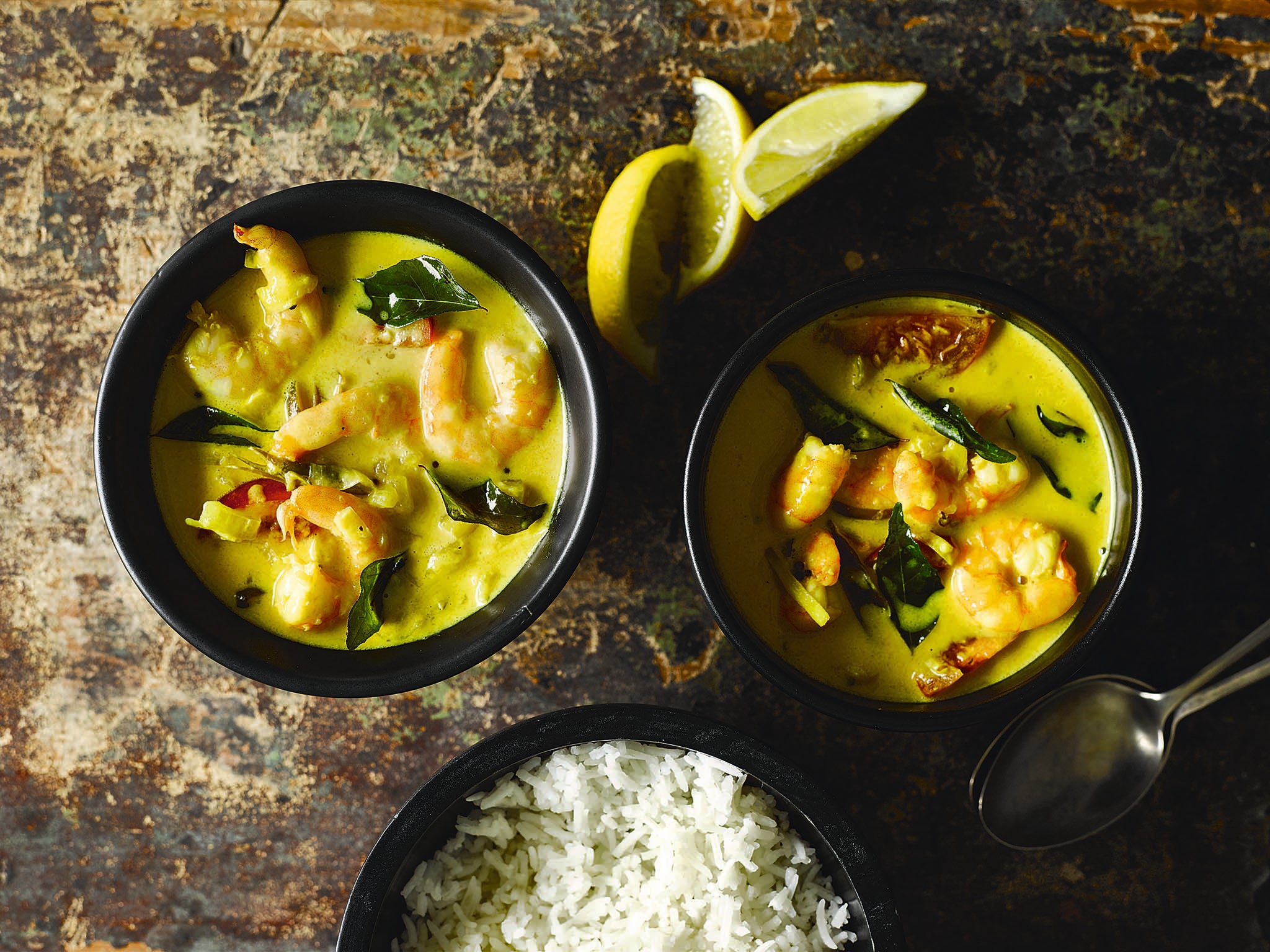 P

rawn moilee
This is Naved's special dish at Dishoom Covent Garden. It's a light, fragrant and utterly delicious south-Indian-style curry, packed with juicy prawns and tempered with coconut milk.
Although it looks impressive, it is actually very easy to make, so you can serve it either as a week-night supper or as an indulgent dinner. We serve it with idiyappam, the white, lacy noodle pancakes, also known as stringhoppers. If you can't get these, it goes just as well with steamed rice.
We'll tell you what's true. You can form your own view.
From
15p
€0.18
$0.18
USD 0.27
a day, more exclusives, analysis and extras.
Serves 4
6 green chillies
55ml vegetable oil
2 tsp mustard seeds
30 fresh curry leaves
300g Spanish white onions, sliced (a little chunky is good)
15g garlic paste
15g ginger paste
2 tsp fine sea salt
1 tsp freshly ground black pepper
1¼ tsp ground turmeric
25g fresh root ginger, cut into matchsticks
400ml coconut milk
250ml coconut cream
24 large prawns
300g medium tomatoes, cut into small bite-sized wedges
To serve
Lemon wedges
Remove and discard the stalks from the chillies, then slice each one into 3 or 4 long strips. Set to one side. Place a large saucepan over a medium heat.
Add 40ml of the oil, let it warm for a few seconds, then add the mustard seeds and 20 curry leaves. Let them crackle for a few seconds.
Add the onions and sauté lightly for 12–14 minutes, until soft but not coloured. Add the garlic and ginger pastes, salt, black pepper and turmeric and sauté for 3 minutes, stirring regularly. Add the sliced chillies and ginger matchsticks and cook for 3 minutes.
Pour in the coconut milk and cream and simmer for 20 minutes, stirring occasionally. While the curry is simmering, place a small frying pan over a medium-high heat and add the remaining 1 tbsp oil. Toss in the rest of the curry leaves and fry for 1 minute, until crisp. Drain on kitchen paper and set aside.
Add the prawns and tomatoes to the sauce and simmer gently for a further 5–6 minutes, until the prawns are cooked; do not overcook or they will be tough. Serve scattered with the fried curry leaves, with lemon wedges on the side.
Note: If you'd like to prepare the dish in advance, make the sauce (up to and including step 5), chill and refrigerate, then reheat and continue from step 6 just before serving.
Okra fries
Shamil grew up resisting okra – he never got past the slimy texture. However, Naved's recipe has since convinced him and many other lifelong okra-avoiders. These little snacks are crispy, light and deliciously addictive. They are even better when dipped into a chutney. The bowl will be empty before you know it.
Serves 4
175g okra
4g garlic paste
4g ginger paste
¼ tsp deggi mirch chilli powder
Vegetable oil for deep-frying
15g chickpea (gram) flour
10g cornflour
½ tsp "magic" masala
To serve
Chilli, coriander-mint and/or tamarind chutney
Wash the okra under cold water and pat completely dry with kitchen paper. Take off and discard the top of each okra, leaving the tail intact. Slice in half lengthways if young and small; quarter the okra lengthways if large.
Mix together the garlic and ginger pastes, chilli powder and 4 tsp water. Add the okra halves and mix well to ensure they are well coated.
Heat the oil in a deep-fryer or other suitable deep, heavy-based pan to 180C. Mix the two flours together. Sprinkle over the okra and toss very gently to coat.
Fry the okra in the hot oil, in batches if necessary, until golden and crispy, about 4–5 minutes. Drain on kitchen paper, sprinkle with "magic" masala and serve immediately, with your choice of chutneys(s).
Kejriwal
Fried eggs atop chilli cheese on toast is a favourite of the well-to-do Willingdon Club, the first such Bombay institution to admit Indians. It is reputedly named after the member (not to be confused with the Indian politician Arvind Kejriwal) who, not allowed by his wife to eat eggs at home, kept asking for the dish in his club.
The most convenient way of finishing the eggs here is to use a frying pan that can go into the oven. If you don't have one, fry the eggs until cooked in the pan, then top with the cheese, spring onions, chilli and pepper. The cheese won't melt quite as much, but it will still be delicious. If your frying pan is reliably non-stick you should need little or no oil.
Serves 1
80g mature Cheddar, grated
1 or 2 thick slices of white bloomer, sourdough or brioche (depending on size and level of hunger)
2 spring onions, chopped
1 green chilli, very finely chopped
1 tsp vegetable oil (optional)
1 or 2 large eggs (one per slice of toast)
Coarsely ground black pepper
To serve
Tomato ketchup
Let the grated cheese come up to room temperature; it needs to be quite soft and workable. Heat the oven to 240°C/Fan 220°C/Gas 9. Place a baking tray inside to warm up.
Toast the bread until very lightly browned on both sides. Set aside to cool slightly while you prepare the topping. Put a small handful of the grated cheese (roughly 10g), 1 tsp chopped spring onion and a pinch of green chilli to one side, to be used when you fry the egg(s).
Crack the egg(s) into a cup or small bowl, being careful to keep the yolk(s) intact. Put the remaining cheese, spring onions and green chilli into a bowl, add plenty of black pepper and mix well. Using the back of a spoon (or your fingers), work the cheese mixture into a paste by pressing it firmly into the side of the bowl.
Spread the cheese mix evenly over the toast and press it in, using the back of the spoon, to create a firm, even layer that goes all the way to the edges of the toast. Place on the tray in the oven and cook for 6–8 minutes, until deep golden and bubbling.
While the chilli cheese toast is cooking, warm a frying pan over a high heat and, if using, add the oil. Gently tip the egg(s) into the hot pan and add some black pepper. Top with the reserved grated cheese, spring onion and green chilli. Place the frying pan in the oven and cook for 2 minutes, or until the cheese is melted and the egg white(s) are cooked but the yolk(s) are still runny.
Carefully slide the egg(s) onto the cheese on toast and serve right away, with plenty of tomato ketchup.
'Dishoom' by Shamil Thakrar, Kavi Thakrar & Naved Nasir (Bloomsbury, £26) is out now. Photography © Haarala Hamilton