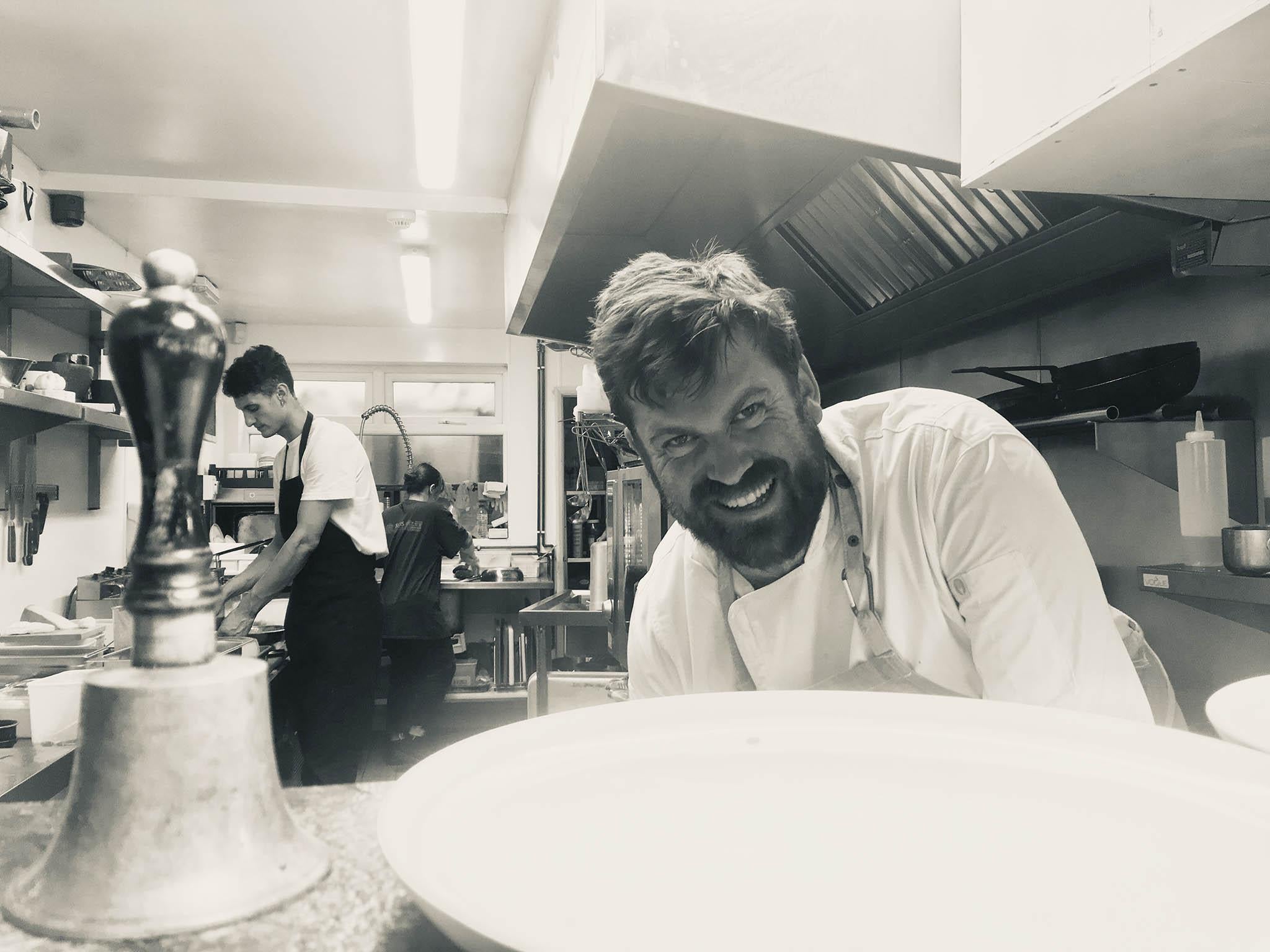 "It has been pretty amazing", agrees Freddy Bird, sitting at one of his new copper topped tables while commis chefs prep vegetables for lunch, barmen lug cases of wine, and Len the carpenter/ deer hunter installs the new kitchen fittings Freddy had decided prudently not to afford just yet. "
I was standing outside last week on the phone and taxis kept pulling up, people coming from London, Norfolk We'd only been open seven weeks!"
Freddy Bird's first restaurant littlefrench has achieved almost instantly full reservation books and rave national media reviews in a climate of gloom and serial closures.
We'll tell you what's true. You can form your own view.
From
15p
€0.18
$0.18
USD 0.27
a day, more exclusives, analysis and extras.
It's also given the biggest boost yet to a discreet trend to put traditional French cooking back on an agenda from which it had been banished by a new generation as passe and dull.
The leisure guide Bristol 24/7 lists four French restaurants against 56 Italian, 59 British, 117 Asian and two Polish.
Hardly any of the fashionable young chefs of the last couple of decades have made France a model, preferring Spain, Italy, North Africa, the Middle East, and Scandinavia for inspiration.
Only the Michelin starred Wilks, run by an alumnus of the famous Auvergne maestro Michel Bras, deals in classic French technique, but without claiming so explicitly.
Bird's restaurant also eschews cliché Frenchness. The menus are mainly in the staccato manner of modern British.
Coffee vocabulary is standard Aussie-speak: a flat white rather than the grand creme of French usage. Bread is sourdough, not white baguette.
The waiting staff dress casually: "Somebody suggested long white aprons, but I didn't want that" says Bird. Even the food isn't obsessively French purist. Bird doesn't bother much with cookbooks – Richard Olney, old Elizabeth David, Stephane Renaud's Ripailles occasionally – and composes menus from his head, generally around the wines, which he chooses first.
But his excellent rich sauces pared with perfectly grilled or roast meat and fish – béarnaise with a whole guinea fowl for two, vierge with saute courgette flowers, mustard with a plump French rabbit – and his textbook frites – two sacks of special Koffman's spuds a day chopped by hand, oil-blanched, then fried – are state of the craft.
Given the tremendous pressure the kitchen's been under, the occasional glitch an overly liquid mustard sauce, a slightly too dense crème Chantilly, a challengingly al dente green bean – is entirely understandable, and will soon be eliminated as Bird's about to hire a second chef. Just in time for the autumn, with the first cepe mushrooms, and grouse, and succulent pre-testosterone venison, when Len has time to swap the Black and Decker for a rifle.
Bird lives with his half French wife and partner Nessa and family just round the corner in Westbury on Trym, a mile from where he was born.
He's a fixture of the Bristol restaurant scene, and ironically a pillar of the movement which swept away the old French dominance. After starting work in Moro, Bird was hired in 2008 for his experience with wood fired cooking and Mediterranean repertoire by entrepreneur Arne Ringner to head the kitchen in his new Bristol Lido, and then the equally successful Reading version.
But Freddy "wanted his own train set to play with". His first venture was not originally intended to be French, but Bird has further openings in his sights, including something with "a Middle Eastern vibe" – but the site, a long narrow former tapas bar perfect for a classic row of banquette tables, begged to be made a neighbourhood bistro. And indeed the cosiness of the seating and the buzzing ambience do bring to mind fashionable but adult Parisian classics like La Regalade or Le Bon Saint Pourcain.
Littlefrench constitutes a new and interesting episode in the story of French influence in this food conscious corner of the UK. Half a century ago, luminaries like Keith Floyd and Stephen Markwick of the seminal Bistro 21 still looked primarily to France for inspiration.
In 1986 when the Lido entrepreneur Arne Ringner, then a Swedish horticulturalist turned novice caterer, created the Glass Boat restaurant, the first of what turned out to be one of Bristol's most cannily successful catering empires, his primer too was Elizabeth David.
Coincidentally, the still flourishing Glass Boat staged a French-oriented menu re-vamp two years ago, even adding the word brasserie to its name, an error Ringner has just thought better of. Nowadays, he says, British food incorporates numerous influences, of which French is merely one, and is often better at it than the French anyway.
In fact, Bristol's Francophile restaurateurs have long Anglicized their subject matter. There's the now common inclusion of steak tartare as a starter rather than main course. There's the Provencale fish soup containing both aioli and rouille, instead of just the latter, a practice made famous – well, famous in Bristol – by Stephen Markwick, who got it via Joyce Molyneux of the Carved Angel in Dartmouth from the legendary George Perry Smith, the Bocuse of Bath, unto whom it was probably revealed in an apparition by the Holy Spirit. Bird already has his own entry, a hybrid of tartare and hollandaise sauces which he serves with the spectacular whole roast turbot.
Littlefrench is in fact the latest contender in a mini Gallic revival which has bubbled under for half a dozen years. Five years ago Bar Buvette, loosely modelled on the new breed of Parisian natural wine bar, was one of the foodie hits of the decade, but is now closed.
Bar Buvette's English owner has just returned to his French countryside auberge, and with the local branch of Raymond Blanc's brasserie chain closing this month, the French renaissance is somewhat diminished, no disrespect to the excellent steak frites the two remaining outposts of the Cote chain.
Which means the ball is almost exclusively in the court of Freddy Bird. Almost, because there is one other contender, a newcomer called La Guinguette, a misnomer which would be better attached to the Glass Boat, since it denotes a riverside entertainment place.
La Guingette's engaging young Parisian owners Jerome, Ophelie and Ronane aren't coy with a French cliché, festooning the joint lavishly with tricolour pendants and repro Suze posters.
They serve good charcuterie, modestly priced wines by the glass and a random assortment of rudimentary French staples. Best of all, they offer excellent no nonsense Paris standard service, which probably contributes significantly to La Guinguette's success with older clientele, relieved of the obligation of tutting at every new interruption from a young server enquiring how you guys are getting on? La Guinguette has one other very French attribute.
Popping down to ask a few questions over a glass of Cremant de Bordeaux Rose, I found the place closed for August. You can't get more authentically Parisian than that.