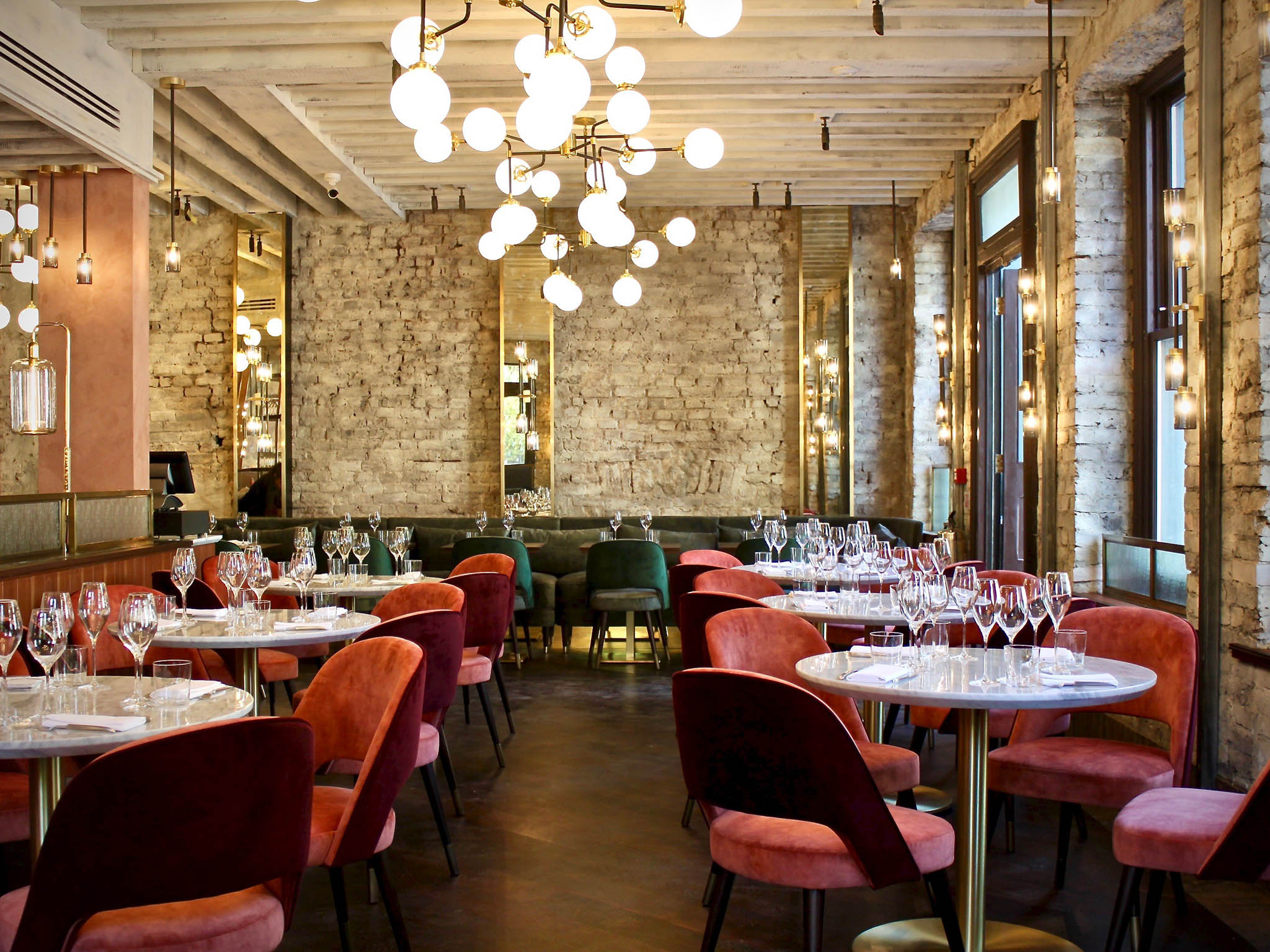 Being a Roux, you've got a lot to live up to. You've got your dad Michel Roux Jr who owns Le Gavroche in Mayfair and you come from a line of famous French chefs; uncle Michel Roux Snr and grandfather Albert, who both revolutionised French cooking in Britain in the Seventies – all of whom are male. Even your surname is culinary: it's the essence of all French cooking. It's wholly and undeniably in your blood. So, what else are you going to do but cook?
And cook French food at that. But Emily, aged just 27, has brought something else into the running: her husband. And he also has an impressive surname, Ferrari. Although not connected to the cars, Diego brings a strong sense of Italy. He also bridges the two countries after working as head chef in Le Gavroche for two years, while Emily learned her trade at Alain Ducasse's Louis XV restaurantwhere they first met.
The pair opened Caractere last month in Notting Hill. It's a popular area for new restaurants: Clare Smyth opened her restaurant Core last year just two roads away, and it's just a stone's throw from the Ledbury too. But here, it's more laidback with exposed brick walls and modernised art deco interiors with plush cocktail seats, brass-edged mirrors and sputnik ball chandeliers.
Diego is in the kitchen while Emily takes on front of house. The menu is, as you'd probably expect, French and Italian, fusing their "story" (essentially boy meets girl from different countries); they've created it together.
It's split into six sections: curious, subtle, delicate, robust, strong and greedy. The waiter describes them to us as character traits. To translate, the first two sections are starters, followed by a fish or meat main, cheese and pudding if you're going for à la carte. 
In a day when plenty of new restaurants open a week (and as many now close) you've got to do something to set yourself apart – and from your family name.
We go for a dish from each. We're characteristically being greedy before we've even go to that section. This is essentially their tasting menu, one you can design yourself for a pretty reasonable £78.
The wine too is also a reflection of the pair and is only French and Italian, (if you go for the paired wines it alternates between the two) – a good job then that both are able to match the standard of the food.
I start with chunky dived scallops served with fingers of salisfy and a mustard and buerre blanc sauce – the first of many. (Sauces feature heavily here. Each is delivered separately and delicately poured on plates by waiters.)
Next it's roasted Jerusalem artichokes: little gnocchi nuggets sit in another sauce – this time beurre noisette – with little puffed crisps of wild rice that add crunch; topped with strands of peeled hibiscus.
But it's the celeriac, "cacio e pepe", from this section that's the signature dish, inspired by a recipe from Diego's mother. But there's no pasta – instead it's shaved celeriac that forms the essence, topped with grated cheese and pepper with balsamic vinegar theatrically added with a pipette by the waiter. It's elegant, rich and creamy but still simple, and the least dramatic looking dish so far.
The fish is the standout course: seared crispy Cornish cod with yet another sauce. And while the robust course really is that, perhaps it's a little too much so. I go for the braised venison ravioli with pumpkin, expecting a couple of thinly filled pasta squares and gamey autumnal flavours. But what I get is a fussy, overfilled plate which more closely resembles generously stuffed tortellini; a little dry, and if eaten too much, sure to give you gout. It's made up for by the cheese. Oh the cheese. Stitchleton, Stilton's creamier cousin that's made from raw cow's milk. It melts in the mouth and lingers with its slightly fruity and biscuity taste and I've just googled where to buy it. God bless Google.
Pudding comes with yet another sauce (it's in the name), this time salted caramel with the chocolate cake, which is perhaps the most deserved of all the sauces. It does the trick: I can eat nothing more and the petit fours are wrapped up for me in tin foil. A graceful exit.
The service is excellent: friendly and well oiled. The whole evening is fun and flexible thanks to its pick 'n' mix attitude. It's a modern French approach with a touch of Italian that's reinventing the family wheel, if you will. But this time with a female Roux. Bravo.
Food ****
Service *****
Value ****
209 Westbourne Park Rd, London W11 1EA; 020 8181 3850; caractererestaurant.com