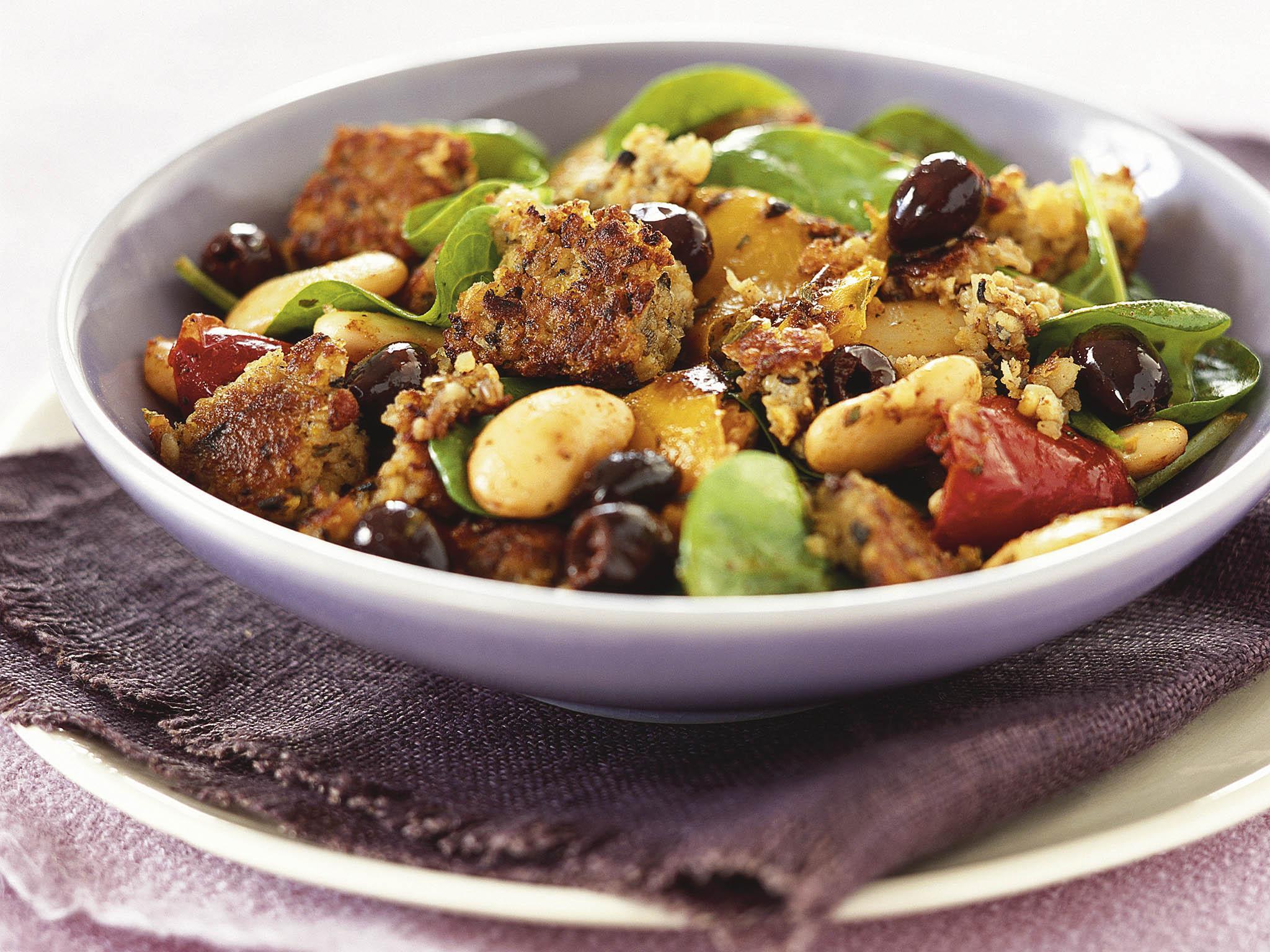 V

egetarian haggis with warm butter bean and spinach salad
Crispy pan-fried vegetarian haggis, with a vibrant warm salad of spinach, butter beans and peppers, makes a great seasonal starter or light lunch.
Prep: 10 minutes
Cook: 10 minutes
Serves 6
2 tbsp olive oil
454g Macsween vegetarian haggis, casing removed, cut into 2.5cm pieces
200g marinated and grilled red and yellow peppers
2 tsp paprika
420g can butter beans, drained and rinsed
150g pitted black olives, drained
2 tbsp balsamic vinegar
225g bag baby spinach
Heat the oil in a large frying pan and gently cook the haggis for 4-5 minutes, stirring occasionally, until it starts to break up and turn crisp. Remove the pan from the heat and cover with foil to keep the haggis warm.
Join Independent Minds
For exclusive articles, events and an advertising-free read for just
£5.99
€6.99
$9.99
a month
Get the best of The Independent
With an Independent Minds subscription for just
£5.99
€6.99
$9.99
a month
Get the best of The Independent
Without the ads – for just
£5.99
€6.99
$9.99
a month
Meanwhile, place the peppers with their oil in another frying pan with the paprika and cook for 2 minutes, then stir in the butter beans and olives and cook for 2-3 minutes, until the beans are heated through. Stir in the vinegar, cook for 1 minute, then remove from the heat.
Place the spinach in a large mixing bowl, add the warm bean mixture and toss to combine. Divide between 6 plates, then spoon the haggis over the top. Serve immediately, with a wholemeal bread.
Cook's tips: Alternatively, for a non-vegetarian option, use Macsween traditional haggis. Chop and cook as above, following pack instructions for timings.
Haggis bon bons with whisky sauce
Prep: 10 minutes plus chilling
Cook: 15 minutes
Makes 24
300g haggis or vegetarian haggis
50g plain flour
1 tsp smoked paprika
1 large free range egg, lightly beaten
100g panko breadcrumbs
5 tbsp mayonnaise
2 tsp wholegrain mustard
1-2 tbsp whisky
Vegetable oil for deep frying
Remove the outer casing from the haggis, break up into 24 pieces and roll each piece into a small ball. Place the flour and paprika in a shallow bowl, the egg in another shallow bowl and finally the breadcrumbs in a third bowl. Roll the haggis balls in the paprika flour, then in the beaten egg and finally in the breadcrumbs until evenly coated. Transfer to a baking tray and chill for 10 minutes.
Meanwhile, stir together the mayonnaise, wholegrain mustard and whisky. Spoon into a serving bowl and set aside. Pour vegetable oil into a medium saucepan to a depth of about 6cm. Heat until it reaches 170C or drop a small piece of bread in the oil – when it turns brown in about 30 seconds, the oil is ready.
Using a metal slotted spoon, lower the haggis bon bons, a few at a time, into the oil and cook for 2-3 minutes until golden and crispy. Drain on kitchen paper and keep warm in a low oven while you finish cooking the remainder.
Smoked haddock kedgeree
Prep: 15 minutes
Cook: 10 minutes
Serves 4
250g long grain rice
4 tsp medium Madras curry powder
2 free range eggs
400g smoked haddock
1 tbsp oil
1 onion, chopped
1 red pepper, diced
200g frozen peas
25g pack parsley, chopped
200ml tub half fat creme fraiche​
2 tsp dijon mustard
Cook the rice with 1 tsp curry powder in boiling water for 12-15 minutes until tender, then drain. Boil the eggs for 7-8 minutes and then cool in cold water. Peel and cut into quarters. Poach the haddock in boiling water for 3-4 minutes, drain and allow to cool. Then remove the skin, flake the fish and reserve.
Meanwhile, heat the oil in a large frying pan and fry the onion and pepper for 4-5 minutes. Add the remaining curry powder and cook for 1 minute. Then add the rice and peas, and heat through for 1-2 minutes. Stir in the parsley, creme fraiche, mustard and reserved flaked haddock. Season to taste. Serve topped with the eggs.
Recipes and images from Waitrose.com