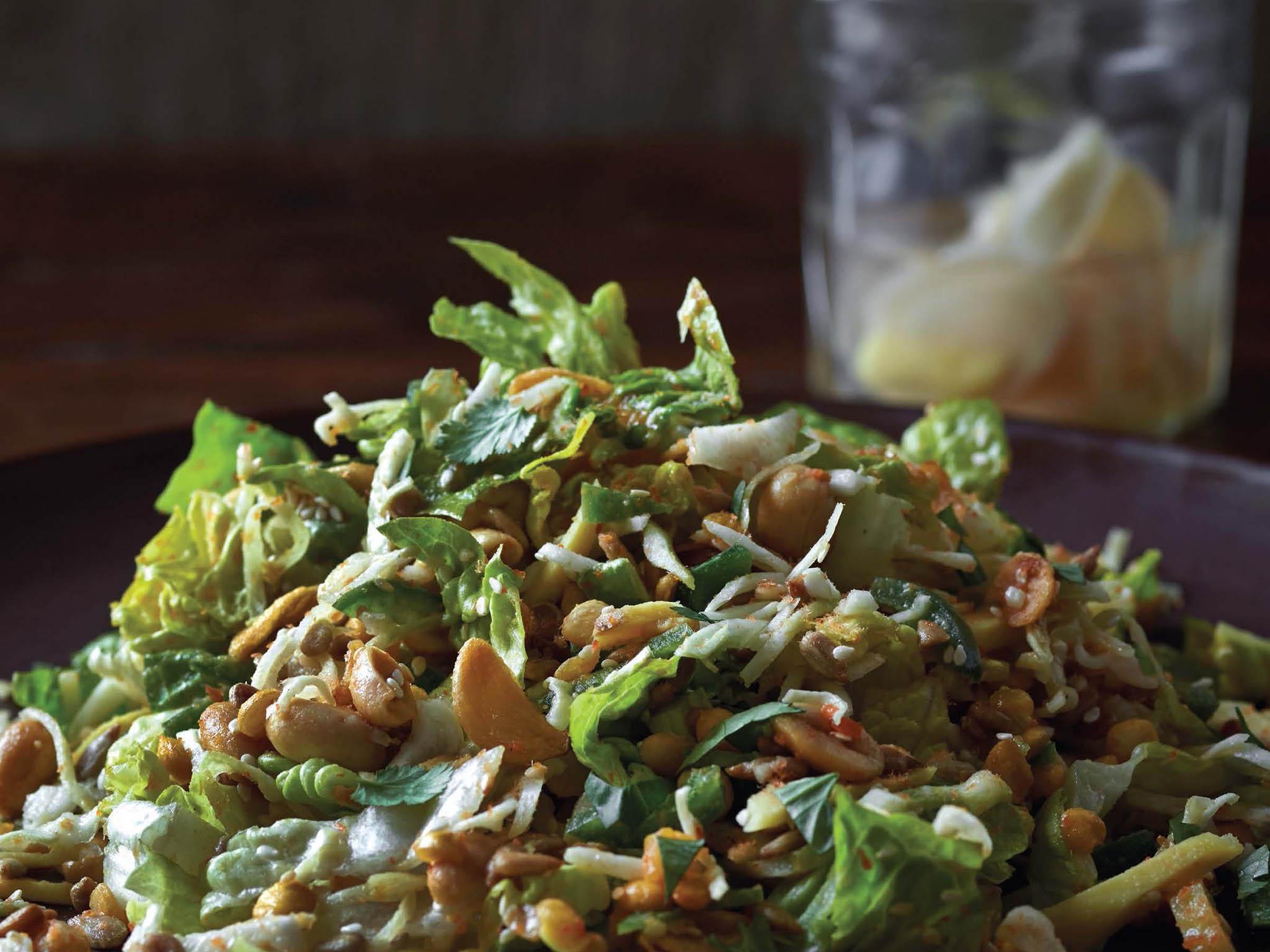 G

inger salad 

With pickled ginger as the key component, this refreshing salad makes a good counterpoint to any rich curry or stirfry. Japanese pickled ginger is not hard to find at well-stocked grocers – opt for white pickled ginger instead of pink, if possible. You can also make your own. 

It is especially good when made with young ginger, if you are lucky enough to come across it. Like all good Burmese salads, this recipe does not skimp on all the crunchy bits. Keep them on hand to make more of this salad; you may want to eat it all week. If you happen to have fresh ginger juice handy, add a splash to the bowl as you mix the salad.

Serves 4

4 cups thinly sliced romaine lettuce (about 1 romaine head)
1½ cups shredded cabbage
3 heaped tbsp thinly sliced pickled ginger, chopped
2 tbsp fried garlic chips
3 tbsp fried yellow split peas
3 tbsp coarsely chopped cilantro
2 tbsp sunflower seeds
2 tbsp coarsely chopped toasted peanuts
2 tbsp minced jalapenos
1 tbsp toasted sesame seeds
1½ tbsp toasted chickpea flour
1½ tbsp onion oil or canola oil
2 tbsp juice from the ginger pickling liquid
2 tbsp fish sauce
¼ tbsp salt
1 lime or lemon, cut into wedges

In a salad bowl, combine the lettuce, cabbage, pickled ginger, fried garlic, split peas, cilantro, sunflower seeds, peanuts, jalapenos, and sesame seeds. Sprinkle chickpea flour over the top and drizzle with oil and pickling liquid. Add the fish sauce and salt (use more salt if you are not using fish sauce). Squeeze 1 or 2 lime wedges over the top. Using your hands, mix well and taste, adding more salt or lime juice if needed.

Pickled ginger

The best pickled ginger is made with young ginger, but even mature ginger can be pickled. Older ginger will likely be spicier, so you may want to use less of it.

Peel a 3in piece of ginger (about 1½oz). Slice it very thinly into planks with a sharp knife or a mandoline and transfer to a heatproof container. In a small saucepan over medium heat, combine 2 tablespoons of sugar, 5 tablespoons of distilled white vinegar, and 2 tablespoons of water, stirring until the sugar dissolves. Pour the mixture over the ginger and let it cool to room temperature. Refrigerate until needed.

 
Chicken with mint
Serves 3, or 4 as part of a larger meal
Those who like laap will love this Burmese-Chinese version of the herby Thai minced meat dish. Here, minced chicken is stirfried with ground cumin and mustard seeds, ginger, garlic, and a spoonful of sambal oelek. Whole cloves of garlic are mixed in for texture, but they are fried ahead of time to reduce the pungency of eating them raw. Use the smaller cloves found on the inside of a head of garlic or slice large cloves in half.
You can turn this into a vegetarian dish by dicing up a block of firm tofu, letting it drain on paper towels for a few minutes, and then stirfrying the tofu pieces in place of the chicken.
1 pound boneless, skinless chicken breasts (about 2 small) or 4 to 5 boneless, skinless chicken thighs
1⁄2 tsp cumin seeds
1⁄2 tsp black mustard seeds
2 tbsp sambal oelek (shop bought)
1 tbsp dark soy sauce or 1 teaspoon salt
1 tsp fish sauce
1⁄4 tsp sugar
2 tbsp canola oil
6 to 8 small garlic cloves
1 tsp minced garlic
1 tsp minced ginger
1⁄2 jalapeno, chopped, or 2 Thai chillis, sliced
1⁄4 cup chopped cilantro, plus extra sprigs for garnish
1⁄4 cup chopped mint
Lime wedges, for garnish
To mince the chicken, place the pieces on the cutting board so the smooth side is facing up. With a knife blade parallel to the cutting board, slice the chicken in half width-wise, opening it up into two thinner, even pieces. Cut the chicken against the grain into thin strips, then chop the strips finely. Run the knife over the meat until it looks evenly minced. (Cutting the chicken by hand results in a better texture than using ground chicken.)
In a dry wok or skillet, toast the cumin seeds and mustard seeds until the cumin is fragrant and the mustard seeds start to pop, no more than 30 seconds. Transfer to a mortar with a pestle or a coffee grinder used for grinding spices and pulverise into a coarse powder.
In a small bowl, mix together the sambal, soy sauce, fish sauce, and sugar. (If not using soy sauce, you may need a pinch more fish sauce.)
In a wok or large skillet, heat the oil over medium heat. Tilt the wok so the oil pools to one side and add the garlic cloves. (This helps the garlic cloves stay submerged in oil so they fry more evenly.) Fry until light golden and softened, about 1 minute. Use a slotted spoon to remove the garlic cloves. Leave the oil in the wok.
Heat the wok over high heat. When the oil is hot (but not smoking), add the minced garlic and ginger. Stirfry for a few seconds and add the chicken. Using a spatula or wooden spoon, stir-fry the chicken briefly, then press the meat against the sides of the wok to increase the surface area and decrease how much the chicken steams. (If using a skillet, spread the chicken evenly across its base.) Water will start to pool in the centre of the wok, but that's okay – it will cook out. After a minute, give the wok a stir so the chicken pieces don't stick together. Repeat this step until the chicken is light brown in places and pale in others, about 3 minutes depending on the wok and the burner strength.
Stir in the mustard-cumin blend, sambal mixture, fried garlic cloves, and jalapeno. Stir constantly, until the liquid just lightly coats the meat. Mix in the chopped cilantro and mint. Serve with cilantro sprigs and lime wedges.
'Burma Superstar' by Desmond Tan and Kate Leahy is published by Ten Speed Press