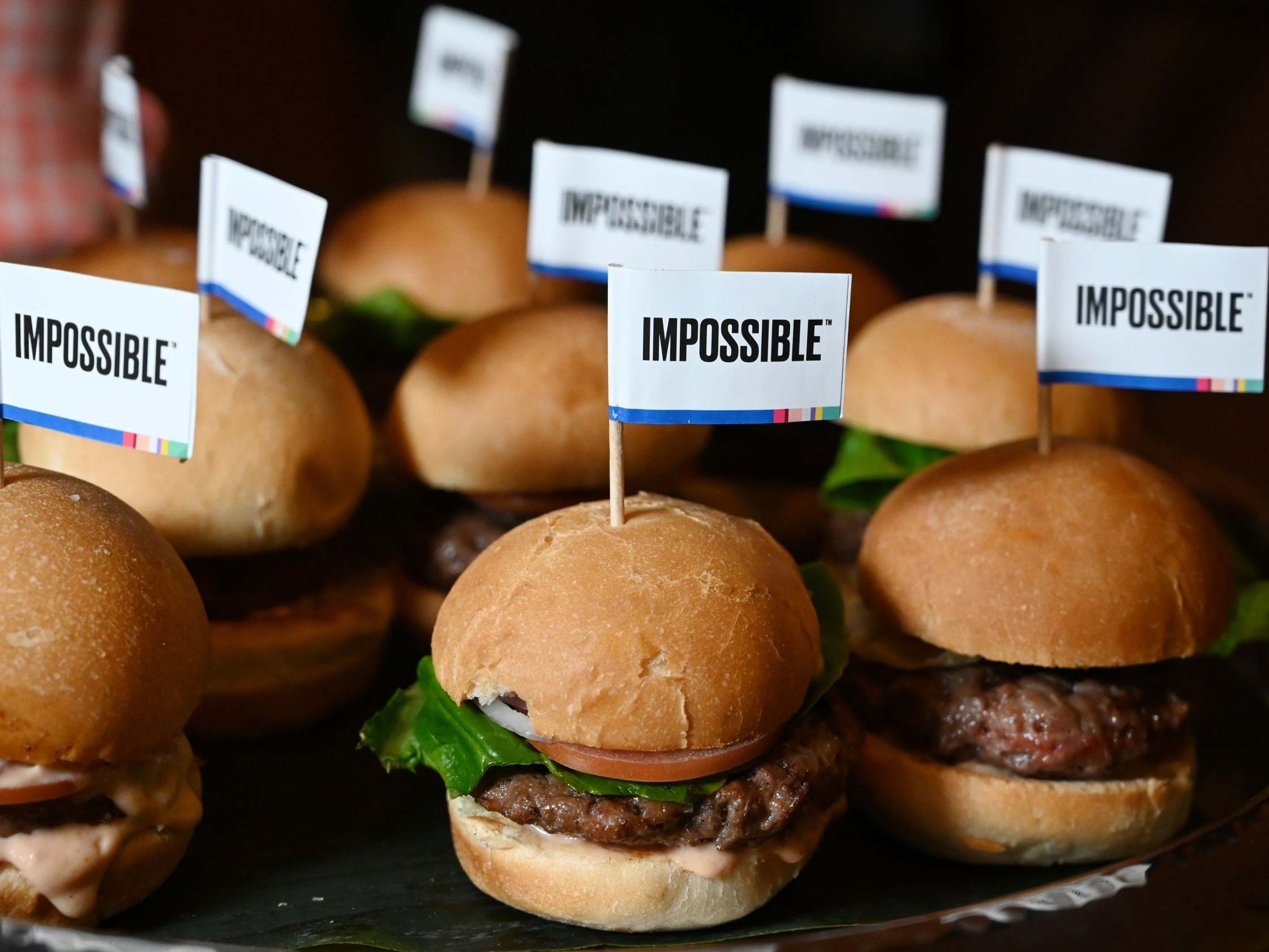 Vegetarians might want to look away now as Burger King's hugely-successful plant-based Impossible Whopper burger has been found to be cooked in the same broiler as beef and chicken.
Earlier this month, the fast food chain revealed it would start selling the burger across all of its US stores from Thursday 8 August following a successful trial in the St Louis area in April.
The burger's patty is made from soy and potato proteins and also includes coconut and sunflower oils, heme, and Methylcellulose, which is a culinary binder often found in ice cream. It also has the ability to "bleed" like a regular meat patty.
We'll tell you what's true. You can form your own view.
From
15p
€0.18
$0.18
USD 0.27
a day, more exclusives, analysis and extras.
However, according to the fine print in the burger's description on the company's website, the patties are flame-grilled in the same broiler used to cook beef and chicken, meaning they could still be contaminated with meat.
While the burger was never marketed as vegetarian, it is referred to as being "0% beef".
Several Twitter users have expressed their disappointment after learning how the burger is cooked.
"Hey @BurgerKing are you really cooking your Impossible burgers on the same broiler as the meat? I was so excited for this but as a vegetarian I guess I'm forced to not buy Impossible from you[sic["wroteoneuser[sic["wroteoneuser[sic["wroteoneuser[sic["wroteoneuser
"Misleading, big fail from @BurgerKing for the new Impossible Whopper [sic]," commented another.
Earlier this month, Burger King faced similar criticism after customers found out that its newly-released halloumi burger – which was widely believed to be vegetarian – is also cooked in the same fryer and oil as their chicken and fish products.
The revelation about the marketed "meat-free" option upset many vegetarians who questioned how the company could promote it as such if it wasn't entirely the case.
"Burger King. How could you call the halloumi burger suitable for vegetarians, when it's cooked in the same oil as chicken [sic]," wrote user.
"Wow, so get to @BurgerKingUK & ask about the new #halloumiburger the staff member informs me that it is fried alongside the chicken? Can you confirm this?" added another.
Despite the backlash, the company said that it does state that the halloumi is cooked in the same fryer as chicken and fish in its fine print on the product's descriptions on its website.
The burger is made up of a buttery brioche bun with crisp lettuce, onions, tomatoes, and creamy mayo, all layered around crispy halloumi cheese from Cyprus.
A single Halloumi Burger will set you back £3.99 and £5.99 for a meal, or a Double Halloumi Burger costs £5.49 and £7.49 for a meal.
The Independent has contacted Burger King for comment.