Brunching out…
There's no denying it: my mother would raise her eyebrows if I suggested a restaurant called Flavour Bastard for brunch.
But I think, if I manage to get her there, she'd actually rather like it.
A stylish little restaurant in busy Soho, Flavour Bastard has jumped on the bottomless booze bandwagon.
But what makes the restaurant stand out is the sheer range of bottomless drinks. No longer must non-prosecco lovers (whoever they are) struggle their way through two hours of the fizzy stuff, thanks to two types of beer, four cocktails, and a white and red wine. But, thankfully for the basic amongst us, there are two types of prosecco, including asti, which I thoroughly enjoyed as a nod to my younger years.
So, bottomless drinks – check. What else would a restaurant need to be on trend? Small plates, of course, with prices ranging from £7.50 to £10.
The menu changes frequently but it's excellent and you may struggle not to order everything; we settled on a mere six dishes between two.
First up, the savoury French toast, which is essentially a fancy cheesy garlic bread. Thick and fluffy but crispy on top and round the edges, it's delicious.
Then on to the 63C eggs, which are cooked at 63 degrees Celsius in a sous vide style for an impressive 2.5 hours. This lengthy cooking time results in wonderful eggs with an almost fudge-like texture. They're served with flatbread, which sadly lets them down – it was a little hard.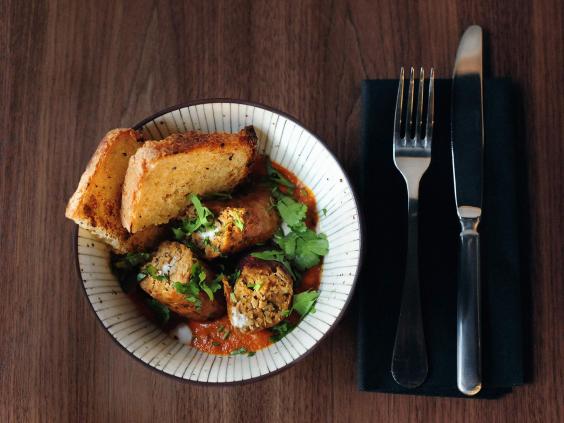 The menu changes often, but expect dishes like this pork and kimchi sausage
Next up, the fried chicken waffle. The chicken is well cooked if a little spicy, while the waffle is a bit tough.
The same went for our second waffle dish – the toppings are let down by the base. Instead of fried chicken though, this one is topped with tempura avocado, which goes wonderfully. There's a hint of cinnamon that adds just a touch of sweetness.
There is, however, coriander in everything, so bear that in mind if you're a fellow hater of the devil herb.
Our dish number five is the vegan sausage. It looks like meat but is more crumbly in texture and served with spicy but very tasty beans. And finally the salmon, which is tasty and nicely presented. The dishes came out as and when each was ready, making it perfect for a leisurely brunch.
We couldn't resist, however, the puddings.
The jam roly-poly (living up to its name is really jammy) made with fluffy sponge is served with a cardamom custard that gives the British classic a somewhat more exotic twist.
And to finish off brunch, it was the job of the chocolate mousse studded with brownie pieces on a cornflake base. Despite how it sounds, it's delicious and not too sickly thanks to the subtle parsnip ice cream.
For a classy, leisurely brunch in central London, Flavour Bastard is great, just maybe don't tell your mum the name till you get there.
63-64 Frith St, Soho, London W1D 3JW; 020 7734 4545; flavourbastard.com; open Mon-Sat
Brunching in…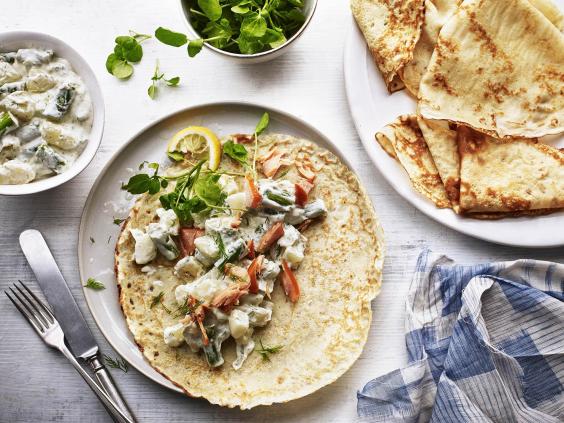 Danish potato pancakes 
Prep: 10 mins 
Cook: 10 mins
Serves 4 
300g potatoes, cubes and skin on
2 hot smoked salmon steaks
6 asparagus spears
5g fresh dill
4 tbsp low fat crème fraîche
1 lemon
1 bag of watercress
For the pancakes:
100g plain flour
250ml whole milk
40g butter, melted
1 large egg
Pinch of salt
Sunflower oil for cooking
Sift the flour and salt into a bowl. In a jug melt the butter then whisk with the milk and egg, pour into the flour and mix until smooth. Place a large frying pan over a medium-hot heat. Add a little sunflower oil and then a ladle full of the batter. Cook for 1 minute, flip and cook on the other side for 20-30 seconds. Repeat to make 4.
For the filling, cook the potatoes in boiling water until tender, then drain. Chop the asparagus into small pieces and cook for 2 minutes in boiling water, and drain. Mix the crème fraîche, dill and lemon juice. Stir in the potatoes and asparagus.
Spoon the potato filling onto the pancake, top with the flaked smoked salmon and watercress.
Recipe from lovepotatoes.co.uk
Reuse content