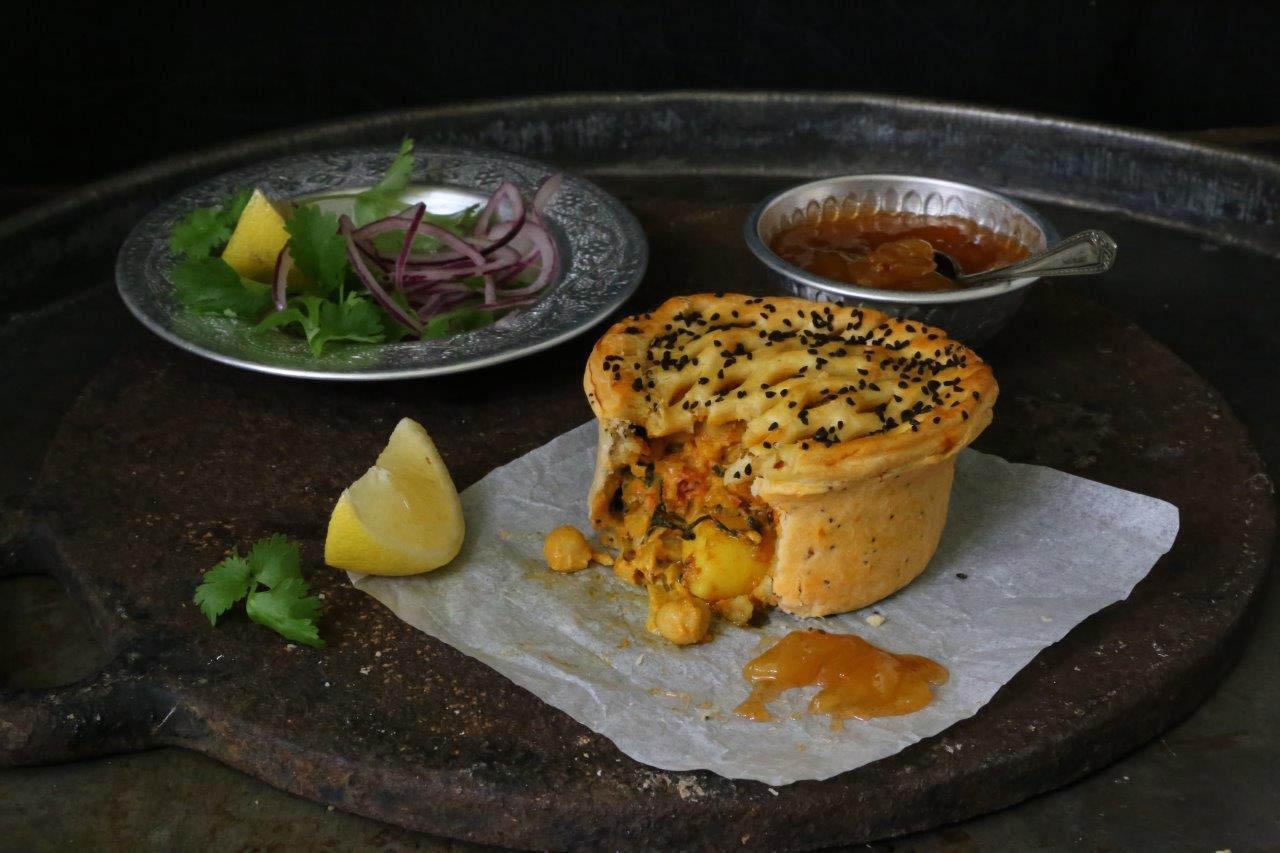 S

pinach, paneer and spiced chickpea pie
Serves 4-6
2 tbsp olive oil
1 large or 2 small red onions, finely chopped
2 garlic cloves, finely chopped
1 tsp mustard seeds
1 tsp medium curry powder
1 tsp ground turmeric
½ tsp ground coriander
¼ tsp chilli powder
1 tsp sugar
1 tbsp plain flour
400g tin of chopped tomatoes
200ml coconut milk
150g drained tinned chickpeas
80g baby spinach leaves
225g paneer, cut into cubes
50g butter
6 sheets of filo pastry
Black onion seeds, for sprinkling (optional)
Salt and freshly ground black pepper
Join Independent Minds
For exclusive articles, events and an advertising-free read for just
£5.99
€6.99
$9.99
a month
Get the best of The Independent
With an Independent Minds subscription for just
£5.99
€6.99
$9.99
a month
Get the best of The Independent
Without the ads – for just
£5.99
€6.99
$9.99
a month
Preheat the oven to 200C/fan 180C/gas 6. Heat the oil in your casserole pan, add the onion and fry for 4-5 minutes or until it's beginning to soften and caramelise. Add the garlic, all the spices and the sugar, lower the heat and cook for a further 2-3 minutes. If necessary add a splash of water so that the spices don't catch on the pan.
Keeping the heat low, sprinkle over the flour and stir well to combine with the spices. Quickly add the chopped tomatoes and coconut milk, increase the heat and bring up to a gentle simmer. Add the chickpeas and spinach and bubble gently for 4-5 minutes. Remove from the heat, stir in the paneer and season generously with salt and pepper. Leave to cool slightly.
Melt the butter in small saucepan over a medium heat. Brush a sheet of filo with melted butter and lay over the top of the spinach, chickpea and paneer mixture. Brush the remaining sheets of filo with melted butter, loosely scrunch them up and place them on top of the first piece of filo. Brush any remaining butter over the top. Sprinkle with black onion seeds, if you like.
Bake the pie in the oven for 25-30 minutes or until the pastry is golden and the filling is piping hot. Serve immediately.
Recipe from higgidy.co.uk