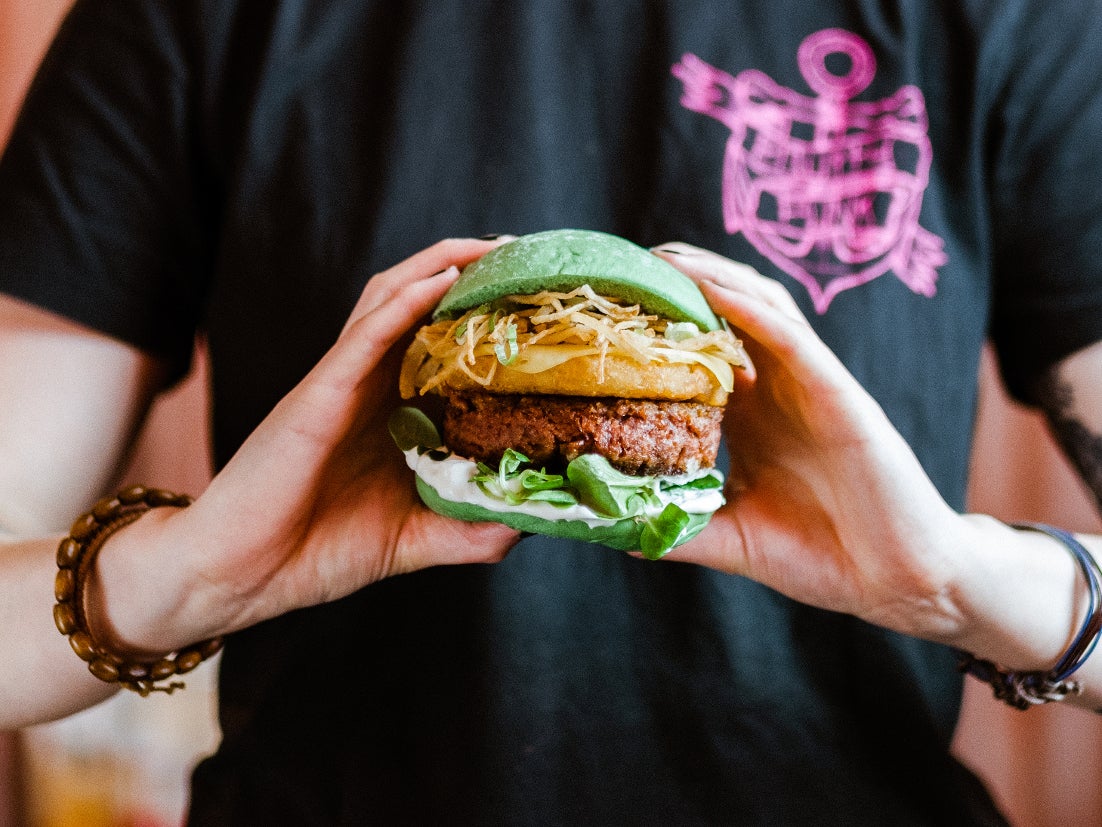 BrewDog has sparked bewilderment with the launch of a hybrid burger that is half vegan, half beef.
The burger contains one beef patty and one vegan patty from Beyond Meat's plant-based range, is sandwiched between two Matcha tea buns and is served with melted vegan gouda cheese, onion straws and potato rosti.
The firm announced the launch of the product on Thursday, explaining that the inspiration behind the burger was to encourage customers to become more environmentally conscious by consuming less meat.
We'll tell you what's true. You can form your own view.
From
15p
€0.18
$0.18
USD 0.27
a day, more exclusives, analysis and extras.
However, this sentiment was lost on several befuddled Twitter users.
"Why are you using vegan cheese on a burger that already HAS meat in it?!" one person tweeted.
"What is the point of this? Why not offer a meat burger AND a plant-based burger? That way you can appeal to meat eaters, vegetarians, and vegans. This hybrid burger cuts your market significantly," another wrote.
In a blog post shared on the BrewDog website, the pub chain outlined how the target demographic for the Hybrid Burger is "those who want to reduce their intake and their footprint on the environment".
"As we are in the grip of a climate emergency, the more people who eat less meat the better. That is why we have launched this fresh take on flexitarianism," the company wrote.
"We wanted to make a burger that delivered on flavour and enabled anyone to make a transition to eating less animal-based protein."
In March, a study conducted by YouGov discovered that 14 per cent of people in the UK identify as "flexitarians", which is when people follow predominantly meat-free diets, although they eat meat on occasion.
While many of the responses to the BrewDog Hybrid Burger criticised the concept, there were some Twitter users who defended the idea.
"This seems like a great way to reduce meat consumption for people who might have a hard time giving it up entirely at first!" one person tweeted.
"There's a climate emergency. We don't (just) need a small number of people eating no meat, we need a large number of people eating a lot less meat," someone else remarked.
Some Twitter users have suggested the hybrid burger is so absurd it can only be a "marketing ploy".
"The thing is about BrewDog is that you have to understand that everything is a marketing ploy," one person wrote.
"The outlandish burger? A ploy. The brash statements? Also a ploy."
This isn't the first time the company has used controversial tactics to gain media attention.
Last year, BrewDog was heavily criticised for releasing a "beer for girls" ahead of International Women's Day, designed with a pink label on the bottle and sold at a lower price point than other beers on the menu.
The company said that the product was an "overt parody on the failed, tone-deaf campaigns that some brands have attempted in order to attract women".
However, several people expressed their view that the firm was unsuccessful in its attempt to break down gender stereotypes.
"Seems like yet another bizarre move by them. I really don't see how it tackles sexism or the gender pay gap. Doesn't this label and name just perpetuate sexism further?" one critic tweeted.
Earlier this year, a man successfully sued BrewDog for sex discrimination after a bartender refused to sell him the discounted Pink IPA.
The customer in question, Dr Thomas Bower, said he felt "forced" to identify as female in order to purchase the drink.