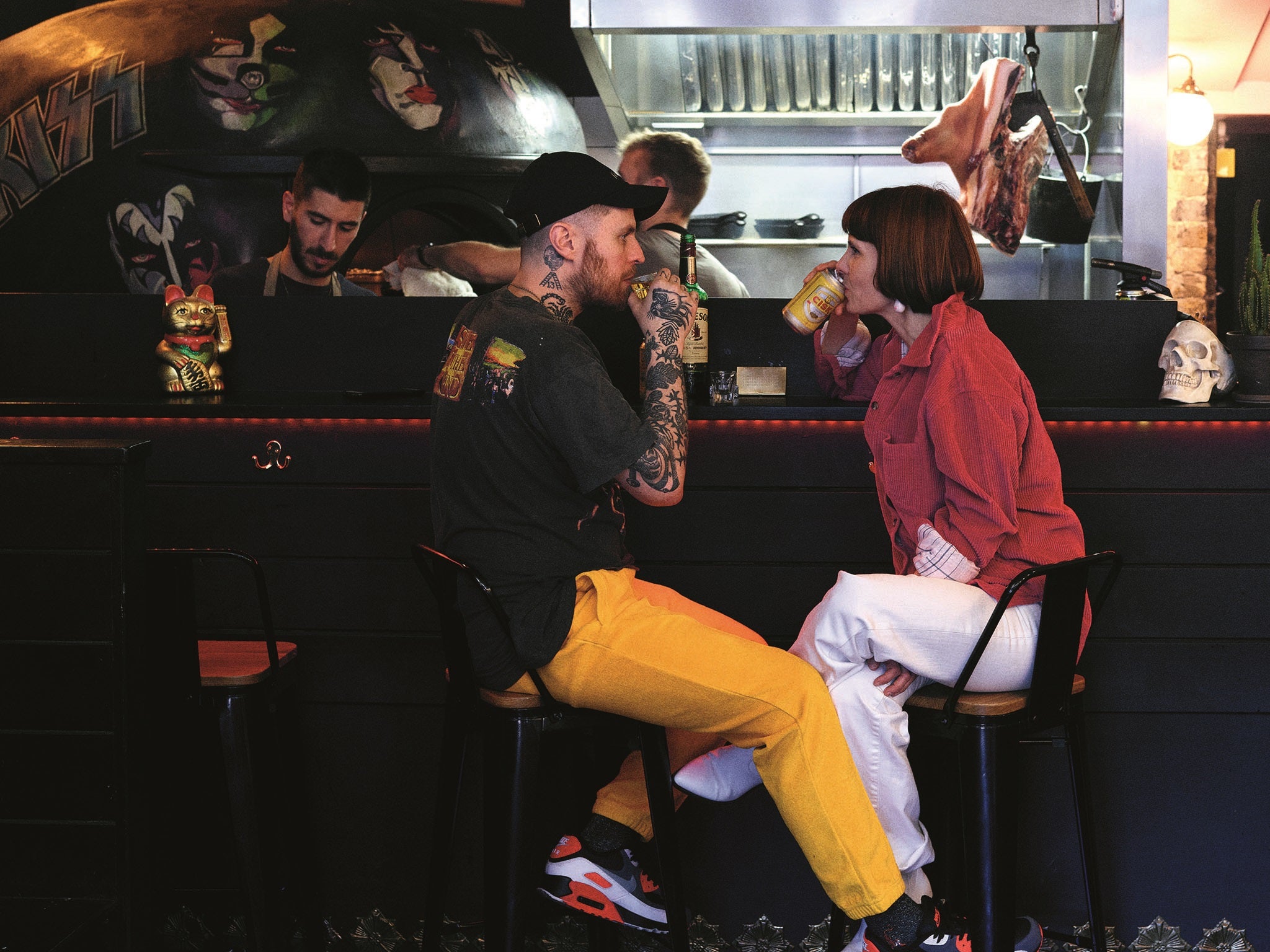 Walk past Black Axe Mangal restaurant on a weekday morning and you wouldn't give it a second glance. Sandwiched between a pub and a coffee shop, there's no sign, menu, or so much as a TripAdvisor or hygiene rating sticker in the window.
It's painted black, the shades are pulled down and the only sign of life are two spray-painted portraits (one is of Peter Falk, the actor who starred in the 1970s TV show Columbo), and a small business-hours sign hanging in the door.
That's it. But come back at night and it's a different story.
We'll tell you what's true. You can form your own view.
From
15p
€0.18
$0.18
USD 0.27
a day, more exclusives, analysis and extras.
The shades are up, music is blasting and queues snake outside the restaurant, which you'll find at a roundabout by Highbury Islington Tube station in north London.
The tiny space – only around 20 seats – fills up quickly and stays that way all night.
People come for the utterly addictive Crispy Fuckin' Rabbit and the foie gras and blackberry donuts (a wedge of creamy foie gras sandwiched in a pillowy donut) and the flatbreads.
Most definitely the flatbreads – baked in the restaurant's massive, brick-lined grill – and served with the likes of lamb offal or oxtail, bone marrow and anchovy.
The couple behind Black Axe Mangal – aka BAM – is husband and wife team Lee and Kate Tiernan.
The inspiration was the corner kebab shop – the charred flatbread, crispy veg, and smoky meat – but with a distinctly heavy-metal vibe and cooking that is big and bold, yes, but also shows incredible finesse. Love it or loathe it (I'm firmly in the former) – there's nothing else like it.
Now, the Black Axe Mangal cookbook (Phaidon) is out this month, seeking to capture not only Lee's recipes but the experience of what Faye Mashler in her Evening Standard review called a "diminutive, singular eating place".
Roll back to Lee Tiernan as a kid and there wasn't so much as a glimmer that he'd become a chef.
He'd hide food in the hollow legs of the kitchen table (hinted at by the ants, but not discovered until they threw the table out years later). "I remember tipping the beans, the spaghetti hoops over my head," he says.
The first food that caught his attention was special occasion Indian or Chinese takeaway ("Englified-Chinese").
At school his dyslexia wasn't picked up on and he was told by teachers: "You're obviously bright, just not trying hard enough," he says.
When he left school, he worked for a removals firm. The pay was good, he got to come to London a lot, and there was a camaraderie he liked. "I enjoyed the dialogue, and the banter between all the blokes at work."
It was a similar esprit de corps that he eventually found working in a professional kitchen. He got a catering NVQ, but his real education started when he got a two-week placement at St. JOHN in London, famed for using offal. Two weeks turned into 10 years – when he left he was head chef of St. JOHN Bread and Wine – and he fully embraced the "nose to tail" philosophy pioneered by St. JOHN co-founder Fergus Henderson (Henderson wrote the introduction to BAM).
It's a lesson that stuck. At BAM, Lee uses every bit of the animal from pig skin to cheeks and tails. "It's quite Fergus: if you're going to kill an animal, it's only polite to eat the whole thing."
Lee launched BAM as a pop-up in Copenhagen before opening the bricks and mortar restaurant.
There was some second-guessing during the early days. "I fell into the trap of cooking stuff that I thought people wanted to eat," he says.
"My wife was the first person to say to me, 'Just do what you want to do. We worked really hard to get this restaurant off the ground. You're not beholden to anyone. Cook whatever the fuck you like.' She's pretty wise, my wife." The result is a restaurant that is unapologetically not for everyone.
But how to go from BAM the restaurant to BAM the book? Lee shares his knowledge generously, dedicating a whole section to three BAM fundamentals: grilling, smoking and bread.
He deals with everything from grill zones to bread basics ("The 'true north' of BAM"), all tailored to the home cook. If cuts of meat are difficult to find, Lee says ask. "Get friendly with your butcher. They love it when they get, 'Oh, you want ox heart, okay great. Yeah, I can get some of that.'"
Lee did much of the testing at home to make sure the recipes were doable. "There were mornings when my wife was like, 'Okay, I'm going to go out, you've got five hours, get some recipes done'."
Yes, some require a bit of time (start your donuts the day before) but then there are recipes for dishes like French toast pizza – "Cold pizza soaked in eggs and fried", he says, that are in short, dishes that even the most severely hungover can cook.
Lee's personality – honest and authentic – comes out loud and clear in every recipe – like century egg with anchovy dressing and crispy pig's skin. ("Let's just say that putting something that looks akin to Fungus the Bogeyman's dissected scrotum into your mouth is pretty intimidating").
I'd like to tell you that there is a Black Axe Mangal coming to your neighbourhood, complete with faces of KISS band memebers spray painted on the grill, skateboards hanging on the wall and bright, floral oil cloths on the tables.
It would be wonderful to be the first to tell you that your roundabout will soon be home to a BAM, serving all the bits of an animal on the best flatbread imaginable.
But I can't. Lee tells me there aren't plans currently for another BAM – it's a one-off.
However, there is a consolation prize and that is the Black Axe Mangal cookbook. Crank up the tunes and get cooking. You're in good hands.
---
Shrimp-encrusted pig's tails with pickled chicory
A happy pig means a pig with a tail intact. Docking is a practice undertaken in industrial farming to prevent overstocked, bored, frustrated pigs from mutilating each other in baron, crowded environments. It's banned in certain countries, but docking can still be carried out in intensive farming conditions if it's deemed beneficial to the pigs' welfare. Sounds fucked to me, but if, like me, you eat bacon, enjoy a fry-up on occasion or buy your pork from a supermarket, the chances are that the pig you're eating either had its tail removed by a human or a fellow pig. Buying full-length tails is one way of knowing that the pig has been reared with respect.
Essential equipment: deep-fat fryer
Serves 2-3
6 ethically sourced pig's tails
1 tbsp Dijon mustard
2 eggs, beaten
1 x 100 g bag of dried baby shrimp (Jefi Gold Pack or Jeeny's brand)
50g sesame seeds
250g panko breadcrumbs
200g plain (all-purpose) flour vegetable oil, for frying
Salt
For the pickled chicory
3 star anise
1 cinnamon stick
500ml white wine vinegar
250g caster (superfine) sugar
4 heads chicory, quartered
Infuse the aromatics for the chicory in the vinegar by gently simmering for 10 minutes. Dissolve in the sugar and allow to cool. When completely cool, put the chicory in an airtight container and pour over the pickling liquid. This will keep for several weeks in the refrigerator.
The day before you want to eat the tails, bring them to the boil in a saucepan large enough to accommodate them comfortably. Drain and replace the water, bring back to the boil, add some salt and reduce to a low simmer. Cover the tails with baking (parchment) paper and weigh them down with a small plate so that they are completely submerged. If the pan has a lid, pop it on. If not, cover with a double layer of aluminium foil. The whole point of this dish is to keep the tails intact while cooking the flesh and meat enough to eat it off the bone, which means not cooking them as much as you would a braise. Simmer for 1 hour – they will probably need longer, but I like to check them early so I can gauge how long I think they will take to finish cooking. Use a skewer to poke the fattest part of one of the tails – you're looking for a little, but not total, resistance… a soft resistance. When the tails are cooked, run them under the cold tap until cooled. Refrigerate in an airtight container overnight, until you're ready to crumb.
To prepare the crumb, combine the mustard and the eggs in a shallow bowl large enough to accommodate a pig's tail. In a separate bowl, toss the shrimps, sesame seeds and the breadcrumbs together.
Tip the flour into a bowl and dust the tails in it. Lift each tail out of the flour, gently tap any excess flour off and place the tails into the egg and mustard mix, then toss in the shrimp crumb. The crumbs and sesame should occupy the spaces on the tail the shrimp don't. Each tail should be completely encrusted with shrimp and sesame breadcrumbs. Place on a baking paper-lined sheet and repeat with the rest of the tails. They can be fried immediately or refrigerated until needed, and will last crumbed in the refrigerator for about a day.
Heat the oil in the deep-fat fryer to 160C. Lift the basket of the fryer out of the oil and place a couple of tails into the basket then lower them into the oil. Cook for about 6 minutes, until golden and crispy. If using a digital thermometer, they should reach an internal temperature 75C. Remove from the fryer and drain on a paper towel-lined baking sheet. Repeat with the other tails.
When all of the tails are fried, place the chicory on plates or a serving platter and the tails on the side.
Pick up the tails and gnaw on them, corn on the cob-style.
'Black Axe Mangal' by Lee Tiernan is published by Phaidon (phaidon.com) on 12 November; Black Axe Mangal is open for dinner Mon-Sat blackaxemangal.com​