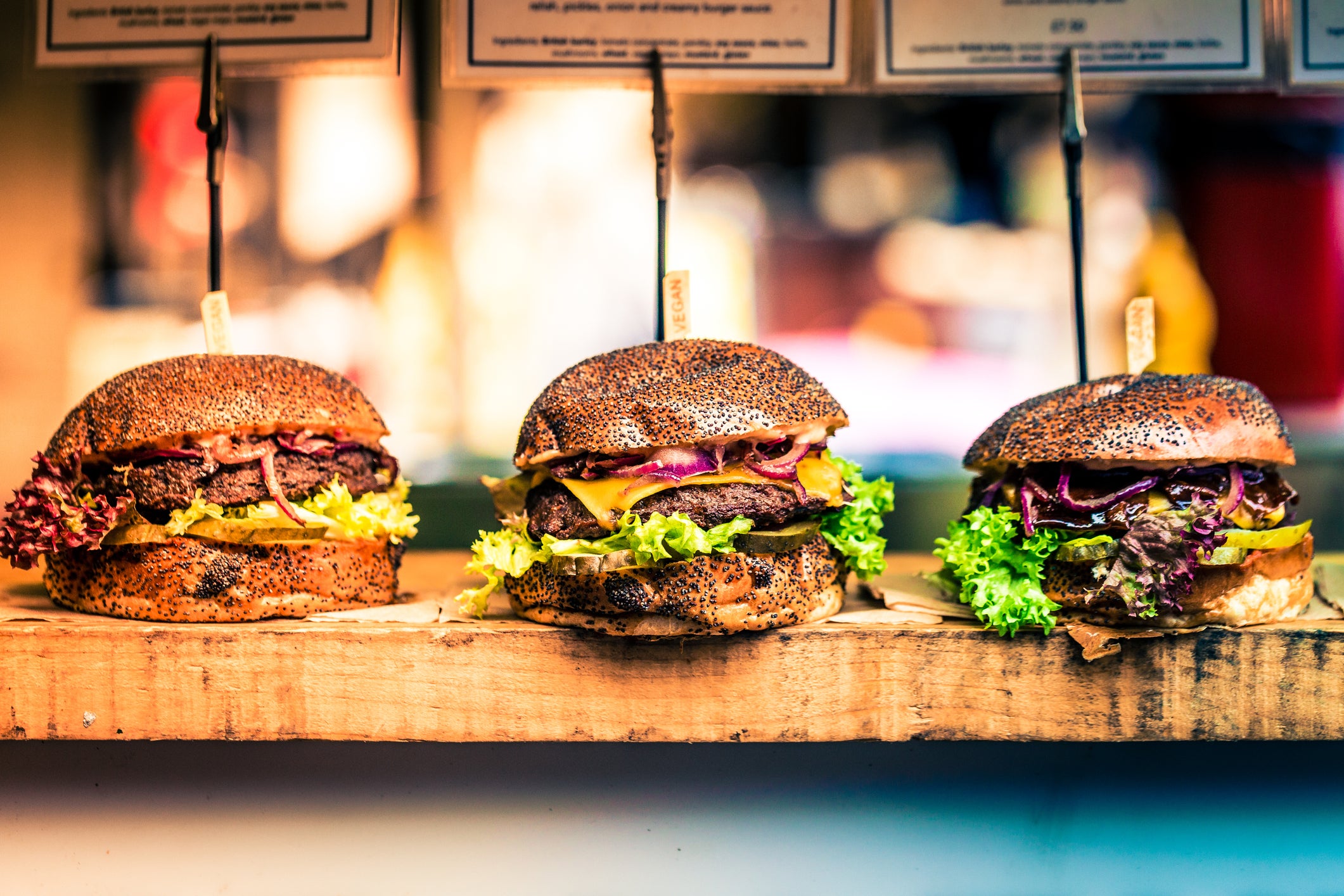 Whether you like yours dripping in gravy or like to pile yours high with layers of cheddar cheese, there's not many people who would say "no" to a thickly-stacked burger oozing with flavour.
Earlier this summer, the popularity of vegan burgers reached new heights when KFC's hotly-anticipated "Imposter" burger sold out in just four days, resulting in sales being 500 per cent higher than that of a normal burger at the food chain.
On Thursday 22 August, burger lovers around the world will have the chance to celebrate National Burger Day.
We'll tell you what's true. You can form your own view.
From
15p
€0.18
$0.18
USD 0.27
a day, more exclusives, analysis and extras.
The foodie anniversary pays homage to the delectable sandwich comprising of two slices of bread roll or bun which is filled to the brim with ingredients ranging from meat patties and blue cheese to avocado and mushrooms.
Better yet, several UK-based eateries are offering discounts to celebrate the occasion, with restaurants including Meatliquor, Patty & Bun and Bleecker offering deals not to be missed.
From a lifetime supply of burgers and milkshakes to a sharing burger weighing a staggering 1.5kg, read on for our roundup of the best National Burger Day offers this year.
Patty & Bun
To celebrate the much-adored burger, London-based dinnertime favourite Patty & Bun are celebrating with a one-day-only special – The Burger Day Banger.
The "Banger" – which costs £7 – consists of a double beef patty with aged beef fat mayonnaise and double smoked cheddar inside a sweet brioche bun.
If that doesn't satisfy the tastebuds, the chain is also currently selling its "Jose Jose" Chilli Burger for £6 for a limited time only this week at various locations.
Find out more here.
MEATliquor
The eatery's newest branch in Oxford Circus is marking the occasion with a 27-hour burger celebration meaning you can pull an all-nighter armed with all the burgers and chips your heart desires.
Starting at midnight on Thursday, the offer continues until the following morning at 3am. During that time, chefs will cook up special meat-filled, vegetarian and vegan breakfast burgers in the morning (from 5am to 11.30am) ranging from the pork sausage patty with bacon to a mushroom and hash browns combination.
The venue will also be providing cocktails around the clock, meaning you can sip on English Breakfast Martinis no matter what the hour.
Find out more here.
Bleecker
The London-based burger restaurant is giving customers 20 per cent off vouchers on its stacked delights this Thursday.
In order to bag the deal, customers need to sign up to the restaurant's mailing list. A voucher will then be sent out to diners on Wednesday.
Find out more here.
Bundance
London's open-air food arena Street Feast is hostings a National Burger Day party, Bundance, this year.
On Thursday, burger restaurants including Red Farm, Mother Flipper, By CHLOE Salt Shed and Brigadiers are joining forces in celebration of the menu staple.
Entry to the event, which costs £15 entry and goes on from 4pm to 11pm at Hawker House in Canary Wharf, includes an ice-cold beer on arrival and a shot.
Find out more here.
Mac & Wild
Scottish-inspired restaurant, Mac & Wild, is offering customers a Double Dirty Dip Donut Burger in London this week for a limited time only.
On sale from Thursday until Friday, the burger is made up of two aged-beef patties, smoked chilli jam, pickled peppers, tattie rosti, bacon cheese melt and jalapeño inside a dip-glazed donut bun.
The foodie option will set diners back £13, which is pretty reasonable given that you'll no doubt be stuffed after the final bite.
Find out more here.
STK
You might want to wear your big pants this week as STK is selling a Supersize Sharer Burger for one day only on Thursday.
The beef and chorizo patty – which weighs 1.5kg – will be stacked with chilli lime marinated tiger prawns, chipotle and cheddar cheese sauce and sandwiched between a smoked bacon and parmesan bun.
It comes as no surprise, then, that the burger is recommended to be shared between two to three people and costs £55.
Find out more here.
Hard Rock Café
Didn't think you needed a 24-karat gold leaf steak burger? Neither did we until we learnt that's exactly what the Hard Rock Café in Piccadilly, London is offering customers.
The burger is topped with edible gold leaf, and filled with cheddar cheese, leaf lettuce, vine-ripened tomato and red onion.
While there's no specific deal on offer to mark National Burger Day for this burger, a portion of its proceeds will go towards the charity Action Against Hunger.
Find out more here.
Magu
It's time to test your devotion of burgers with Bath burger-favourite eatery Magu.
This year, the restaurant has teamed up with the food and drink app Wiggle to offer one person a years' worth of burgers and milkshakes.
Options on offer include the All-American double smash burger (two smashed beef patties, fried onions, American cheese and Magu burger sauce) and apple pie shakes.
To be in with a chance to win, diners have to download the app and select the competition offer.
Find out more here.