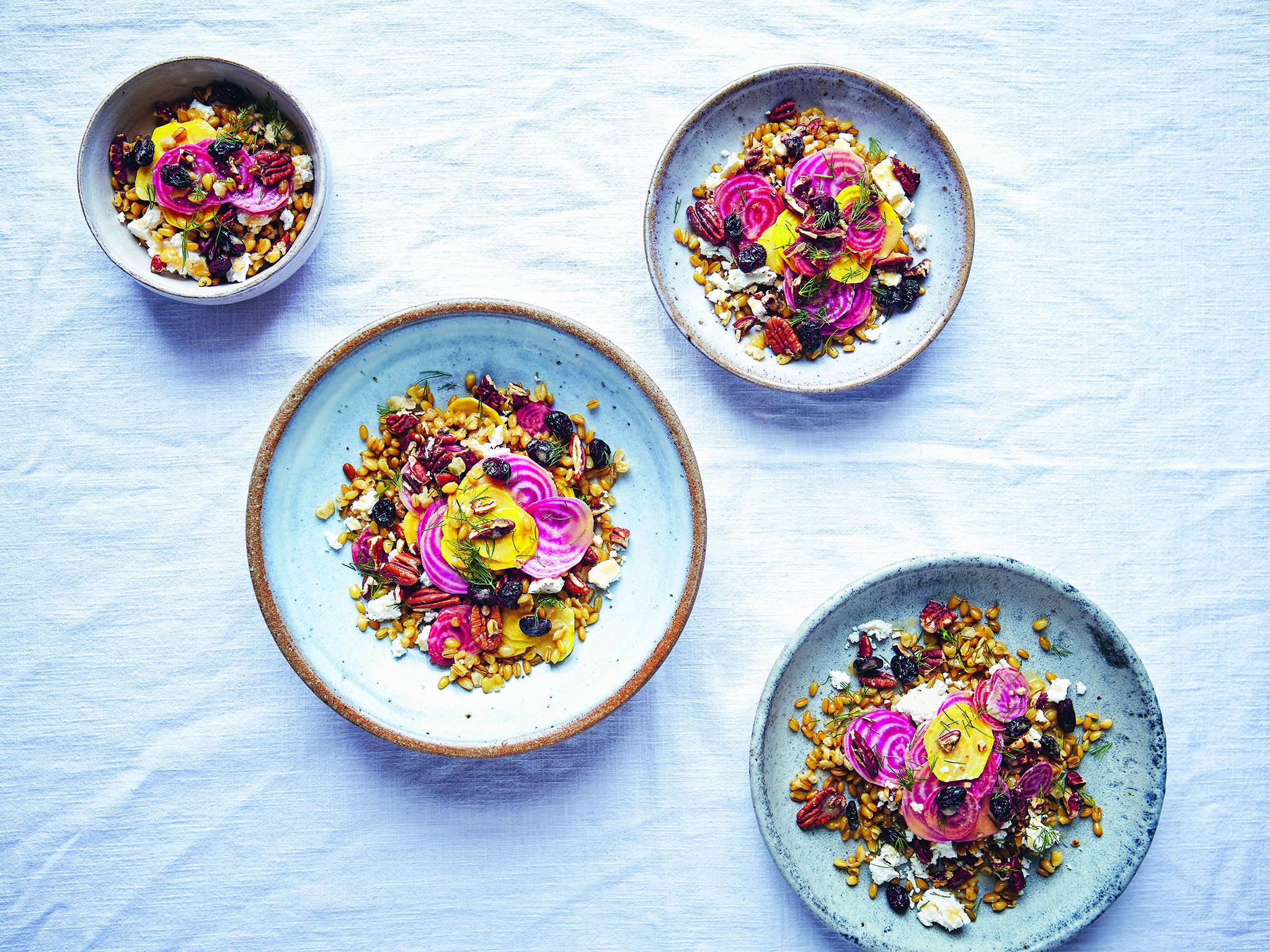 Beetroot and freekeh salad with tangerine and tahini dressing
Salads need a variety of flavours and textures to be just right. In this offering, there is the earthiness of beetroot, the sweetness of the tangerine, the bitter nuttiness of the tahini, all rounded together with salty feta and sweet-yet-sharp cranberries. Freekeh is simply young, green wheat that is toasted (sometimes fired) and is similar to bulgur wheat or barley. Don't be put off by the unusual name; it is so simple to cook.
Serves 4
We'll tell you what's true. You can form your own view.
From
15p
€0.18
$0.18
USD 0.27
a day, more exclusives, analysis and extras.
75g pecans
200g wholegrain freekeh
1 small golden beetroot
1 candy beetroot
75g dried cranberries
100g feta cheese
For the dressing
2tbsp tahini
Juice of 2 tangerines
2tbsp olive oil
2tsp red wine vinegar
Fine sea salt and freshly ground black pepper
Heat the saucepan over a high heat. Once hot, add the pecans and fry for just a minute or so until they release their nutty aroma. Chop them roughly, and throw them into a large mixing or salad bowl.
Put the freekeh into the saucepan along with 1 litre of water. Set the pan over a high heat and bring to the boil, then reduce to a simmer and cook for 20 minutes.
Meanwhile, peel and finely slice the beetroot – if you have a mandolin, use that, or a very sharp knife. Put the beetroot and the cranberries into the mixing bowl with the pecans, and crumble in the feta. Toss together.
For the dressing, simply stir together the tahini, tangerine juice, olive oil and red wine vinegar in a small mixing bowl, along with a pinch of salt and pepper to taste.
Once the freekeh is tender and cooked, drain away the water – I use a sieve – and allow to cool slightly before adding to the beetroot. Toss the salad together, tip it out onto a plate, then drizzle over the dressing just before serving.
Japanese pancake (okonomiyaki​)

This savoury pancake is up there with my favourite meals. A Japanese friend of mine once made their own version of okonomiyaki (which translates to "what you fancy, grilled"), and I couldn't think about anything else for a good week afterwards. The vegetable flavour of the pancake is enhanced by the sweetness of the sauce and the tangy mayonnaise. (On that note, I like to use Kewpie mayonnaise, which is a little more acidic than the stuff we find here in the UK.) Normally the pancake is topped with a special okonomiyaki sauce, but if you live in even the most cosmopolitan area it's not going to be something you'll stumble upon in the street, although mixing together a few store cupboard ingredients will offer a decent enough substitute. The pancakes are usually topped with dried seaweed and bonito flakes – if you come across these regularly, do grab them and add them at the end.
Serves 1
1 large egg
55g plain flour
50ml water
1 new potato, finely grated
2 spring onions, very finely sliced
125g brussels sprouts, finely shredded
4 unsmoked streaky bacon rashers
Fine sea salt
To top
2tbsp ketchup
2tsp dark soy sauce
2tsp Worcestershire sauce
2tbsp mayonnaise (use the Kewpie brand if possible)
First, make the pancake batter. Simply whisk the egg and flour together in a mixing bowl into a very thick paste, then add the water and whisk to a smooth batter – if you whisk it well when it is thick, it's easier to avoid lumps. Add the potato, spring onions, sprouts and a generous pinch of salt – it will seem as though the batter is being overwhelmed by the vegetables, but that's precisely how it should be. Mix everything together as evenly as possible.
Heat a deep-sided frying pan with a lid over a medium heat and once the pan is hot, add the bacon rashers. Evenly pour all of the pancake batter over the rashers and press it down as neatly as possible using a wooden spoon or spatula – it doesn't matter if the batter doesn't completely fill the pan, as long as it covers the bacon and forms one compact disc rather than individual blobs, it'll be fine. Put a lid on the frying pan and fry for 5 minutes on one side, then flip and fry for a further 5 minutes on the other side.
While the pancake cooks, mix together the ketchup, soy and Worcestershire sauce in a small bowl.
When the pancake is ready, drizzle over the ketchup mixture and mayonnaise.
Monkfish and anise stew
I wouldn't dare call this dish a bouillabaisse – I'd fear the wrath of all of Marseille if I were to try to draw even the faintest of comparisons; though the flavour combination – fish and anise (whether from dill, fennel, Pernod or pastis) – really is inspired by bouillabaisse. Although I've called this a stew, it's really more of a broth: light and delicate. The colour is a deep purple, somewhat reminiscent of a Ukrainian borscht, thanks to the purple carrot, although an orange one would work, too.
Serves 4
For the monkfish
600g monkfish fillets, cut into large chunks
2tbsp sea salt flakes
1tsp caster sugar
Zest of 1 orange
2 star anise
For the stew
2tbsp olive oil
1 large onion, finely sliced
1 celery stick, finely sliced
1 purple carrot, finely sliced (orange is fine if you can't get purple)
2 garlic cloves, finely sliced
1 star anise
1 tomato, roughly chopped
125ml extra dry vermouth (or dry white wine)
400ml chicken stock
Handful of dill, freshly chopped
Handful of parsley, freshly chopped
Sea salt flakes and coarsely ground black pepper
Juice of ½ lemon
Baguette and butter, to serve
In the morning, put the monkfish into a bowl and add the salt, sugar and orange zest. Roughly chop the star anise as best you can – this is a little grating, like the jolting feeling you might get if you imagine biting onto a nail file, but just grit your teeth and get it roughly chopped. Add the star anise to the bowl and toss everything together, coating the monkfish well. Cover the bowl with cling film or a plate and refrigerate until you are ready to start cooking.
Just before you start cooking, rinse the monkfish briefly under cold water. Pat dry with a clean tea towel. Don't be faffing trying to get every chunk completely clean, just rinse off most of the cure ingredients and crack on.
In a large saucepan or deep-sided frying pan, heat the oil over a high heat. Once the oil starts to shimmer, add the onion, celery and carrot and fry on high, stirring very frequently, for 5 minutes. Add the garlic, anise and tomato and fry for another minute or so, then add the vermouth or wine and cook until it evaporates. Add the stock and bring to a boil, then reduce to a gentle simmer.
Cook for 10 minutes, then stir in the dill, parsley and monkfish, and cook for a further 5 minutes or so, just until the monkfish is cooked but tender. Season to taste (you won't need much salt because of that cure), add the lemon juice and serve with torn chunks of buttered baguette.
'A Flash in the Pan' by John Whaite is published by Kyle Books, £20. Photography by Nassima Rothacker