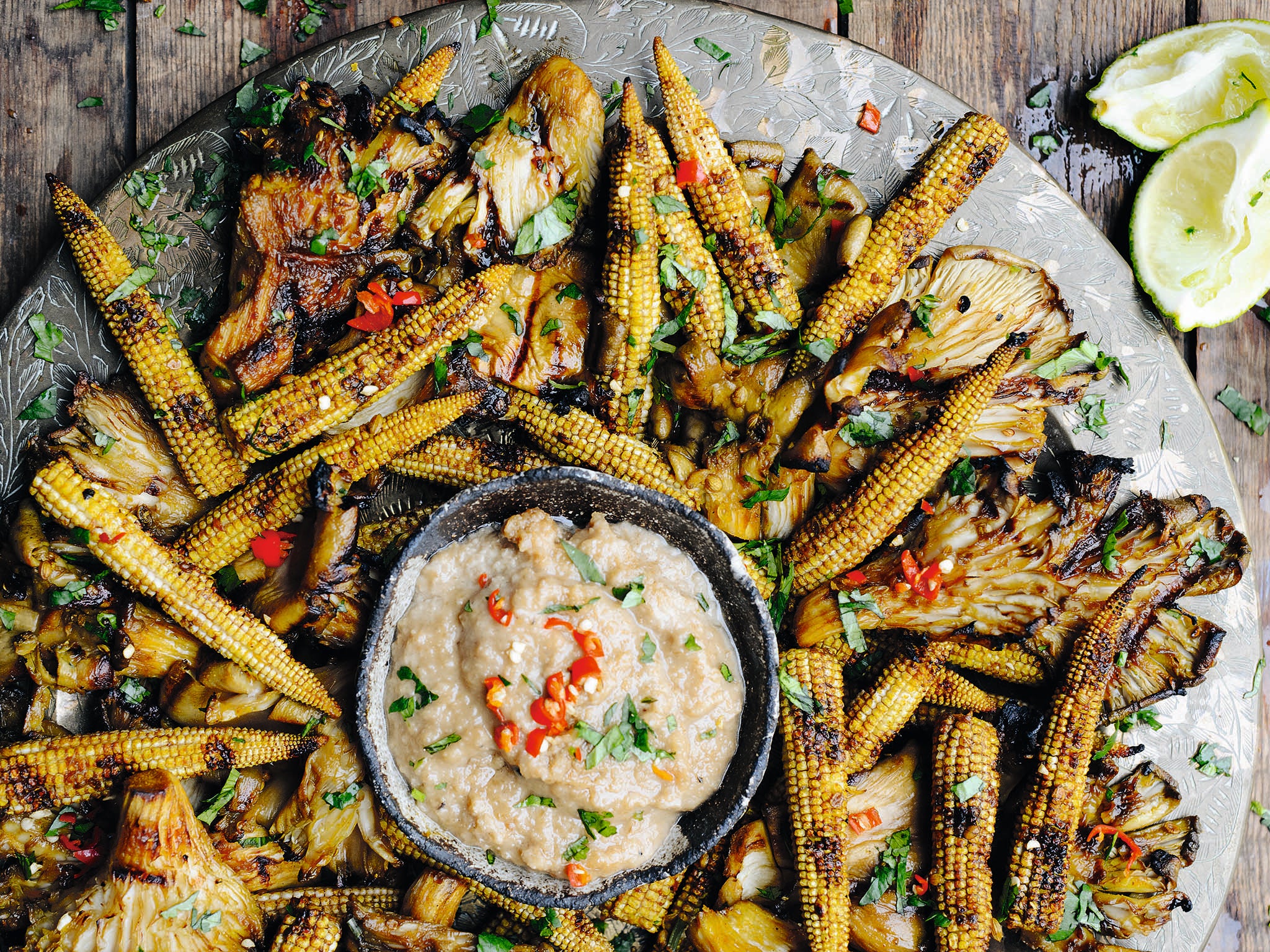 Oyster mushrooms and baby corn with satay sauce
I wanted to make this recipe as traditional satay skewers, but baby corn, being rather brittle and delicate, can't be poked on to a kebab stick very successfully. It cooks just as well without skewers, although if your barbecue has big gaps between the grill bars you may want to use a plancha​ to prevent anything sliding into the fire, or cook it on a griddle inside, where it will be equally delicious.
Serves 4–6
We'll tell you what's true. You can form your own view.
From
15p
€0.18
$0.18
USD 0.27
a day, more exclusives, analysis and extras.
2 tbsp coriander seeds, toasted
2 tsp ground turmeric
4 tbsp keçap manis (sweet soy sauce)
3 tbsp soy sauce
1 tbsp vegetable oil
3–4 bird's-eye chillies, finely chopped, to taste
3 cloves of garlic, crushed
500g (1lb 2oz) oyster mushrooms
2 x 175g (6oz) packs of baby corn
For the satay sauce
1 tbsp vegetable oil
2 banana shallots, finely chopped
2 cloves of garlic, crushed
2.5cm (1 inch) piece of fresh root ginger, finely grated
1 stalk of lemongrass, outer leaves
discarded, inner core finely chopped
100g (3½oz) roasted salted peanuts, chopped
100g (3½oz) creamed coconut, roughly chopped
2 tbsp soy sauce
1–2 tsp soft dark brown sugar, to taste
salt and freshly ground black pepper
To serve
1 fat lime, cut into wedges
a small bunch of coriander (cilantro), chopped
1–2 bird's-eye chillies, finely chopped (optional)
Tip the toasted coriander seeds into a pestle and mortar or a spice mill and roughly grind, then tip into a large bowl. Add the turmeric, keçap manis, soy sauce, vegetable oil, chilli and garlic, stirring well. Add the mushrooms and baby corn and gently toss together to mix. Set aside to marinate for 30 minutes to an hour at room temperature.
While the veg are marinating, make the satay sauce. Put the oil, shallots, garlic, ginger and lemongrass into a small pan and set over a medium heat, frying gently for about 10 minutes. Tip in the chopped peanuts and creamed coconut, pour in 250ml​ (1 cup) of water and add the soy sauce and sugar.
Bring to the boil, then simmer steadily, stirring often, for 5 minutes, until the sauce has thickened a little. Use a stick blender to purée to a smoothish sauce (or leave a bit chunky if you prefer) and season to taste with a little salt and pepper.
Fire up your barbecue ready for direct grilling, adding a plancha​ if you have one, or preheat a griddle pan on the hob. Spread out the mushrooms and baby corn on the barbecue or griddle and cook for about 15 minutes, turning regularly, until tender and golden brown.
To serve, pile the cooked vegetables on to a serving platter and nestle the bowl of satay sauce in the centre. Tuck in the lime wedges and sprinkle over the coriander and extra chilli, if using.
Smoky sweetcorn polenta cakes with green tomato salsa
These light-textured corn cakes are so easy and make a great brunch or lunch. If you can't find green tomatoes, seek out the more traditional Mexican tomatillos – you can find them in specialist greengrocers.
Makes about 12, serving 4 as a snack
2 corn on the cob, grilled until
golden (yields 250g/1½ cups corn)
1 tsp olive oil, plus a little extra ,for frying
200g (1½ cups) Greek yoghurt
100g (2/3 cup) instant polenta (cornmeal)
½ bunch of spring onions (scallions), thinly sliced
2/3 big bunch of coriander (cilantro), chopped
2 large eggs
1 tsp bicarbonate of soda (baking soda)
salt and freshly ground black pepper
For the green tomato salsa
250g (9oz) green tomatoes,cut in half
2 tbsp olive oil
½ bunch of spring onions, finely chopped
1–2 cloves of garlic, crushed, to taste
1/3 big bunch of coriander, chopped
1–2 green chillies, finely chopped, to taste
juice of 1 lime
½–1 tsp caster sugar, to taste
Preheat your barbecue ready for direct grilling, or set a griddle pan on the hob to heat up.
Lightly brush the corn with oil and season all over with salt and pepper. Lay on the hot grill bars or on the griddle and cook for 25–30 minutes, turning regularly until lightly charred all over.
Remove to a board and set aside until cool enough to handle. Meanwhile, brush the green tomatoes with a little of the oil and cook them cut side down on the grill or griddle for about 5 minutes, until lightly charred. Don't try to turn them too early or they may stick to the grill. Flip them over and cook for another 5 minutes.
Remove to a chopping board, finely chop and place in a bowl. Stir in the rest of the olive oil and the spring onions, garlic, coriander, chillies, lime juice and caster sugar. Season with salt and pepper and set aside.
Use a sharp knife to slice off the cooled corn kernels and tip them into a mixing bowl. Add the yoghurt, polenta, spring onions, coriander and eggs. Season really well with salt and pepper and stir together thoroughly. Set aside.
Set a frying pan or plancha on your barbecue or hob and leave it to get really hot for a good 10 minutes. Once hot, drizzle on a little oil and use a scrunched-up piece of kitchen paper to spread it into a very thin layer.
When you are ready to cook, quickly beat the bicarbonate of soda through the batter. Spoon mounds of the batter on to the plancha or pan, leaving space between them. Cook for a couple of minutes on each side. Transfer to a plate and loosely cover to keep warm while you cook the rest. To serve, top each corn cake with a little salsa and eat while warm.
Corn on the cob, Cambodian coconut, lime and chilli baste
I just love the flavours of Cambodian cooking and this easy baste is no exception – sweet, creamy, hot and salty, a real explosion of tastes that works so well to liven up succulent grilled sweetcorn.
Serves 4
4 corn on the cob, ideally with husks attached
4 tbsp coconut cream
juice and zest of 1 lime
1 tbsp soy sauce
2 tsp palm sugar or soft light brown sugar
2 bird's-eye chillies, finely chopped
a couple of sprigs of mint, leaves finely chopped
salt and freshly ground black pepper
Fire up your barbecue ready for direct grilling, or preheat a castiron​ griddle pan on the hob. This recipe is best cooked outside on a barbecue if you can. If you cook it on a griddle, be prepared for a bit of smoke once you start brushing on the baste.
If your sweetcorn still has its husks attached, you don't need to do anything to it. If it's naked, wrap each cob in a good layer of foil. Lay the corn on the barbecue or griddle and cook for a good 20 minutes, turning regularly.
While the corn is having its initial grill, prepare the baste by mixing the rest of the ingredients together in a small bowl. Peel back the husks on each cob, leaving them intact as they make a great handle for both turning and eating, or peel away and discard the foil. Return the corn to the barbecue or griddle and begin to brush with the coconut and lime baste.
Cook for another 10–15 minutes, basting and turning frequently, until the corn is succulent and lightly charred. Allow to cool for a few minutes before tucking in, as they will be super hot straight from the grill.
'CHARRED: The complete guide to vegetarian grilling and BBQ with Genevieve Taylor' (Quadrille, £16.99) Photography: Jason Ingram
Mexican corn salad
A bright, fresh salad with the unmistakable flavours of Mexico. This amount will serve two as a main course salad, but can also be served as a side or even salsa to accompany tortilla chips.
Serves 2
For the dressing
2 tablespoons extra virgin olive oil
Juice of 1 large lime
1 fat garlic clove, minced
1 tablespoon fresh chopped coriander
2 teaspoons dried oregano (Mexican if you can get it)
½ teaspoon ground cumin
½ teaspoon ground coriander
½ teaspoon red pepper flakes
1 teaspoon salt
½ teaspoon freshly ground black pepper
For the salad
2 corn cobs
200g little gem lettuce, shredded
150g radishes, chopped
1 medium yellow or orange pepper, deseeded and diced
4 spring onions, finely chopped
200g cherry tomatoes, quartered
1 large avocado, peeled and diced
Put all the dressing ingredients in a screw top jar and shake to mix thoroughly, put to one side until needed.
Shuck the corn and remove as much of the silky thread as possible, but any remaining will burn away in the griddle pan so don't worry too much.
Heat a griddle pan on a high heat. Rub the corn all over with some oil or melted butter and when the pan is hot place the corn onto the ridges, turning occasionally, until the corn begins to char and bar marks appear on the kernels. Move the corn to a plate to cool slightly.
When cooled place on a chopping board and, starting halfway down, cut the kernels off with a sharp knife, close to the core. Repeat to remove the kernels from the other half. Put into a large bowl.
Add all the remaining salad ingredients to the bowl, pour over the dressing and mix well.
Recipe by Beverley Hicks @littlechelseakitchen
Sweetcorn and sweet potato chowder with crispy tortillas
The wonderful smoky sweet taste of this corn chowder is out of all proportion to the little time it takes to make. You can add anything from smoked fish to crab, but this is a hearty meal on its own with oven-warmed tortillas topped with melting cheese and spice. There's no cream used here so this is good for vegans and those eating dairy-free if you omit the cheese on the tortillas.
1 tbsp oil for frying eg sunflower
1 leek, finely sliced (or use an onion)
2 garlic cloves, crushed
500g sweet potatoes, peeled and diced
1 red pepper, deseeded and diced
1 red chilli, deseeded and finely chopped
1 tsp paprika
1 tbsp fresh thyme leaves
2 bay leaves
1.2 litres veg stock
2 large cobs sweetcorn, kernels cut off
1 lime
8 soft corn tortillas
50g Cheddar or Double Gloucester, grated
1 tsp paprika or ground cumin
Small handful fresh chives, chopped (optional)
Salt and pepper
Heat the oil in a large saucepan. Fry the leek for 6 minutes. Add the garlic and cook for 2 more minutes. Add the sweet potato, pepper, chilli, paprika, thyme, bay leaf and stir for 1 minute.
Pour in the stock. Season. Bring to the boil, then simmer for 15 minutes. Add the sweetcorn and simmer for 5 more minutes, or until the potato and corn are tender.
Blitz in a food processor, then return to the pan and reheat gently if necessary. Add a good squeeze of lime juice and check the seasoning. While the chowder is simmering, heat oven to 200C/Gas 6.
Cut the tortillas into quarters and lay on a baking sheet. Sprinkle over the cheese, a little sea salt and the paprika or cumin. Bake for 6-8 minutes, keeping an eye on them so they don't burn, until crispy and golden.
Remove from the oven and leave to cool slightly, then serve with the chowder, sprinkled with chives.
Recipe from Riverford.co.uk